All Star snub "not going to define" Wylie
December 28, 2018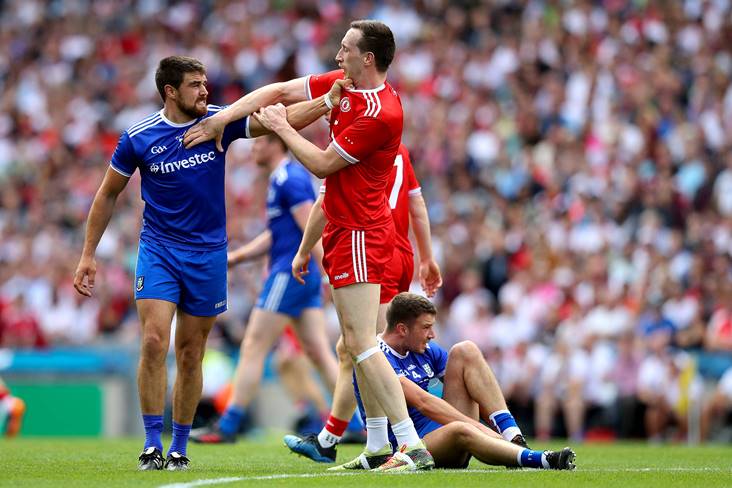 Monaghan's Drew Wylie and Colm Cavanagh of Tyrone during the All-Ireland SFC semi-final clash at Croke Park.
INPHO/Ryan Byrne.
Monaghan defender Drew Wylie says "it would've been nice" for either him or his brother Ryan to win an All Star award after the Farney men's deep run in the All-Ireland SFC this past season.
Both Ballybay clubmen were surprisingly overlooked for an accolade at the beginning of last month, with team mates Rory Beggan, Karl O'Connell and Conor McManus all named in the starting 15 and Tyrone sweeper Colm Cavanagh taking the full-back slot which Drew had been very much in the running for.
Speaking to The Irish News, the 30-year-old said that the accolade snub isn't something that will define his as a player.
"There was a lot of talk about it, but myself and Ryan have set our standards," said Wylie.
"There's no doubt about it, everybody wants to get that personal accolade at the end of the year because it means the team has done well, but don't take away from the three lads that got them.
"They were exceptional for us all year but for myself, and Ryan even, it's not going to define me as a player. In our own club, Paddy Linden was an All Star in 1988 - it would've been nice for either myself or Ryan to be up there in a picture frame beside him.
"There's always next year but you can't do the same every year or you're going to get the same results. There's no guarantee we're going to get back to an All-Ireland semi-final so we have to put our shoulder to the wheel and try and get something out of the year."
Most Read Stories