Congress a quiet affair
February 28, 2018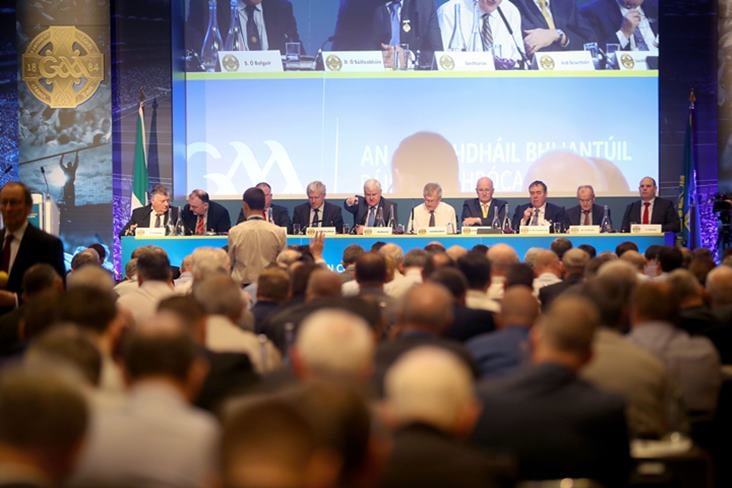 The top table at Congress 2018
Last weekend's GAA Congress was by any standards a fairly quiet affair, although there were a number of notable events.
Congress saw Dublin's John Horan installed as they 39th president of the GAA and the 1st Dublin born man to hold the office since Daniel McCarthy was the Association's 7th president in the years 1921 to 1924.
Horan in his acceptance address signalled that club issues will be of paramount importance during his term and that he will also address other issues including that of how development squads are handled in the counties.
Congress also saw Paraic Duffy, presenting his 10th and final report as Director General and glowing tributes were paid to him for his contribution over his 10 years in office.
Outgoing president, Aogan Farrell led the tribute to him, with former Presidents Nicky Brennan and Christy Cooney also speaking about his outstanding work.
Monaghan county chairman, Michael Owen McMahon also spoke of Paraic's qualities as a leader and an administrator.
There were 40 motions down for discussion on the agenda but most were of a fairly routine nature in attempting to clear up the rule book, but one that will have fairly far-reaching effects is the banning of betting companies from all types of GAA sponsorship.
A motion regarding the appointment of outside managers at club level was defeated, as was a motion seeking to change the cut-off point for sanctions for players looking to play in Canada or the USA.
Of special interest to Monaghan though was the election of 2 Trustees with 2 men from the county, Declan Flanagan, former Central Council Delegate and Mark McAviney, a former Ulster Council President contesting the position, but unfortunately neither was successful with New York's Larry McCarthy and Tipperary's John Costigan, winning out.
After the 1st round of voting, both Flanagan and McAviney polled 51 first preference votes each, and they were still tied on 56 votes each after the 2nd stage when the 2nd preference votes from Robert Frost and Paddy McMahon, who were eliminated at that stage, were distributed.
At that stage one of the 2 Monaghan candidates had to be eliminated and that was decided by drawing a name out of the hat with Mark McAvniney's name drawn out and Declan Flanagan then carrying Monaghan's hopes.
In the final analysis though, he got just 11 of Martin McAviney's 3rd preference votes, meaning that McCarthy, who got 32, to bring his total 113, and John Costigan were elected.
Both Monaghan men, while bitterly disappointed, expressed their gratitude to those who had nominated them and supported them and they congratulated the 2 men who were successful and wished them well.
Most Read Stories