Dr McKenna Cup round-up: Red Hands and Donegal hit ground running
January 03, 2018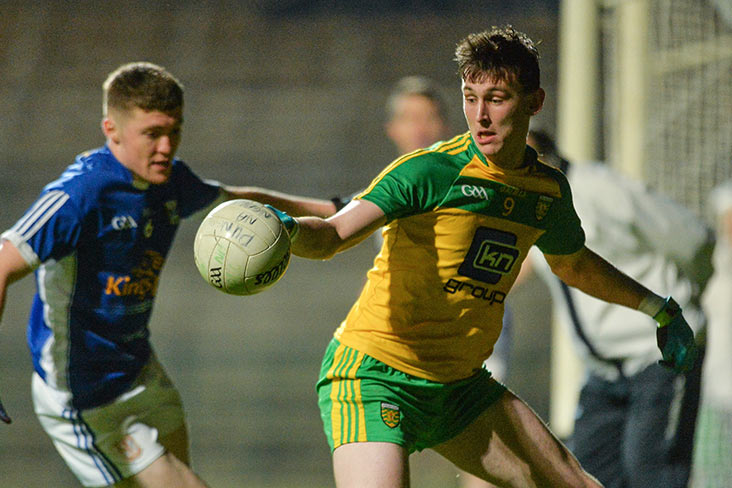 Donegal's Michael Langan
Tyrone, Donegal, Armagh and Fermanagh all caught the eye in the first round of the Dr McKenna Cup on Wednesday night.
The Red Hands are perennial winners of this competition and they showed that they are not going to relinquish the silverware handily as they crushed Antrim at the Athletic Grounds, 4-20 to 2-11. Padraig McNulty, Conor McAliskey, Frank Burns and Niall Sludden all netted for Mickey Harte's charges, while Conor McGourty and Matthew Fitzpatrick hit consolation majors for the Saffrons in a high-scoring affair.
At Ballybofey, Michael Langan and debutant Nathan Mullins were the first-half goalscorers as Declan Bonner's Donegal opened their year with an easy 2-16 to 0-6 victory over Queen's.
Tyrone's Padraig McNulty.
©INPHO/Cathal Noonan.
Meanwhile, former Donegal boss Rory Gallagher's first game in charge of Fermanagh culminated in a superb 2-11 to 0-12 defeat of neighbours Monaghan at Enniskillen, with Conall Jones and Aidan Breen netting in the second half after the Farney had turned around one point to the good.
Andrew Murnin and Ronan Lappin were the Armagh goalscorers at Newry as the Orchard County came away with victory over neighbours Down, 2-12 to 0-13, while Cavan were made to fight all the way by St Mary's on Breffni Park's alternative 3G surface before emerging victorious, 0-15 to 0-12, with Conor Madden, Darragh Kennedy and Niall McKiernan lofting over three unanswered points in as many minutes at the end.
Derry and UUJ played out a pulsating encounter at Owenbeg, where goals from Enda Lynn and James Kielt just about got the Oak Leaf County over the line, 2-14 to 3-10.
Tyrone - N Morgan; B Burns, P Hampsey, M McKernan; T McCann, H P McGeary, K McGeary; C McShane (0-4), P McNulty (1-0); M Donnelly (0-2), N Sludden (1-0), F Burns (1-4); D McCurry (0-5), C McAliskey (1-1, 0-1f), L Brennan (0-2, 1f, 1'45). Subs: R McNabb for K McGeary, R McHugh (0-2) for C McAliskey, D McClure for P McNulty, C McLaughlin for T McCann, M Cassidy for M McKernan.
Antrim - P Nugent; P Brannigan, P Gallagher, C Lemon; K O'Boyle, S McVeigh, J Laverty; M McCarry, N McKeever; S Beatty, M Fitzpatrick (1-0), R McCann; C McGourty (1-4, 0-3f), C Duffin (0-1), R Murray (0-5, 1f). Subs: P McBride for J Laverty, C Murray (0-1) for M McCarry, K O hEeili for R McCann, N Delargy for C Lemon, S McVeigh for P McAleer.
Referee - E McFeely.
**
Donegal - P Boyle; P Brennan, E Doherty, E Ban Gallagher; T McClenaghan, C Ward (0-1), M O'Reilly; H McFadden (0-1), N Mullins (1-0); C McGonagle (0-1), S McBrearty, M Carroll; N O'Donnell, M Langan (1-6, 0-3f), J Brennan (0-3). Subs: C McGinley (0-1) for M Carroll, C Mulligan (0-2) for N O'Donnell, K McBrearty for N Mullins, D O'Baoill for T McClenaghan, D O'Connor (0-1) for S McBrearty, P Mogan for H McFadden.
Queen's - C Mullan Young; N Keenan, A Rushe, R Finn; N Scullion, J McMahon, C Murphy; S Heffron, E Bradley (0-3, 1f); C O'Neill, C Martin (0-1), C Donaghy; T Rushe (0-2f), J Dowling, L Connor. Subs: E Fyfe for L Connor, E Deane for J Dowling, P O'Connor for R Finn, O Lenaghan for C Martin, E Mallon for A Rushe, C Harney for C Donaghy.
Referee - J Lewis.
**
Fermanagh - P Cadden; J McCann, C Cullen, E McHugh; P McCusker (0-1), D McCusker, L Cullen; E Donnelly, R Jones (0-1); E McManus (0-1), R Lyons (0-1f), A Breen (1-1); L McStravick, C Jones (1-2), S Quigley (0-2, 1f). Subs: C McManus for E McHugh, R Corrigan (0-1) for E McManus, E Courtney for S Quigley, C McGee (0-1) for L McStravick, K Connor for C Jones, J Feeney for L Cullen (BC).
Monaghan - R Beggan (0-2, 1f, 1'45); J McCarron, C Boyle, B Kerr; K Duffy, P McGuirk, S Finnegan; N Kearns (0-1), N McAdam; O Duffy (0-1), M Bannigan (0-3f), P McKenna; D Garland (0-4, 2f), D Freeman, J Wilson (0-1). Subs: F Kelly for N Kearns, F Connolly for S Finnegan, D Hughes for D Freeman, D Connolly for P McKenna, B McBennett for M Bannigan, O Coyle for P McGuirk.
Referee - S Hurson.
**
Armagh - B Hughes; A McKay, A Forker (0-4, 2f), P Hughes (0-1); B Donaghy, N Rowland (0-3), M Shields; C Vernon, P Burns; O MacIomhair (0-3f), A Murnin (1-0), R Lappin (1-1); G McCabe, J McElroy, S Sheridan. Subs: R Grugan for A Murnin, A Findon for S Sheridan, M McKenna for N Rowland.
Down - S Harrison; C Flanagan, G McGovern, K McKernan (0-1); J Bell, A Doherty (0-2f), J Flynn; P Turley, N McParland; S Millar, C Maginn (0-1), C Poland; R Millar (0-5, 3f), S Dornan (0-1), A Morgan. Subs: B O'Hagan (0-1) for S Dornan, C Mooney (0-2) for J Bell, C Francis for A Morgan, S Murray for R Millar.
Referee - S Laverty.
**
Cavan - R Galligan; J McLoughlin (0-1), P Faulkner (0-1), D Philips; O Kiernan, Ciaran Brady, E Flanagan; S McCormack, D Brady; N Clerkin, C Madden (0-2, 1'45), N McKiernan (0-5); J Wharton, A Cole (0-1), B Magee (0-2, 1f). Subs: Conor Brady (0-1) for D Brady, T Galligan (0-1) for S McCormack, D Kennedy (0-1) for J Wharton, C Moynagh for A Cole, C Daly for C Madden.
St Mary's - M Reid; K Mallon, J Hannigan, M Rooney; C Byrne, C McConville, L Rafferty (0-2); L Devlin (0-2), O O'Neill (0-2); S McConville, C Meyler, J Og Burns (0-1); C Convery (0-1), D Kavanagh (0-4, 2f), R Wilson. Subs: A Boyle, R McSherry, P Og McCrickard, J Colton, C Carr, A Duffy.
Referee - K Flood.
**
Derry - B McKinless; C McCluskey, K Johnston, R Mooney (0-1); P McGrogan, M McEvoy (0-1), J Curran; J Doherty, P Kearney; C Doherty, C McFaul (0-3, 1f), P Coney (0-1); E Lynn (1-3), N Toner, P Hagan (0-1f). Subs: C McAtamney for P Kearney, J Kielt (1-2) for C Doherty, L McGoldrick for J Curran, M Lynch (0-2) for N Toner, S McKeever for P McGrogan.
UUJ - S Fox; C McCann, C Burke, M Magee; R Brennan (0-1), R McNamee, G McKinless; J Monroe (0-2), F McClure; R McAnespie (0-1), D Tallon (1-0), D Mulgrew (0-4f); E McHugh, T O'Brien (1-2, 1-0pen, 0-1'45), D Gallagher. Subs: B Grant for C Burke, O Duffin for G McKinless, R McGlone (1-0) for F McClure, M Walsh for D Gallagher, S Loughrey for J Monroe, L Harney for D Tallon.
Referee - C Mooney.
Most Read Stories