New managers will make Ulster SFC great again, says McManus
December 15, 2017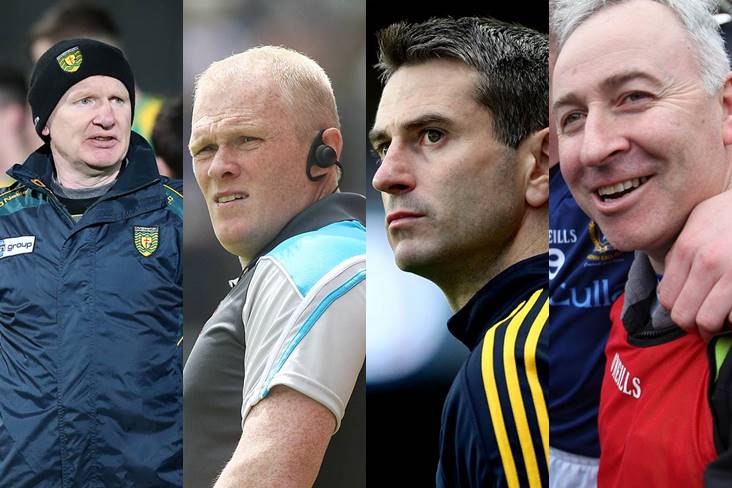 New managers for 2018, Donegal's Declan Bonner, Derry's Damian McErlain, Fermanagh's Rory Gallagher and Antrim's Lenny Harbinson.
Conor McManus believes the appointment of new managers in Donegal, Derry, Fermanagh and Antrim will make for an ultra-competitive Ulster SFC in 2018.
It has been suggested that the championship has lost its lustre in recent years, but the Monaghan sharpshooter expects the race for the Anglo-Celt Cup to be as hard fought as ever next year.
"I have heard the Ulster championship downplayed in some quarters, but when you look at the calibre of the new managers that have come on board and are obviously keen to take their respective counties to success, you just know that they are going to bring something to the table," McManus told the Belfast Telegraph after he was presented with the Irish International Rules Player of the Series award yesterday.
"While I am delighted to have won a couple of championship medals with Monaghan, I know how hard it is going to be in 2018 to make headway in the Ulster championship. Our first match is against Tyrone who will be going for a hat-trick of titles - I ask you, can it get any harder than that for us?
"Obviously there is a lot of football to be played between now and the start of the championship but, when you look at things, the championship is really what it is all about no matter what anyone says.
"Every team wants to peak for the championship and there are going to be bigger demands on sides this year because of the round-robin quarter-finals format. This will be a new challenge for us all."
Most Read Stories