U15 FL: Nobber/St.Michaels Tops in Thriller
September 14, 2018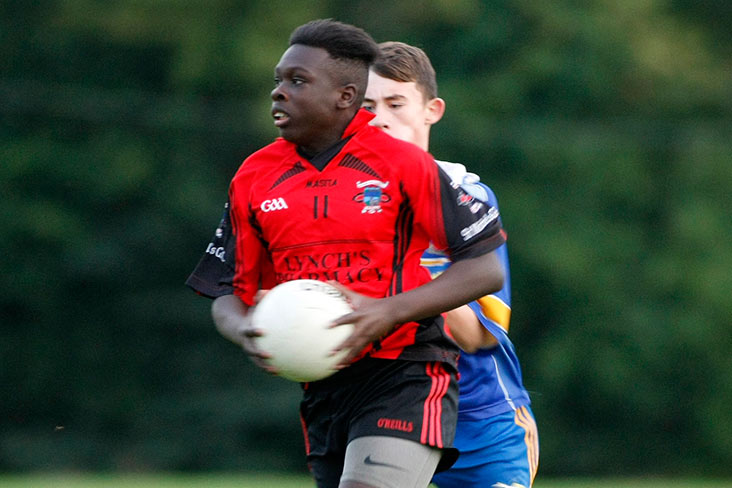 Jo-Jo Ogungbe St. Michaels Nobber
Nobber/St.Michaels 5-11 Wolfe Tones 4-13
The number of scores and only a 1 point margin at the final whistle tells the story of this thrilling game played at Gibbstown.
This game ebbed and flowed, the lead changed hands a number of times, there was great scores and in the end a couple of brilliant saves from Ben Forte saved the day for the Nobber/St. Michaels outfit.
Wolfe Tones started the brighter and by 1-1 after only 3 minutes. Nobber/Michaels came more and more into the game but failed to convert good chances in front of goal. Wolfe Tones however availed of a couple of quick breaks and made the opportunities count with another couple of goals and a few points. A Cian McFadden goal and a point and further points from Scot Farrell(1), Lorcán McEntee (3) Kuba Bidzinski (1) left the score at half time 3-5 to 1-6 in favour of the Tones and a lot to do for the combinations side in the second half.
But respond they did and within 10 minutes they turned the 5 point deficit into a 6 point lead with 3 goals from McEntee (2) and Jo Jo Ogungbe. The Tones were not to lie down and came back into it with a goal and 3 points to level the game. Further points were exchanged between the sides with McEntee (2), Bidzinski, Ogungbe, Eoghan Finnegan and Conor Owens adding for Nobber St. Michaels. A second goal from Ogungbe with minutes remaining looked to have sealed it for them but 2 late points from the Tones and a couple of brilliant saves from Forte left the minimum between them when Paul Mooney blew the final whistle. Great credit to both teams for their efforts, their attitude and their sportsmanship. A pleasure to watch.
Nobber/St.Michaels - Ben Forte, Brian O'Reilly, Jack Moriarty, Colin Condra, Paddy Fitzsimons, Eoghan Finnegan, Kuba Bidzinski, Lorcan McEntee, Scott Farrell, Jo-Jo Ogungbe, Cian McFadden, Adam Gaffney, Conor Owens. Subs - Declan Reilly for Scott Farrell, Jamie Murray for Conor Owens.
Most Read Stories