Corn Na Boinne: Nobber over run Castletown
September 12, 2018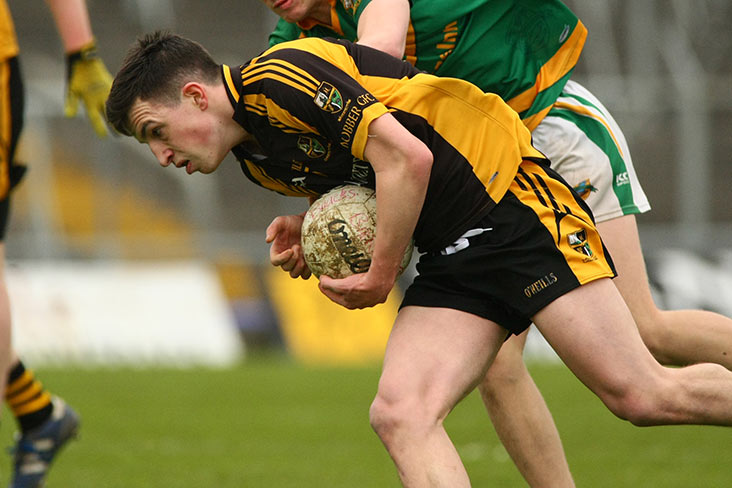 Nobber's Sean Meade
Nobber 3-22 Ccastletown 1-10
With the strength, ball winning and scoring skills of the Nobber half forward line of Fiachra McEntee, Pauric Weldon and Sean Meade to the fore, Nobber completely over-ran Castletown in this knock-out match at Nobber on Sunday morning.
They notched 1 - 8 between them from play and with their direct running at the Castletown defense over the hour, any transgression by the Castletown defense was duly punished by free-taker Dale Larkin who hit 7 placed balls. The constant movement and inter-play of McEntee and Darren Lambe with their fellow team-mates had Castletown (who are still in training for the IFC relegation play-off) at 6's and 7's.With Alan Farrell and Dean Halpin (1 point each) in cruise control at midfield and with the half backs of Brendan Heffernan (2), Paul Meade (1) and Niall Farrell (2) notching five from play it was little wonder that Nobber led 1-12 to 1-4 at the break, albeit with the aid of a mild breeze - Nobber's goal coming from the boot of Karl Casserly.
Any chance of a Castletown resurgence in the second half was quickly dispelled as the Nobber forwards continued to keep the scoreboard ticking over and Meade notched their second goal mid-way through the half. The biggest cheer of the day was when Nobber's marauding full-back Eanna Fagan was on the end of a length of the field move and as cool as a cucumber he slotted a low shot into the corner from 13 meters to record Nobbers third goal and final score. McEntee turned in a powerful performance (at No.11) as did the mobile midfielder Dean Halpin and Nobber now 'look forward' to a 1st Round match against Duleek-Bellewstown in the early hours of Sunday morning next (10.30a.m.). Considering that Duleek have light facilities and there is not a plethora of matches on over the weekend you would imagine that games like this could be fixed at a more player friendly time.
Nobber - Dary Hutchinson, Stephen O'Brien, Eanna Fagan (1-0), Barry Cassidy, Brendan Heffernan(0-2) Paul Meade (0-1) Niall Farrell (0-2) Alan Farrell (0-1) Dean Halpin (0-1) Pauric Weldon (0-1) Fiachra McEntee(0-4) Sean Meade (1-3) Darren Lambe, Karl Casserly (1-0) Dale Larkin (0-7 frees). Subs Thomas McCormack for Dale Larkin (Inj), Barry McEntee for Alan Farrell, Tony McEntee for Stephen O'Brien, Cathal Cassidy for Niall Farrell, Cathal Fox for Pauric Weldon (Inj), Johnny Donohue.
Most Read Stories