The Rispin Blog: Squeaky Bum Time
September 12, 2018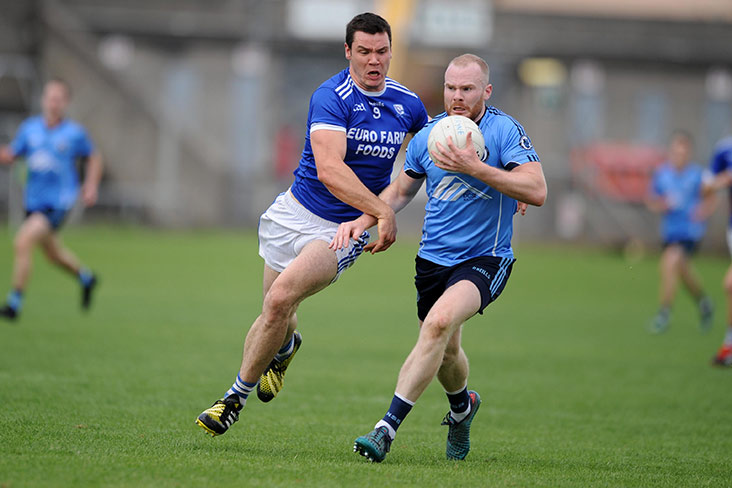 Former county stars Harry Rooney Skryne and Simonstown's Sean Tobin during the Meath SFC quarter final clash at Pairc Tailteann
The knock-out stages of the Meath football Championship took centre stage last weekend with a whole host of games across the different grades to keep the punters entertained. Once again last week, the whole price of admission came into discussion after the Tipperary County Board introduced a special ticket for €15 which allows you to attend as many games as you like over the weekend. This would certainly be an incentive which I'm sure would be welcomed with open arms by Meath GAA fans up and down the county. Dunboyne, for example, played in four Quarter-Finals last weekend, as well as being a fantastic achievement, it's an expensive weekend for a Dunboyne clubman who attends all of the games in different venues.
It was a long week of games starting with Dunderry and Duleek/Bellewstown in Dunshaughlin Saturday week last and finishing in Dunshaughlin last Sunday. There's a host of different games to choose from, I don't expect you to read the whole thing but you're more than welcome to pick and choose the games you wish to scan over. As always, I do hope you enjoy the games and feel free to post any feedback!
Dunderry v Duleek Bellewstown (IFC Preliminary Quarter-Final)
Dunderry continued their recent resurgence in this year's Intermediate Championship with a hard fought 3-point win over Duleek/Bellewstown last Saturday week in Dunshaughlin. It has to be said the facilities in Dunshaughlin were second to none on a glorious sunny evening in front of a sizable crowd.
Both sides turned in impressive displays to book their place in this Preliminary Quarter-Final with Dunderry beating Meath Hill and Duleek/Bellewstown getting the better of Bective a week previous. In that win over Meath Hill, it was a rather lacklustre opening half of football from Ted Dowd's men and this game followed suit with the men in green and gold much sharper from the traps.
John Flood and Shane Townley were particularly prominent in that opening quarter but unfortunately Townley was forced to depart soon after with a nasty looking injury. Shane Crosby also put in a huge shift from wing back but the former Senior side were made to rue a couple of guilt-edged chances in the first half. On another day Jamie Flaherty and Stephen Nolan would have had goals and it could have been a different story. Nolan's physical presence caused Dunderry several problems in the opening half but ultimately the game turned on the award of a penalty for a foul on the bear in the square, Luke Martyn.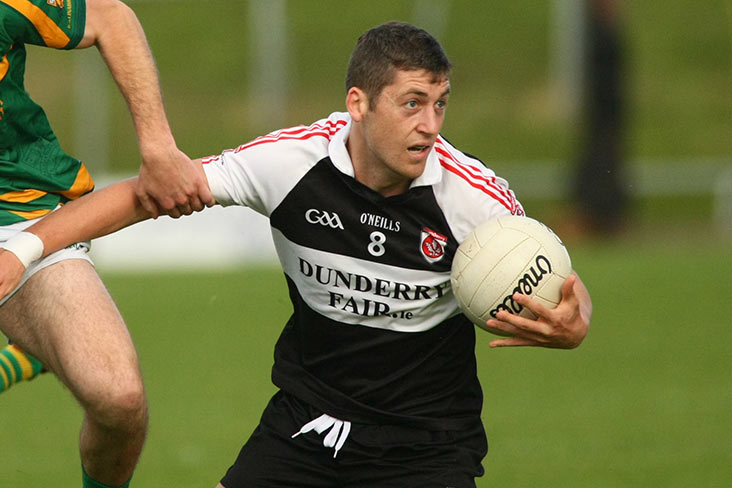 He might look awkward and unorthodox but given the service Martyn is lethal in and around that square and when he collected a long delivery he was always going to be pulled down. Stephen Coogan stepped up and whether the Duleek keeper tried teasing the Dunderry sharpshooter but giving him an extra bit of space to his left-hand side, it mattered not as Coogan emphatically dispatched the penalty with aplomb to give Dowd's men a much-needed kick up the behind!
It was just the carrot for Dunderry who seemed buoyed by this and two of the emerging stars in their ranks Oísin Martyn and Morgan Callaghan pointing in quick succession. Duleek/Bellewstown kept plugging away and ought to have had more from their possession but Flood kept them in touch at the break.
The 1995 Keegan Cup Champions improved significantly after the interval and this coincided with county star Paddy Kennelly coming to the fore. He's a real talent, one which at times you'd compare to Citroen Berlingo when he's almost at walking pace with the ball in hand in a casual and laid-back fashion. All of a sudden, he moves up through the gears evolving from a Citroen to a Ferrari in the blink of an eye steamrolling anything or anyone in his path.
Indeed, Coogan and Kennelly were the real difference between the sides. You talk about match-winners and players who can get you over the line and these two are priceless to Dunderry's cause. Coogan has had a frustrating year suffering a broken foot in a league match against St Michael's missing out on the Meath Juniors and several of Dunderry's game but he showed signs that he's back to his best against Meath Hill and he went one further against Duleek.
The classy corner forward gave an exhibition of point scoring in the second half both from play and dead-balls, left or right it didn't matter. His composure and unerring accuracy was a joy to behold and whether it was by theory or design, Dunderry isolated him and with Kennelly and co providing the ammunition he ran amuck. It wasn't just a one man or two man show though, the evergreen David McCormack was outstanding at wing back as was the ever-reliable David Jennings between the sticks who consistently picked out a Dunderry man from his restarts. Unfortunately for the men in black and white, their journey in this year's Championship came to an end on Sunday evening after a dreadful encounter with Ballinabrackey.
Gaeil Colmcille v Wolfe Tones (SFC Preliminary Quarter-Final)
Gaeil Colmcille turned in an outstanding first half display which paved the way for Lar Wall's men against Wolfe Tones on Monday night in Castletown. A huge crowd descended on the rural venue despite being a bit of discontent from certain individuals about the selection of the venue in the build-up to this game. Not a word about it, it was a breath of fresh air as people came from every corner of the county for this encounter with the Castletown club providing programmes for supporters and the pitch looking immaculate under the lights. The crowd was so big that cars had to park in a field nearby and watch their step as they walked out of the manure-filled field.
Indeed, there was a good auld fresh and healthy smell of cow dung reverberating around the pitch, a good omen for the Tones you'd think but this wasn't the case. Rather unfairly, both of these sides had to hurl on Saturday and were forced to tog out some 48 hours later in a massive Senior football match with the winners back in action against Championship favourites Dunboyne the following Sunday. To put that into perspective, that's 3 intense Championship games in 8 days…a big ask for even the most seasoned of soldiers! Gaeil Colmcille's Barry Farrelly who would be partial to an opinion or two lead the protests but to no avail.
It was the Tones who looked sluggish whilst Wall's men looked fresh and razor-sharp from the off. The multi-talented Brian 'Beano' Hanlon who is also a keen soccer player found the back of the net from the penalty spot with a clinical finish to give the Gaeil's the perfect start. This was supplemented by a couple of Seamus Mattimoe frees before Sarán O Fionnagáin finally got Tony Kearney's men up and running.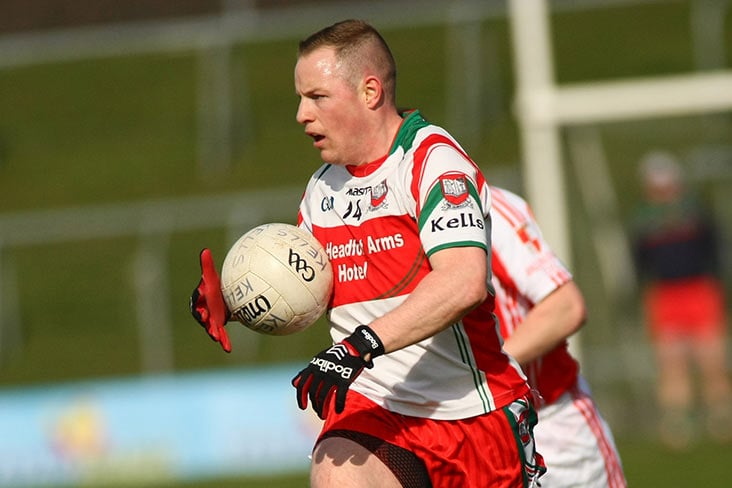 It was only a brief respite though as an electrifying Kells said were playing some phenomenal football with Mattimoe and his blistering pace causing endless problems. Fionn Reilly who will no doubt have been wrapped in cotton wool after the game finished got in for his first of two first half goals and what a fantastic goal it was. Pace, power and accuracy as he riffled into the roof of the net.
Tones did show signs of life as the O'Reilly brothers, Niall and Thomas pointed to just about keep the Gaeltacht side in touch. The ferocity of the Kells tackling was a joy to behold though and as Mickey Brennan quoted in his 'We are Meath' podcast "they are like terriers running after the ball" and for me that is a pretty fitting description. Young Evan Sheridan nicknamed 'Trigger' is a young man with a big future in the Kells colours and he is improving with every passing game. He's well complimented by another youngish gun in Oísin Reilly who's work rate is second to none and he also possesses a significant degree of skill and accuracy to pick out the likes of Hanlon, Mattimoe and his younger brother Oísin.
Speaking of Oísin, he capitalised on a real uncharacteristic error from the usually ultra-reliable Tones keeper David Nolan to apply the simplest of finishes to give Wall's men an incredible third first half major. Credit to the Tones though, it would have been easy to lie down and give up the ghost but that's just not in their DNA and their talisman Cian Ward pulled a goal back with a brilliant dummy and finish to the near post to silence a small group of rather boisterous Kells supporters on the stand side with a Robert Pires esc wag of the finger.
The second half was much more of a quieter and dull affair which suited the men in the ascendency just fine. Hanlon was still lively though, bouncing around like a rabbit in the field and he sent over a trific score as Harry Redknapp would say. Tones did keep at it and they kept scraping away with Alan Callaghan plucking some beauties from the clouds in a desperate attempt to try and resurrect the men in maroon and yellow.
County star Thomas O'Reilly did his upmost to haul Kearney's men back into contention but every time the Tones seemed to gain a foothold, Kells would go up and tag on a score when they needed it. The Oristown/Kilberry men did narrow the deficit to 4 curtesy of scores from Ward, Dan O'Neill and a peach from distance from that man Callaghan.
However, with the finishing line in sight, Kells pushed for home with Fionn Reilly sensibly fisting over and the magnificent Hanlon curling over a brace with the final score from way out towards the side-line prompting the crowd to start making the trip to the cars and lash on the heating in the car…it was that kind of night! Most of the people missed out with the exception of the housewives of the cameo appearance by Twitter celebrity Gary Arkins or 'The Noble Mucksavage' as he is also known as. You wouldn't think anyone would even get a touch in that little amount of time but not Arkins, the veteran defied those claims to pop up with a glorious wide.
Kilmainham v St Ultans (IFC Relegation Play-off)
Friday night football under the lights in Cortown is becoming a bit of a thing. Just like two weeks ago as Dunderry and Meath Hill clashed in front of a healthy crowd, this time it was the turn of Kilmainham and St Ultans. I do think there's nothing more appetising than a game of high stakes between neighbouring clubs in a local ground…maybe I'm old-fashioned but that to me is far more appealing than two giants meeting from different ends of the county.
Kilmainham will consider themselves somewhat unfortunate to be in this position but in fairness instead of sulking and whinging about it, they embraced the game for what it was and delivered their best 60 minutes of Championship football this year. Ultan's on the other hand were in a similar position with Walterstown making a Lazarus like comeback in their final two group to condemn the Bohermeen parish side to the play-offs.
It was a typically cagey opening to the contest with both sides feeling their way into the contest. In truth, Ultan's looked the better team in the first 10 minutes but their shooting was wayward and they squandered a number of chances to establish a lead. The men in red and black seized on this and when you have a player like Mickey Newman in your ranks, you've always got a chance.
Newman tagged on a couple of points before he teed up his partner in crime, Seanie Mahon who calmly slotted under the onrushing Cian Farnan to boost the Kells parish credentials. They were firmly on top now with Barry Lynch starting to take control in midfield and Harry Newman mopping up ball around the middle. A long speculative delivery was then hung up and you could see Newman's eye's lighting up. Timing his leap to perfection, it was like a salmon gracefully emerging from the water, he mauled the ball turned and fired a glorious effort into the top corner of the net.
Ultan's seemed to be stunned by the concession of two quick goals, a hammer blow to any side. Denny Newman is a man of many talents but doing Cruyff turns is one thing I swore I'd never witness in Cortown but he executed it to absolute perfection. I suppose it was a sign of the confidence flowing through the Kilmainham veins and Dean Peppard nailed an outrageous score with the outside of his right boot to further emphasis this point.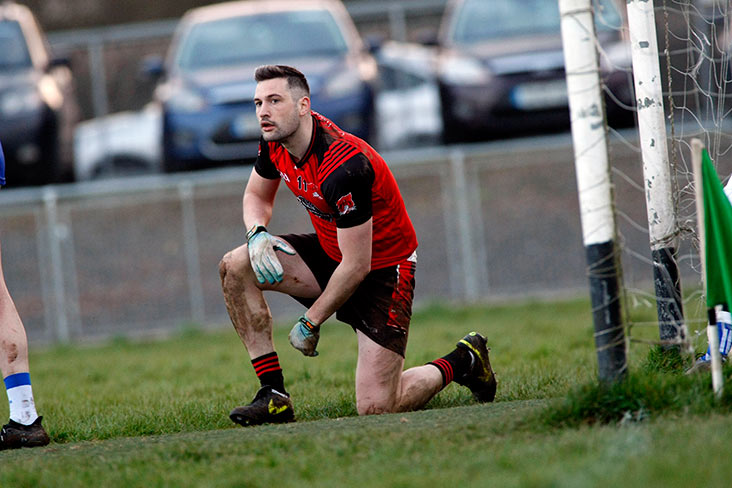 The Westway sponsored side, roared on by Sam Black from the sideline will no doubt have had the pub rocking on Friday night. Mahon was causing pure havoc and Ultan's understandably pre-occupied with Newman were affording Mahon time and space which is never a good idea. He was hauled down just as he was about to pull the trigger and referee Owen Ganly had no doubt pointing to the spot. Up stepped the talisman Mickey and he blasted into the roof of the net on the stroke of half time and this game was as good as over already.
Ultan's did try to impose themselves on the game from the start of the second half but they lacked the guile to cut through the well-drilled Kilmainham defence. Darren Kavanagh did keep trying but he was fighting a losing battle as Kilmainham retreated into their shell, a tactic employed by former manager Rusty Tiernan but a tactic which still pays dividend for Kilmainham from time-to-time.
Missing Mark Allen and Sean Herward didn't help the Ultan's cause but Kilmainham were also without the services of sharpshooter Freddie Newman. Barry Lynch is like a fine wine and his ability to win ball and use it in the right manner proved crucial, time and time again he's done it for Kilmainham.
Ultan's seemed to forget that score difference can come into play in these relegation play-offs and instead of chipping away at the unassailable lead, they reverted to pot-shots at goal which was music to Kilmainham keeper, Kevin Jordan's ears. The lack of fight and heart will be the most frustrating thing for the Ultan's management and supporters as Kilmainham compiled their woes with a fourth goal from a touch from the unlikeliest of sources, Stephen Newman.
Kilmainham can now surely look forward to a sixth consecutive year of Intermediate football whilst Ultans will need a drastic improvement to get a result against Castletown to preserve their status for the time being and even that might not be enough. In the key moments you look for your match winners and when they needed him most the brilliant Newman stood up and he was well assisted by his brothers, Seanie Mahon and the evergreen Barry Lynch.
St Brigids v St Vincents (JFC Quarter-Final)
St Vincents ran out comfortable winners of this Junior Championship Quarter-Final with a comprehensive victory over a St Brigid's side who flattered to deceive in HQ on Saturday evening. Both sides were enjoying an Indian Summer after some impressive scalps in the 2018 Championship and both will have viewed this as a good opportunity to progress to the last 4.
The first half was a pretty boring affair, the type of game that Father Stone would enjoy! Conditions did deteriorate as the half went on which didn't help things but both sides were guilty of some rather erratic shooting. Vincent's did get a foothold as the half went on and Ryan Hand ably assisted by big Bob Tallon seemed to get on top in midfield.
Richie O'Sullivan was causing real problems for the Brigid's full back line and big Tommy Field standing at 8'1 got the scoreboard moving with his trusty left peg. Field might appear as if he is an old veteran who has just returned from the war acquitted with a Colm O'Rourke esc knee bandage but boy this fella can play football!
The Ballinacree men are a dogged old side and a couple of Joe Blake frees along with a textbook Padraig Plunkett point kept Gary McDonnell's team alive. Interestingly, Brigid's selector and legendary Kells publican George Plunkett had a pair of ear phones in his ears. The question was who was he communicating with?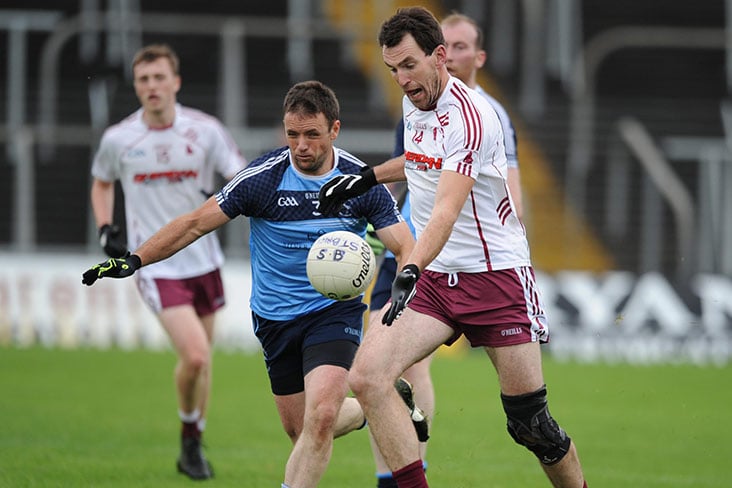 The Brigid's received a timely boost on the stroke of half time as the brilliantly named referee Hugo Whoriskey pointed to the spot for the ball being handled on the deck. My understanding of that rule was that it should be a free on the 14 yard line. At the Kilmainham and Ultans game on Friday night, the same thing happened but a free in was awarded by Owen Ganly as opposed to a penalty. In any such case, the penalty was tucked away in superb fashion by Mickey Flood.
Despite being level at the interval and having the breeze in the second half playing into the town end, Brigid's didn't score for a staggering 24 minutes into the second period. The Ardcath men upped the ante and moved through the gears. The Tallon's were outstanding through the spine of the team, four of them in all. Tommy Field kicked some tremendous scores from distance as Ronan Kearns men stretched their lead.
We (Cortown) suffered a similar fate against Vincent's, their system and fitness levels are up there with the best in the Junior grade. They introduced Martin Fox early on and he had a big influence working tirelessly all over the pitch, a man with the strength of two horses in the words of the great Buff Egan!
Brigid's well be disappointed with their sole score in the second half, it's not a true reflection on their year overall. Their inability to get key men Joe Blake, Ryan Tighe and Kevin Gilsenan proved costly whilst attacking half backs like Flood and Plunkett were forced to defend more than they would have liked and this curtailed the attacking side of their game. Vincent's go on to play Carnaross this coming weekend and although they are heavily reliable on the evergreen Field, don't be surprised to give Tom Shine's men a stern examination!
Donaghmore Ashbourne v Ratoath (SFC Quarter-Final):
I'm sure the ticket sellers in Pairc Tailteann made a quick escape after this encounter in the fear that the big crowd would start demanding their money back. To be brutally honest, this was brutal from start to finish. I know we live in a World where phones are everywhere and people are constantly on them. Generally when you go to a game you don't see this but one look around and you seen people scrolling through Facebook, Instagram, Snapchat etc. and to be fair it was hard to blame them.
It was a tough watch, not quite as bad as Slaughtneil's Derry SFC match which went viral over the weekend but not a million miles away! With a whole host of Meath senior footballers on show, one would have been forgiven for thinking this might have turned into a classic but it became apparent from an early stage that this would not be the case.
Donaghmore/Ashbourne were perhaps more guilty for adapting the negative tactics but the finger should also be pointed at an extremely disappointing Ratoath team for letting Gabriel Bannigan's men dictate the game at a pedestrian pace. After a long layoff due to injury, Andy Tormey is hardly back to full fitness but a football brain will always get the better of fitness in the long run. The 'No Nando No Party' juggernaut was certainly having a party when he used all his guile and experience to kick three first half points from play on Meath's full back, Conor McGill. He'd measure a break, a bounce or the greasy surface to beat his marker and former team mate to the punch and land a couple of peaches from distance with the breeze at his back.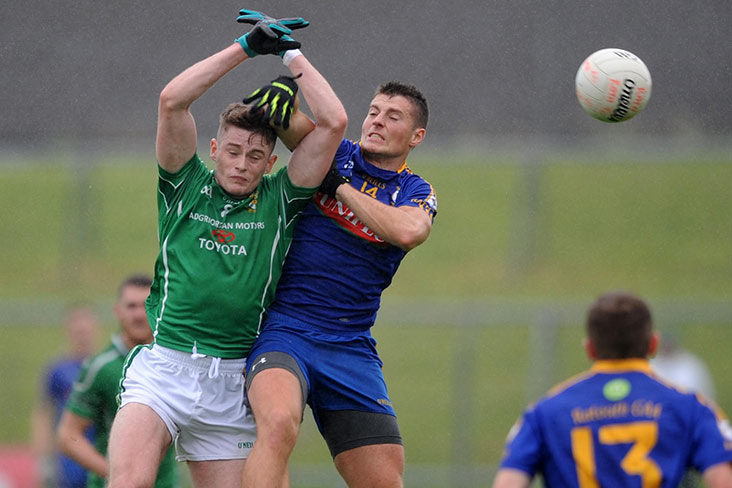 Ratoath really struggled to get their key men into the game and for that Donaghmore/Ashbourne deserve credit with Sean Curran and Conor Carton impressive in the backline. Ratoath did somehow to manage to go in at the break at deadlock with Bryan McMahon pointing four frees.
It was the 37th minute before Ratoath registered their first score from play with Darragh Kelly raising a white flag. Fergal Power and their large travelling support surely hoped this would be a sign of things to come but this never materialised. Paul Gilligan contributed a couple of scores which gave the boys in green a lead and they landed a sucker-punch when Darragh McGovern's goal bound shot was blocked with the foot and a penalty was awarded by David Coldrick who had no doubt. Tormey stepped up and coolly slotted down the middle to give the Moores a seemingly unassailable lead.
McMahon tagged on a couple frees to keep the south Meath men alive and Joey Wallace made it a grand stand finish with a stunning solo goal which was unquestionably the moment of the match. McMahon converted a late free to make it a one point game but Ashbourne calmly held onto the ball for the remaining minute despite a couple of hairy moments to book their ticket to the last four.
It second consecutive disappointing Quarter-Final exit for Ratoath who clearly have some real emerging talent but on the evidence of this showing, they are still some way off winning a Keegan Cup. Donaghmore/Ashbourne won't give a hoot about the performance and the way in which they played, win at all costs. Summerhill will surely pose more questions and they surely need more than 1-9 to beat John Lyons' men no doubt but it promises to be an intriguing encounter nonetheless!
Carnaross v Dunsany (JFC Quarter-Final):
By far and away the most entertaining game I attended over the weekend with some lovely free-flowing football played along with some beautiful moves and terrific scores. It was one for the purists and a game in which both sides set out to win by simply beating their opponents by kicking more scores, not worrying about any systems or negative tactics…some of our senior clubs could learn a thing or two from it!
There were times in the first half where you felt the Ross could run away with it at any time but credit to Denis O'Sé's men who stuck in there and hung onto Carnaross's coattails. Tom Shine's men got the perfect of starts when the evergreen John L McGee, using every ounce of his experience to sneak in and emphatically finish to the roof of the net.
Dunsany were affording the Ross far too much time and space, music to the ears of Meath under 20-star Frank O'Reilly. O'Reilly is a classy operator at the best of times but when you give him space to do as he pleases, he will destroy you! Dermot McGee who is having a Renaissance was outstanding too as he kicked a couple of excellent scores.
Another man who is having a Renaissance is the legend that is the great Ollie Murphy. There have been murmurs in recent weeks that Shine has been trying the 1996 and 1999 between the sticks and this came to pass for this key Quarter-Final. Murphy had a stormer sweeping up any loose balls whilst his distribution was first clash by all accounts.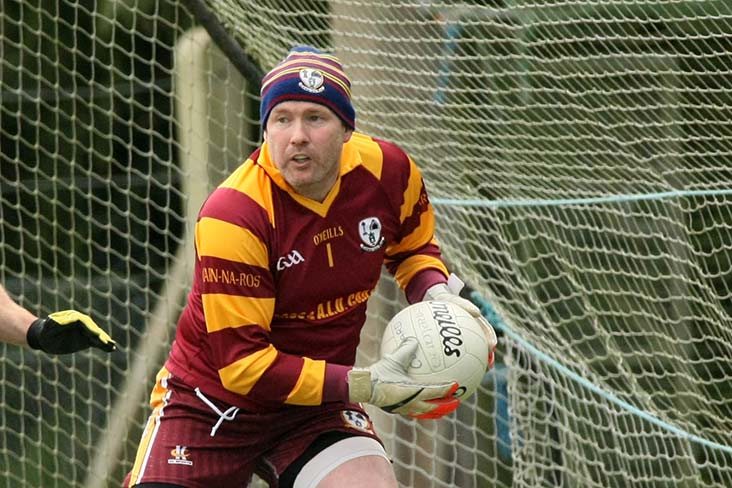 Dunsany's Pierre Fox single-handedly kept the men in red interested with some absolutely brilliant scores, the majority from placed balls but from tricky angles and distances. Carnaross had a far bigger spread of scorers with the McGee's, O'Reilly and even Mossy Plunkett chipping in…what's rare is wonderful!
After a quiet start, young Paddy McDermott sprung into life kicking a couple of tasty scores and adding to Dunsany's problems. At the break it looked like plain sailing for one of the favourites for the Championship as they lead by double scores, 1-11 to 0-7.
The opening half of the second half followed a similar pattern with the excellent McDermott and the raw talent of Plunkett stretching the lead as people even started heading to the cars with 15 minutes remaining. Murphy made a fine save from point blank range with no one realises just how important that stop would prove to be come the final whistle.
Declan Smyth suddenly came to life and put life into a seemingly lost cause. Fox to the fore, inspired an unlikely comeback from O'Sé's men and the two linked up to devastating effect as the latter finished to net after a sumptuous ball from his partner in crime. O'Reilly settled the Ross with a point after a mazy run but it was only temporary as Dunsany piled forward one last time but the final whistle saved Carnaross.
It would have been a travesty had the Ross lost this game having dominated for three quarters of the contest but they almost did. Full credit to Dunsany who made a real game of it and put Shine's men to the pin of their collar but ultimately they ran out of time. They now progress to the semi-final with St Vincent's waiting in the wings, Dunsany must go again in 2019.
Oldcastle v Syddan (IFC Quarter-Final)
Syddan exited the Meade Potato Intermediate Championship, a Championship sponsored by their one sponsors at the hands of a clinical Oldcastle side on Sunday afternoon in Pairc Tailteann. The loss of Daire Rowe in truth after just 15 minutes signalled the end of their challenge after a nasty clash of heads with Cian McPartland. I know that sounds harsh on the rest of the Syddan team but they look to Rowe for inspiration so many times.
It was all pear-shaped for Myles Byrne's men who lost Stuart Fedigan to a black card after he kicked a couple of points, whilst Brian Dillon who was only just on, was sent off just as quick as he clashed with McPartland off the ball who also walked the line. Referee Gerry McGivney did well to keep control as it looked things could descend into chaos.
In between all the lunacy, Oldcastle struck a couple of goals with Jason Scully and big Peter Monaghan raising green flags for Leo McEnroe's men. Scully's goal in particular was a real thing of beauty as he slotted home with a soccer-style finish, neither of them were a thing of beauty from a Syddan perspective.
Both of these sides will apply their trade in the top division of the leagues next season, a tremendous achievement for both it has to be said. On this showing, Oldcastle could be back plying their trade in the top grade of Championship football as it seems they have got their house in order and are just coming good at the right time.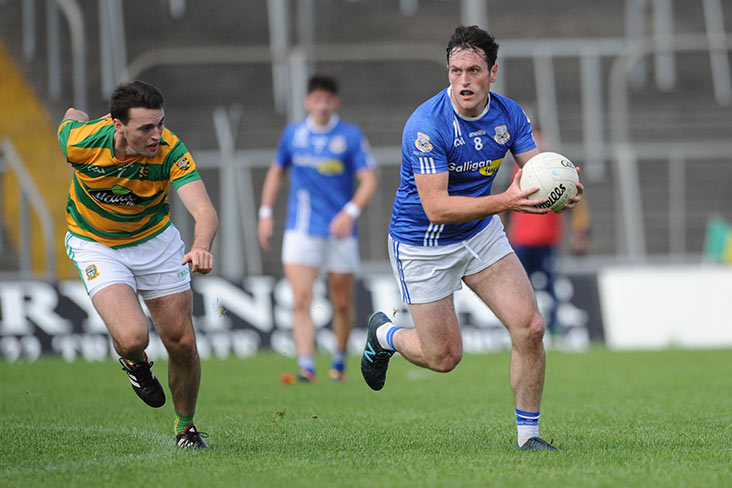 It's a real team effort these days in Oldcastle with everyone putting their shoulders to the wheel. Obviously, Jason Scully is a superstar but the likes of Monaghan, CJ Healy and Robbie Farrelly are a hardworking trio in the inside forward line and the experienced trio of Conor McHugh, Eoin Gilsenan and Ger Reidy are vital cogs in the wheel in the backline.
It wasn't Syddan's day, they like most teams have a small pool of players to choose from and they can't afford losing lads to cards and injuries particularly players of the calibre of Rowe and Fedigan. Not that you'd expect them to but Syddan never lay down and in the absence of his brother, Cormac Rowe really took the fight to the boys in blue but they could never really claw the goals back.
When a ball cannons back off the post and hits the waiting forward off the leg (not knowing anything about it) you just know your lucks out and that third goal really summed up Syddan's day. McPartland will be a big loss for McEnroe's men against Ballinlough, he would surely have picked up the enigma Peadar Byrne but they will have to plan without him now. On a brighter note for Oldcastle, it was great to see Paddy Gilsenan back and he made a timely cameo off the bench and will surely be in contention for a start against their near-neighbours this weekend.
Skryne v Simonstown (SFC Quarter-Final)
Simonstown Gaels issued a warning to the remainder of the Senior Championship with a comprehensive victory over a well-fancied Skryne side in HQ on Sunday evening. Incredibly, the 3-in a row chasing Navan side were viewed as 11/8 outsiders with Paddy Power making a real mockery of those foolish odds and making several of the North Side Blues followers that bit wealthier I'm sure!
Skryne deserved respect from their back to back reigning and defending Keegan Cup holders and they did get it with Simonstown paying particularly attention to the towering figure of Paddy O'Rourke as well as the in-form duo of Conor O'Brien and Daragh Campion. Even without the influential pair of Shane Gallagher and Mark McCabe, the Gaels have the backup required to deal with setbacks such as these. Manager Ciaran Kenny stayed as loyal to the troops as much as possible who did get them to this stage but he did welcome back exiles Sean Tobin and Podge McKeever to the starting 15.
Playing with the breeze in the opening half, it was the NSB who were eager to make a fast start and they definitely did that. After a long absence, Andrew Kearney is back in the fold and enjoying a magnificent 2019 for Kenny's men. Some of his movement and score-taking was a joy to behold on the day and he was too hot to handle for the Skryne defenders who were under significant duress.
The spread of scorers was the difference in truth, with no fewer than 11 different scorers chipping in from play for the Champions. The Tara men relied heavily on O'Rourke from placed balls whilst Campion, Eoin Smyth and Ian Davis were the only others to notch for Reddy's charges.
Despite a mini-revival at the start of the second half which narrowed the deficit to 3, almost in the same mould as the Dubs, Simonstown moved up through the gears. 2 goals in a minute finished the game as a contest. First, the impressive Ben Hoey rounded Skryne netminder Des McAvinney before finishing and then the superb Niall Kane rounded off a quite remarkable move involving a host of players before riffling into the top corner.
You have to hand it to Kenny's men, year on year they are wrote off and perhaps not shown the respect they deserve but come September they are always right in the mix one way or another. This year, they don't have the luxury of a Conor Nash or the influential figure of Shane O'Rourke or even the legendary Seamie Kenny to pull the strings.
On the main however, you have a young team who aren't going anywhere in a hurry. Kane and Brian McGrath are two of the finest wing backs in county Meath right now and surely, it's only a matter of time before we see them in green and gold. Stephen Moran is a consistent performer at full back and he limited the dangerous O'Rourke to scraps despite looking like a midget standing beside the gigantic former Meath goalkeeper.
The Tara men have had a really good year but this just wasn't their day, they just never got into it which will be a big disappointment for them having enjoyed league success and some excellent form in the group stages. Kenny was even in the position to give the large crowd what they wanted when he introduced the ageless 'We are Meath' presenter Mickey Brennan to a rapturous reception from the NSB faithful.
Simonstown march onto the last 4 setting up a mouth-watering date with Dunboyne who despite gaining revenge for last year's Quarter-Final defeat in the group stages, will be out to take the scalp of the 3-in a row hopefuls!
Dunboyne v Gaeil Colmcille (SFC Quarter-Final)
Dunboyne and Gaeil Colmcille saved the best till last on Sunday evening in front of a capacity crowd in Dunshaughlin. There were cars parked on the road, in the school, in the pitch and putt club…you name it! The sides didn't disappoint either as both of these titans of Meath GAA going toe-to-toe for the right to meet Simonstown in a fortnight.
It was nip and tuck throughout and despite the bitter cold evening it was, no one was giving out about there being an extra 20 minutes of extra-time. Such was the nature of the battle, no team deserved to lose this but after nearly 90 minutes of intense action, it was the Dunboyne men who came out on top.
Kells were playing their third big Championship match in just 8 days so surely this told towards the end of the contest with players from both sides going down with cramp. The first big moment of the match came in the 20th minute when Robbie McCarthy was hauled down in the area and referee David Gough pointed to the spot. There's not too many more reliable when it comes to penalties than Donal Lenihan. Although he is an out and out GAA man, he obviously has strong soccer roots too and this showed as he expertly tucked the penalty away in some style despite the very best efforts of Gaeil's stopper Justin Carry Lynch.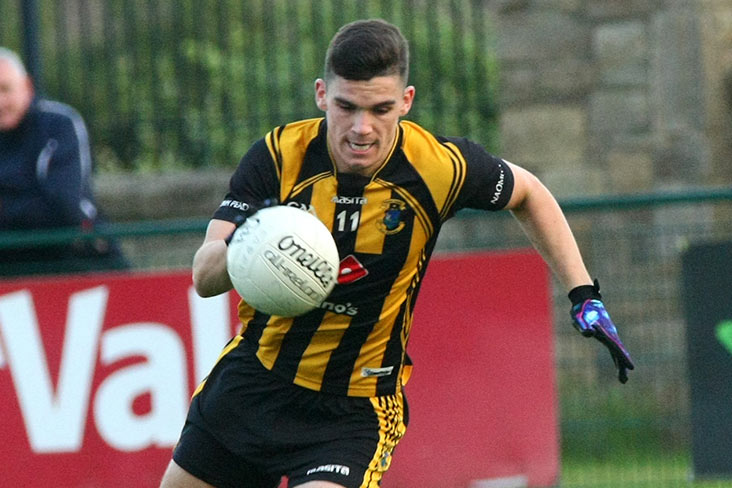 The men in black and amber failed to kick on though and the outstanding Brian 'Beano' Hanlon was keeping Lar Wall's men it in with his unbelievable dead ball kicking which would rival that of Meath great Brian Stafford. Dunboyne were certainly the better team in that opening off but for their dominance, they only lead by a solitary score as the sides went to the dressing rooms.
The long ball tactic to the deadly McCarthy inside was starting to pay dividend and he along with Lenihan and the marvellous Ronan Jones helped to establish a 3-point lead. Even despite the loss of Shane McEntee to a black card, Dunboyne seemed to have the ammo off the bench with Mickey Dunne, Conor Doran and Shane Comiskey to call upon.
Kells didn't have that luxury but they did have Hanlon and Seamus Mattimoe in inspired form. When they were needed the most, the pair stood up and dragged the Gaeil's back into the fight. Fionn Ferguson also made an instant impact off the bench with a fine score and a stunning score in injury-time from the aforementioned Mattimoe ensured the huge crowd were getting their money's worth!
Despite clinging on for as long as possible, Kells were running on empty and Dunboyne's superior fitness was starting to show as extra-time wore on. Still though it took until the last kick of the game for Dunboyne to seal their passage with a breakaway goal to break the hearts of the Kells side and spark wild scenes of celebrations and why after such an exhilarating game!
Most Read Stories