IFC: Subs make big impact as Trim progress to quarters
August 12, 2018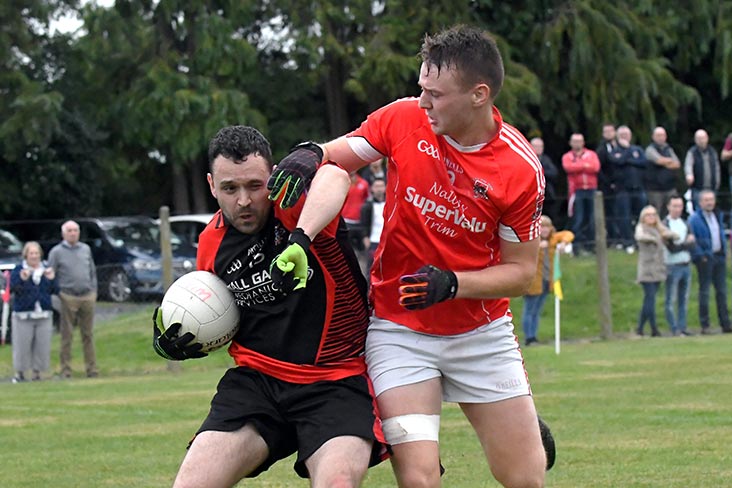 Ciaran Lynch St. Michaels with Joe O'Donohue Trim during the Meath IFC game at Athboy
Trim 1-15
St Michaels 1-12
This weekend, being the fourth and penultimate round of the qualifying stage of the championship it meant that teams are effectively entering the business stage of the competition. This was certainly the case when Trim took on St Michael's in the intermediate grade on Saturday evening in Athboy. A loss for the town team meant that they would have to enter a shootout with Nobber in the final round in order to progress in third place and a win would automatically qualify them to the quarter final in second place. It would have been in the back of their minds that St Michaels had their measure in league and championship over the past couple of years and indeed after a shaky start to both competitions this year Trim had turned their year around with six wins on the trot. So they entered Saturday night's game in confident mood and perhaps a bit of a strut but soon after the throw in they realised that they were in for a difficult hour against a very good North Meath side.  The Athboy pitch was in excellent condition but the drizzle that had fallen for a couple of hours previously left underfoot conditions precarious with a slippery ball and it was apparent early on that St Michaels were the more comfortable of the two. After twenty minutes they seemed to be cruising with five points in front but the Trim lads found composure and hit six points on the trot to enter the break one point up. For most of the second half the exchanges were even with the lead toggling between both sides. Then in the twenty fifth minute St Michaels scored a goal which seemed like a defining stage in the game to put them two points ahead. But the Trim lads showed great character by responding with a goal of their own two minutes later and this was the fillip to go on and fire over two more points before the final whistle to take the game by three points. 
From the throw in St Michaels were the ones that pushed the pace and after an early wide they pointed in the second minute. Trim responded with an excellent long range point from Sean Fitzgerald to be followed a minute later with an Aaron Lynch point when he slipped away from his tight marker to spin around in possession and neatly score. Then for the following sixteen minutes the North Meath'ers controlled proceedings. They fired over six unanswered points, five of them frees from close range and scoreable angles. The Trim defence were struggling to hold their marauding opposition and also were wayward in front of goals at the other end with four wides to show for their effort.  Then in the 21st minute the Lynch brothers sparked the Trim revival with a pointed free from Aaron and a lucky point from Daire when his long range shot bounced ten meters out from goal and over the hapless Michaels goalkeeper.  The town team effort gained momentum and after two wides, Aaron Lynch was accurate from a free and one from play, Sean Fitzgerald fired over his second long range effort and then Lynch capped a great Trim revival when he planted a '45 in the thirty second minute to leave his side going in for the break one point ahead on a score line of 0-8 to 0-7.   
Trim were first off the mark after the resumption when full forward Eoin McGrath was on target with a point but the Michaels responded with three points in a row to regain a one point lead. Points from Trim's wing back Darryl Phelin and Eoin McGrath in the tenth minute was followed by a St Michael's response two minutes later to level proceedings.  The intensity of the game dropped somewhat over the following fifteen minutes but the Trim lads kept the score board ticking over with two points from wing back Alan Douglas and a free from the ever accurate Lynch to leave his side one point ahead with five minutes left. St Michales then knifed though the Trim defence and planted a finely worked goal to suddenly turn the game on its head with little time left. The response from Trim was top drawer as two minutes later their wily substitute Ciaran Joyce was on the end of a lobbed ball into the square  where he was in hand to palm to the Michaels net. Points were added from James Toher and a final effort from Aaron Lynch which left to full time score at Trim 1-15, St Michales 1-12.  
The Trim success was helped by the springing of three very effective substitutes in the second half in Dimi Higgins, Ciaran Joyce and James Toher, the latter coming back from a long injury layoff. Their full back Gerard Dwayne had an outstanding game throughout in the absence of the holiday bound Luke Moran and the two young guns, Aaron Lynch and Brian Dowling up front were constant thorns in the St Michael's defence. 
Trim: Barry Callaghan; Declan Dowling, Gerard Dwayne, Rory McGrath; Alan Douglas (0-1), Ciaran O'Rourke, Darryl Phelin (0-1); Sean Fitzgerald (0-2), Joe O'Donohoe; Paul Munnelly, James Cullen, Daire Lynch (0-1); Brian Dowling, Eoin McGrath (0-2), Aaron Lynch (0-7, 3f, 1 '45).
Subs: Ciaran Joyce (1-0), Dimi Higgins, James Toher (0-1), Francis Murphy, Conal McGrenra, Peter Farrell, Nigel Duignan, Colm McGrath.
Report by Seamus Brennan.
St Michaels Report
St. Michaels 1-12, Trim 1-15          
                      
Trim produced a powerful finish to both halves to defeat St. Michaels in Saturday evenings entertaining IFC fourth round match in Athboy.
St. Michaels enjoyed the better of the exchanges in the opening 20 minutes going into a five point lead after Shane McCormack, Ciaran and David Lynch found the target, however they failed to score again for the remainder of the half allowing Trim back into the game to tag on six unanswered points to lead by one at the break, 0-8 to 0-7.
Trim stretched their lead to two immediately after the restart, however three pointed frees from McCormack put St. Michaels back in front, Trim drew level once more but two points from Ciaran Lynch, one from a free gave the advantage back to St. Michaels but again Trim came back fighting with two points to regain the lead. Oran Meehan blasted to the net on 56 minutes for a two point lead which only lasted 40 seconds as Trim won their own kick-out and moved the ball swiftly downfield and gave Darren O'Connell no chance between the St. Michaels posts. Trim added two further points but St. Michaels never recovered from that body blow although Shane McDonnell had the opportunity to bag another goal to level the match in the dying seconds, however his rasping shot went narrowly wide.                                                        
St. Michaels: Darren O'Connell; Alan Reilly, Sam Briody, Harry Dunne; David Lynch 0-1, Christopher Drew, Ben Reilly; Felim O'Reilly, Matthew Halpin; Shane McCormack 0-7, J.B. O'Reilly, Shane McDonnell; Oran Meehan 1-0, Ray Reilly, Ciaran Lynch 0-4. Subs: Patrick Clarke for Felim O'Reilly 30 minutes, Ronan Lynch for Ben Reilly 53 minutes.
Referee: Marcus Quinn.
Report and photo Pascal Reilly PRO.                                                                                                    
Most Read Stories