JFC: Moylagh advance to quarter finals
August 12, 2018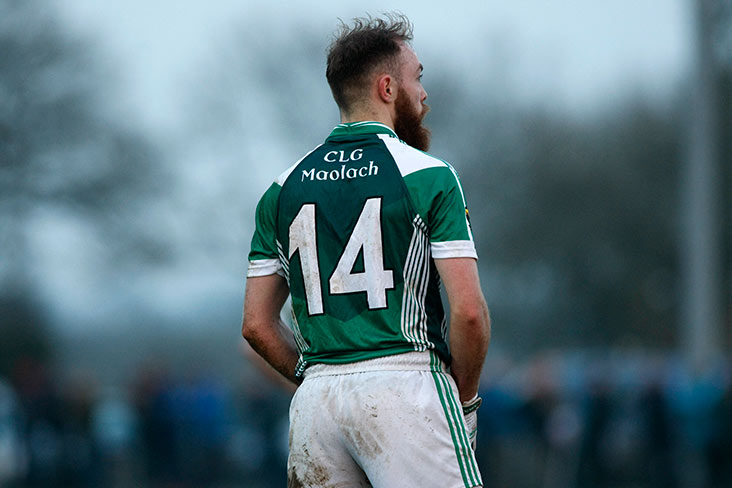 Moylagh's Tommy O'Reilly
Moylagh 2-11 Clonard 2-10

Played in Kildalkey, Moylagh advanced to the Junior A quarter finals with a hard earned win over a battling Clonard outfit. 
Tommy O Reilly got Moylagh on the scoresheet with five minutes gone with a pointed free, Clonard replied straight away with a point of their own. Moylagh then went on a scoring burst and lead by six points midway through the first half with Jamie McGee getting a goal, Clonard replied with a goal of their from the penalty spot. Joe Meila got Moylaghs second goal to give Moylagh what looked like a comfortable lead. But Clonard finished the half the strongest and brought the gap back to four points at the break. 
Moylagh came flying out of the blocks in second half and points from Sean Reilly and the hard working Tommy O Reilly had Moylagh's lead out to six points. Clonard upped their game mainly thanks to their county man Adam Flanagan and started picking of their scores and with five minutes remaining on the clock Clonard had the game level .
With both teams having chances to take the lead entering stoppage time it was O'Reilly who held his nerves and kicked the winning point and got Moylagh out of jail to qualify for a quarter final.
Peter Fox, Padraig Traynor, Joe Meila and O'Reilly played well for the winners.
Moylagh: A Fanning; S Grall, D Gibney (0-1), P Traynor; E Grall, P Fox, S Gibney; C Fanning, J Meila (1-0); T Meila, C Hannon, P Grall (0-1); S Reilly (0-1), J McGee (1-0), T O Reilly (0-8). Subs: TJ Tully & D Sheridan.
Most Read Stories