JCFC: Strong second half gives Seneschalstown the win
August 10, 2018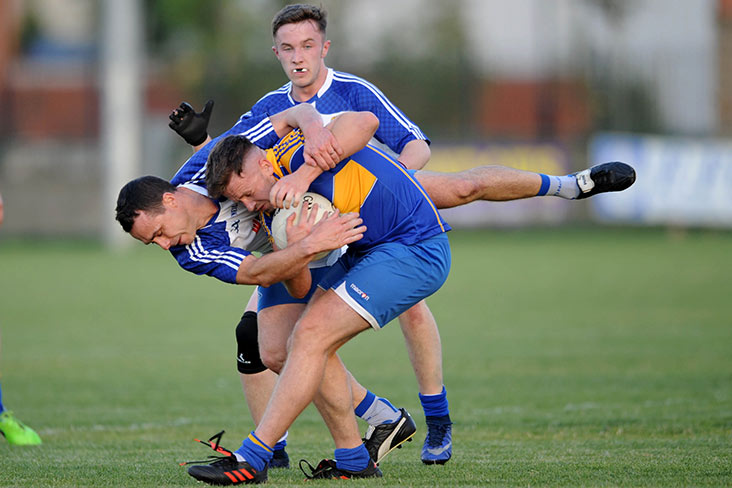 Seneschalstown defeated St Pauls at Ashbourne in the Junior C football championship
Seneschalstown overcame St Paul's in the Junior C Championship Round 4 meeting in Ashbourne on Thursday evening.
Seneschalstown 3-16  St Paul's  2-9
St Paul's dominated the first twenty minutes of the match and scored 2-5 in the period. David Bowens and Shane Mulvany got a point each from play for Seneschalstown GFC in reply.
There was a tactical switch in the Gold and Blue's full back line that helped shore up the defense.
From there on the midfield of Gerard McKendry and Eoin Finegan and the forwards got their running game going to create chances.
David Bowens, Shane Mulvany, McKendry and Paul Garry all scored points from play and Cillian Gormley notched 1-1 with his goal coming from a close range shot.
Brian Boyd pulled off a good save to keep St Paul's from getting a third goal but couldn't stop them from kicking a point from play shortly after, their first score in 15 minutes.
At half-time the score was Seneschalstown 1-9 to St Paul's 2-6.
Seneschalstown GFC got off to the best possible start with a goal from David Bowens in the first minute of the half. St Paul's responded  with three points from play in the following three minutes to level the match.
Shane Mulvany got the next two scores following good passing moves from midfield before second half substitute Cormac Mullen pushed the lead back out to three.
David Bowens scored his second goal of the half to put a gap between the teams.
The final point was scored by Colin Walsh in injury time which was reward for his selfless running from his left half back position. He was always was on hand to give or take a pass during the match.
The defence came into there own with Ruairi Keogh, Louie Healy, Ian Carroll and Shane Gargan tackling well and intercepting passes that may have resulted in scores.
Seneschalstown: Brian Boyd; Ruairi Keogh, Louie Healy, Ian Carroll; Richard McKeown, Shane Gargan, Colin Walsh (0-1); Gerard McKendry (0-1), Eoin Finegan; Paul Garry (0-1), Damien McDonnell, Cillian Gormley (1-1); Colin Lynch, David Bowens (2-3), Shane Mulvany (0-7). Subs: Cormac Mullen (0-2) for Richard McKeown, Fraser Thom for Cillian Gormley, Sean Brady for Shane Mulvany, James Commons for Damien McDonnell.
Most Read Stories