B FL Div 2: Farrell returns but Nobber come up short
July 13, 2018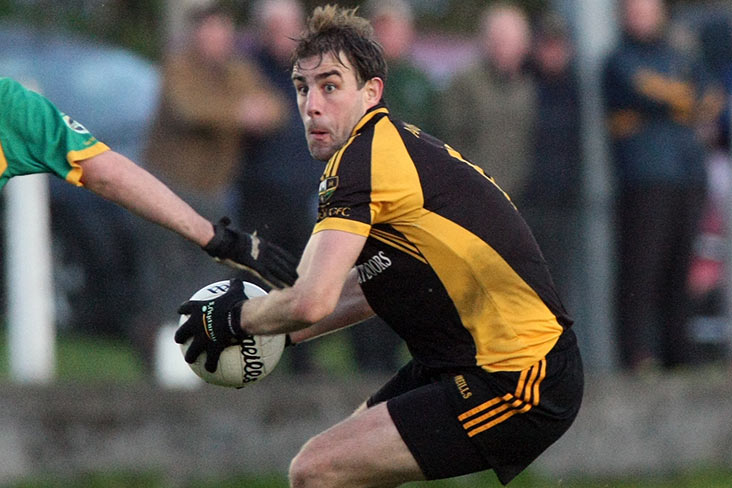 Nobber's Brian Farrell
Trim 2-16 Nobber 2-12 
Nobber put in a good performance before coming short at the final whistle in this B FL Division 2 clash against Trim in Nobber.
The highlight of the evening for Nobber was the return of Brian Farrell following a lengthy absence through injury.
Brian was introduced as a sub in 10th minute of the second half and showed he had lost none of his guile or craft by registering 1-3.
After an evenly contested first period Trim led 1-8 to 1-7 at the break. Nobber's cause was helped by a Richard Shields goal and points from Karl Casserly (4), Gordon Weldon (2) and Dara Cassidy (1).
On the restart the visitors were the more purposeful side and led by 8 points after 50 minutes.
At this stage Farrell steadied the Nobber ship and got them back in contention but time was not on their side. Apart from Farrell Nobber's other scores in the second half came from Gordon Weldon.
Nobber scorers: Brian Farrell 1-3, Richard Shields 1-0, Gordon Weldon and Karl Casserly 0-4 each, Dara Cassidy 0-1
Nobber: P O Reilly, B McEntee, P Olwell, Cormac Clarke, P Weldon, B Meade, D Cassidy, R Shields, G Farrelly, A McEntee, Colin Clarke, G Weldon, C Fox, K Casserly, J Donahue. Sub: Brian Farrell for Fox
Most Read Stories