AHL Div 1: Ratoath retain top spot
July 12, 2018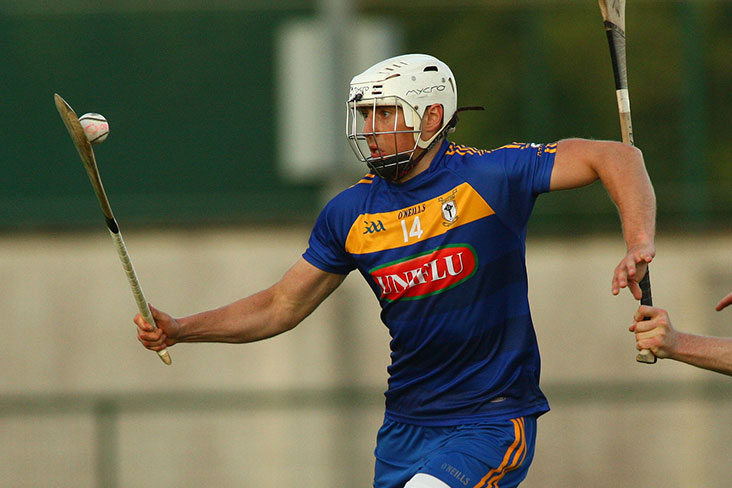 Ratoath's Gavin McGowan
Ratoath 0-19  Kilmessan 1-11
Ratoath's senior hurlers  ran out 5 point winners in this entertaining league match played last night in Kilmessan.
The game began with Ratoath on the front foot with Cian Rogers knocking over 2 points, 1 from play and another from a free , to open an early lead which they wouldn't relinquish for the remainder of the game. Gavin McGowan tipped over another before the home side opened their account with a '65  in the 12th minute.After that both sides were guilty of hitting some poor wides and in fairness both defenses were on top as the score read 0-4 to 0-2 after 25 minutes. 
The game soon though became more open and an excellent score from Sean Johnson preceded 2 more Rogers frees. Kilmesaan replied with 2 of their own to leave the score 0-7 to 0-4 in the visitor's favour 
After the interval David Keane's charges continued to have the upper hand as McGowan, Bryan McMahon, Rogers & Johnson raised white flags to leave the scoreboard 0-13 to O-6 after 43 minutes. It wasn't all one way traffic though and it took a couple of excellent saves from goal keeper, Gearóid Crowley in stopping goal bound shots to keep his side ahead. He could do nothing though about Kilmesaan's goal in the 45th minute after a well worked move.
Ratoath responded superbly through with McMahon & Tadhg McCann pointing and later Daithi McGowan got in on the scoring act. With his brother Gavin notching his 4th point to stretch the lead to 7 in the 60th minute the result was now put beyond doubt. The home side did get 2 late points but by then it was a case of too little too late as Ratoath claimed the victory after a hard fought game. All in all an excellent team performance from David Keane's men as  they go back on  top of Division 1 with 11 points 
Ratoath: Gearóid Crowley; Paddy Dowd, Cormac Butler, Brian Kiernan; Niall McClarnon, Jack McGowan, Ben McGowan; Conor McGill, Conleth McClarnon; Sean Johnson (0-2), Bryan McMahon (0-2), Daithi McGowan (0-1); Cian Rogers (0-9), Gavin McGowan (0-4), Tadhg McCann (0-1) Subs: Tom Fadden for Conleth McClarnon, Ger Brennan for McCann
Kilmessan: Christopher Curtis; Padraig Maguire, Shane Brennan, Martin Horan; Peter Farrell, Declan Smyth, Peter Reynolds; Padraic Burke, Paddy Lally; Stephen Clynch (0-3), Ciaran Hegerty (0-1); Darren Reilly, Kevin Keena (0-4), Seanie Doyle (1-2). Subs: Paul Grimes (0-1) for Paddy Lally, Danny Thynne for Ciaran Hegerty, Darren Brennan for Conor Gorman, Mark Munnelly for Peter Reynolds.
Most Read Stories