Ladies IFC: Michael brought back down to earth
May 17, 2018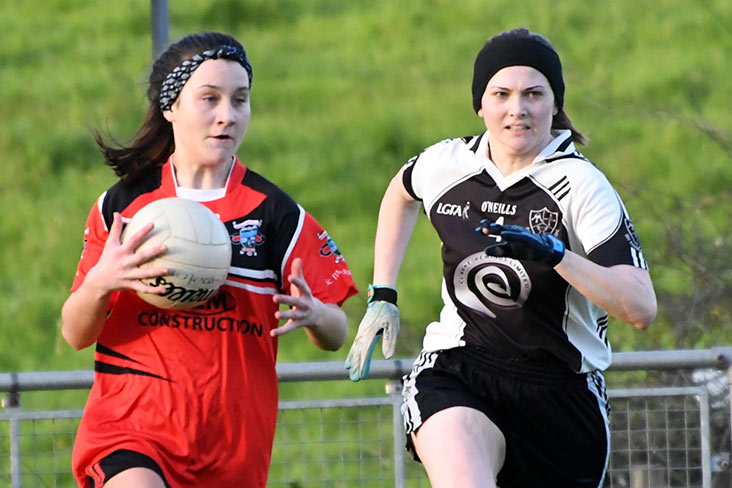 Seona Lynch St. Michaels gets away from Dee Rangers Shauna Sweeney during the ladies IFC game at Carlanstown
St. Michaels 2-12, Dee Rangers 2-17                                              
A scoreline of 2-12 would win most games but the St. Michaels ladies were brought back down to earth following their victory over Summerhill the previous Wednesday in this lively and entertaining Masita Ladies IFC second round match with Dee Rangers in Carlanstown on Wednesday evening.
The home side, missing the services of county player Marion Farrelly and Mary Clinton got off to a fast start with a brace of points from Megan O'Brien and Sinéad McCormack and a well struck goal from Yvonne Farrelly in the opening three minutes. Dee Rangers settled into the game and added five unanswered points to draw level after eleven minutes play, they forged ahead to go four in front before O'Brien and Seona Lynch pulled  two back for St. Michaels. Dee Rangers split the posts twice before O'Brien and Lynch hit the target with one apiece to leave their side trailing by 1-6 to 0-11 at the interval.
The Dee Rangers girls who were more balanced in strength all over the pitch hit the ground running on the re-start opening up a 1-15 to 1-6 lead by the end of the third quarter as their defence stood solid against the constant pressure the St. Michaels girls were applying and many of the home sides attacking runs which were made by Seona Lynch, Alicia Curtis and Megan O'Brien broke down in front of the posts. St. Michaels did enjoyed a purple patch as Lynch, Curtis and McCormack all fired over in a 10 minute spell to leave it 1-11 to 1-15 in favour of the visitors however they netted their second major with two minutes of normal time remaining and in an exciting last few minutes of added time Seona Lynch bagged 1-1 while Dee Rangers added a further two points to leave five points the difference at the final whistle.
St. Michaels: Sarah Bradley; Laura Halpin, Ellen Cassidy, Aine Sheridan; Lorraine Curtis, Emma McDonnell, Deirbhile Curran; Claire Halpin, Mary Carpenter; Megan O'Brien (0-3), Erin Lynch, Seona Lynch (1-4); Sinéad McCormack (0-4), Yvonne Farrelly (1-0), Alicia Curtis (0-1). Subs: Marita Rogers for D. Curran 24 minutes, Shauna Harten for L. Halpin 39 minutes.
Referee: Noel Hand.
Report and photo Pascal Reilly, PRO.
Most Read Stories