FL Div 4: Moynalty remain in contention
May 08, 2018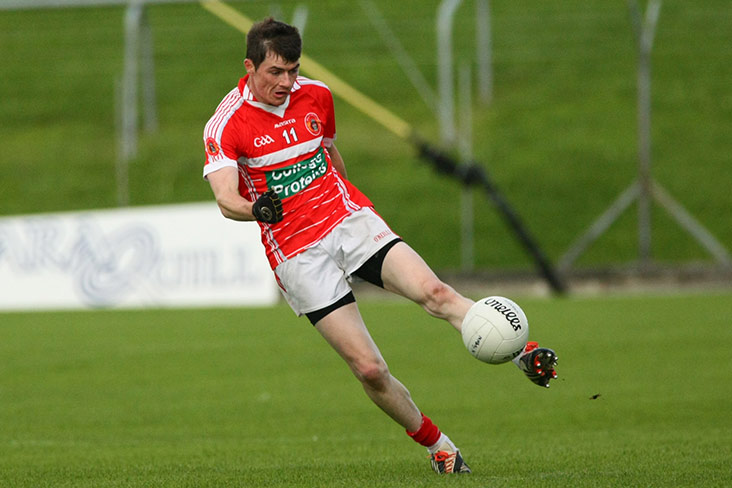 Moynalty's Paul Lynch
Moynalty 1-16, Drumconrath 0-15
Moynalty played Drumconrath on Saturday 5th May in Drumconrath in Round 7 of A League Division 4.
Drumconrath were first off the mark with a point. Moynalty then got a goal and seven points before Drumconrath got their next score, goal and two points from Paul Lynch, two points from Paddy Byrne, point each from Nicholas Mc Kenna, Ronan Lynch, and Michael Cahill. Both teams found the target three times before half time Paul Lynch, Cormac Kearney and Adrian Maguire with the points from Moynalty, to bring half time score Moynalty 1-10, Drumconrath 0-05. 
Moynalty had a laspe of concentration for a spell in the second half and Drumocnrath outscored them four points to two, Ollie Sheridan with two points. Paul Lynch added two more along with Christy Cahill. Drumconrath scored six more points. Moynalty came away with the points as deserved with their early scores in the first half proving crucial. 
Moynalty scorers: Paul Lynch 1-05, Paddy Byrne 0-02, Ollie Sheridan 0-02, Christy Cahill 0-02, Adrian Maguire 0-01, Ronan Lynch 0-01, Nicholas Mc Kenna 0-01, Michael Cahill 0-01, Cormac Kearney 0-01. 
Moynalty: Jonathan Lynch, Michael Lynch, Ronan Mc Mahon, Matthew Mc Kenna, Cormac Kearney, James Cassidy, Ronan Lynch, Nicholas Mc Kenna, Anthony Nevin, Adrian Maguire, Michael Cahill, Carl Lynch, Paddy Byrne, Ollie Sheridan, Paul Lynch. 
Drumconrath Report
Moynalty 1-16 Drumconrath 0-15
It's proving to be a tough year for Drumconrath and one has to say fair play to "rookie" manager Richie Timmons for continuing to work away in a effort to turn things around. 
Back in league competition after the championship month that did not go well for the Reds they faced a Moynalty side who have been enjoying a better run of form than of late.
Drums managed to field the regulation 15 but had no substitute to call on as again had numerous absentees for the usual varying reasons.
Drums had started well with the brilliant Stephan Crosby pointing but a tap in goal gave Moynalty the lead which they would hold throughout.
Confidence seemed to effect the home side and they soon trailed 1-7 to 0-1 as the half progreeed. A battling 3rd quarter left the half time score 1-10 to 0-5 and this seemed to lift Drumconrath somewhat. Sean McMahon Daniel Myles, Pado Farrelly and Crosby pointing.
A good start to the 2nd half seen the trend continuing as McMahon and Crosby dominated the midfield area and the Moynalty team looking a different prosition from the one in the 1st 20 minutes.
Daniel Myles in his 1st appearance in the pitch in 3 months was showing great touches up front and the high fielding McMahon also proving useful from frees Drums had the deficit down to 2points as Crosby who endured some heavy tackles drove the home side on.
A couple of late points calmed the nerves and gave Moynalty the win that their early dominance deserved.
Drumconrath; Eoin Muldoon; John Lynch, Cathal Dunne David OHalloran: Robert McEntaggart (0-1), Peter Tighe Patrick Halpin: Stephan Crosby (0-3) Sean McMahon (0-4); Chris Tighe (0-1) Tomas Conlon Daniel Myles (0-4); Pado Farrelly (0-2) Alan Dunne Cathal McEvoy.
Most Read Stories