FL Div 1: Three out of four for holders
February 23, 2018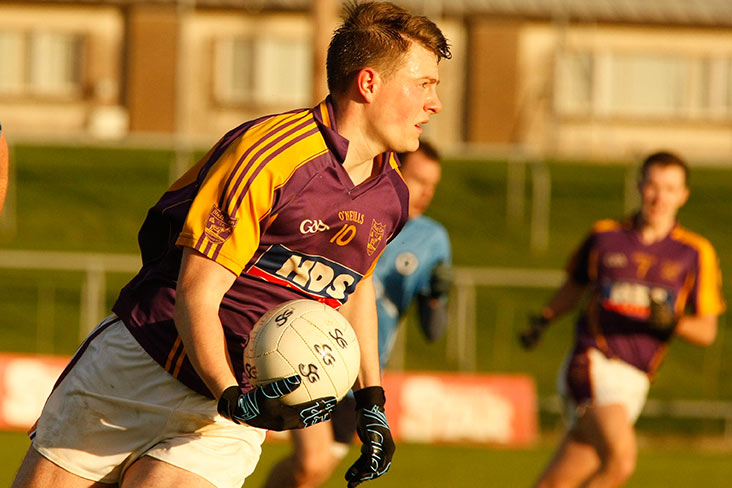 Niall O'Reilly Wolfe Tones
Mooney Cup holders Wolfe Tones chalked up their third win from four outings in the All County League Division 1 FL at Dunshaughlin last night.
Dunshaughlin 2-9 Wolfe Tones 4-10
Bhí tosach iontach ag foireann Bhulf Tón agus  fuair Fiachra Mac an Bhárd, Sarán O Fionnagáin agus Niall Ó Raghallaigh cúil go luath sa chéad leath ach tháinig Dún Seachlainn ar ais go laidir agus tar éis 40 nóiméad ni raibh ach cúilín idir na fóirne. In a dhiaidh fuair Caolán Mac an Bháird agus  Marcus Ó Colmáin cúilín an duine sula bhfuair Saran O Fionnagáin cúl, scóranna a thug an láimh in uachtair ar ais do na cuairteoirí.
Three goals in quick succession early in the first half gave Tones a commanding lead and they led by 7 at half time on a 3-5 to 1-4 scoreline.  However the visitors  had to withstand a spirited second half rally which saw 14 man Dunshaughlin narrow the gap to one point as they notched 1-3 without reply in the first ten minutes of the second half. However Tones recovered and pulled clear again to record their 3rd win in 4 games.
Wolfe Tones: David Nolan, Oisín Mac Ghinneartai, Shane Glynn, Conor Sheppard, Niall Mc Loughlin, Stephen Sheppard, Éanna Harrington, Padraic Diamond, Charlie Mc Garry (0-2), Niall O Reilly (1-1), Cian Ward (0-5), Mark Coleman (0-1),  Caolán Ward (0-1), Sarán O Fionnagáin (2-0), Fiachra Ward (1-0)
Subs: Thomas Blaney for Niall O Reilly (53), Gary Mc Fadden for Mark Coleman (55)
Dunshaughlin Report
Dunshaughlin 2-09 Wolfe Tones 4-10
Dunshaughlin's poor start to the league continued with a seven point defeat at the hands of Wolfe Tones in Dunshaughlin on Thursday evening. Having trailed by 12 points at one stage, Dunshaughlin fought back to trail by one point midway through the second half. At the point, the home team were in total control and playing excellent football. However, when the video replays are being dissected, it was 5 minutes of madness in the first half that will have the Dunshaughlin management team and players tearing their hair out.
Dunshaughlin started well and Ben Duggan was instrumental in their first score, which was a well taken point from the lively Cian Gallogly. The next 15 minutes was all Wolfe Tones. The away side raced into a 3-04 to 0-02 lead in the blink of an eye and it only looked like it would get worse. Experience and cuteness might have seen a Dunshaughlin player go down for some 'medical treatment' and slow the game down but that didn't happen and Wolfe Tones took advantage with some quick fire goals. The home side gave their fans some to cheer about before the break as they showed some good heart scoring 1-3. The goal was excellently taken by Keeling's fruit packer Tommy Johnson. It should have been closer at half time but Dunshaughlin were guilty of missing some very scoreable frees. Dunshaughlin then had their second player sent off in as many games as Ben Duggan was shown the line by referee Patrick Coyle. 
As the second half started, and temperatures dropped Dunshaughlin began to warm to the task at hand. They dominated the next 15 minutes. Cian Gallogly tormented the Tones defence. His pace and willingness to take on players is a joy to watch. He scored some excellent points and won some valuable frees. Former West Brom star Eoin Hagarty converted a penalty to the bottom left corner of the net. Fergus Toolan then got moving too and scored a great point. The defence, in particular Niall 'The Stag' Murphy was having a better half. Murphy was out in front for every ball and kick started many attacks. However, this 15 minute spell maybe took too much out of the 14 man team. Tones kicked on again with another goal to extend their advantage.
Dunshaughlin will be very disappointed with their first half performance. They kicked some very poor wides and conceded terrible goals as Wolfe Tones ran through the defence too easily. This is something that will have to be fixed if Dunshaughlin are to get some badly needed points on the board in the next round.
Dunshaughlin: A.McDermott, J.Hetherington, C.King, A.Doyle, D.Dunne, N.Murphy, T.Johnson (1-0), B.Duggan, A.Kealy, R.Geraghty, F.Toolan (0-3), N.Byrne, C.Gallogly (0-4), E.Hagarty (1-1), T.Kinsella (0-1). Subs: S.Gallogly, O.Foley, C.Keena
Most Read Stories