FL Div 1: O'Neill impressive as Simonstown get second win
February 23, 2018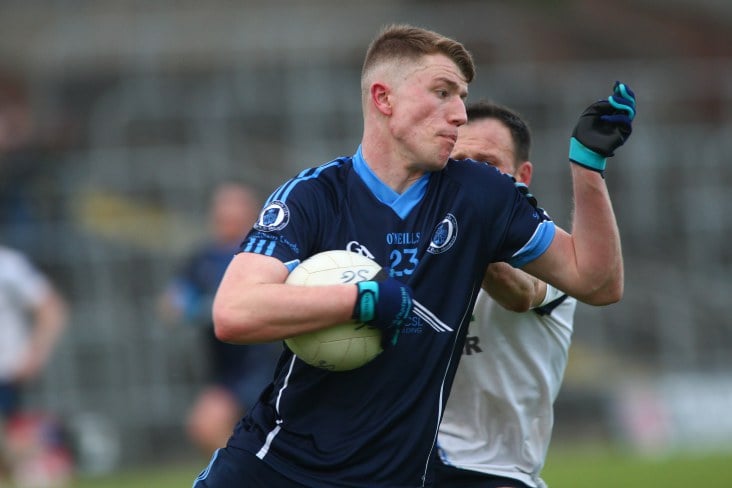 Simonstown's Chris O'Neill
Simonstown 2-15 St Pats 1-11
Simonstown were in search of much needed points after their defeat to Ratoath in round 3.
They began the game very promisingly and opened the scoring with a goal inside the first minute. A long ball into the forward line caused confusion among the Pats defence and the ball found its way to Chris O'Neill. O'Neill showed great composure and scored with a Thierry Henry esque finish. O'Neill proved to be a crucial player throughout the game and would add and scored 1-7 in total. Another player who was prominent on the score sheet was Shane Barry. Barry scored 3 points and showed a wide range of his scoring capabilities in the first half. However it was not all one way traffic, on the 13th minute mark St Pats registered a goal. Pats kicked a defense splitting pass which evaded Stephen Moran and left the full forward one on one with Robbie Burlingham. The Pats finished with aplomb. The Gaels went in at halftime leading 1-7 to 1-3.
The second half began in the same manner as the first. Simonstown's quick starts to both halves were a key factor in the outcome of the result. Mark McCabe, who has been away on duty with Meath, got his first goal of the season. It was a trademark 'Crouchy' finish. Simonstown were able to pull away and scores by Nathan O'Brien and Nicky O'Brien meant they had a healthy lead throughout. St Pats did rally off a few points towards the end of the game but Simonstown managed to keep the gap wide and won the game 2-15 - 1-11
Simonstown: Robert Burlingham, Mark Devlin, Stephen Moran, Niall McMahon, Brian McGrath, Neil Kane, Stephen O'Reilly, Roz O'Connor, Mark McCabe (1-0), Nicky O'Brien (0-2), Shane Barry (0-3), Joe Lyons, Nathan O'Brien (0-3), Chris O'Neill (1-7 (4(f)), Mark Gardiner. 
Subs used: James Kilcullen for Brian McGrath, Michael Gavin for Stephen O'Reilly, Alex Brady for Nathan O'Brien , Dean Curran for Nicky O'Brien, Seán Conlon for Roz O'Connor 
Most Read Stories