B FL Div 2: Skryne's winning streak continues
February 20, 2018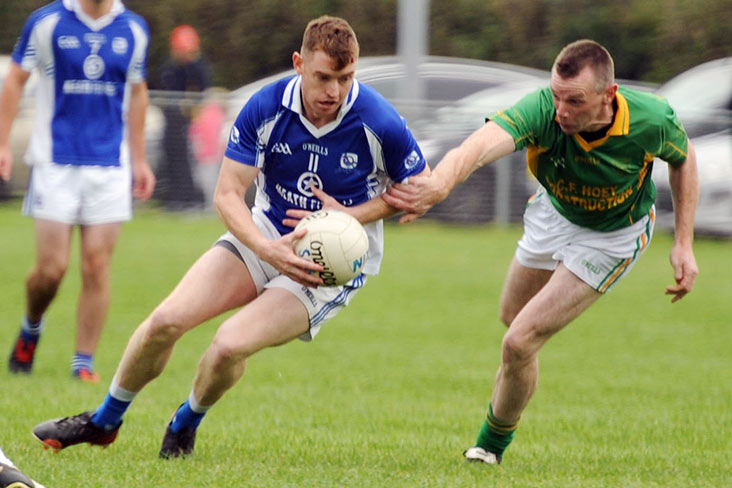 Kevin O'Reilly gains possession for Skryne against Castletown
Skryne 1-16 Castletown 1-12

Skryne's 3rd team continued the clubs winning ways so far this season with an excellent four point defeat of Castletown in McManus Park this Monday evening.
Even without some of their more experienced players Skryne gained some compensation for the defeat to the same opposition in last years B League Div 3 Final.
On a heavy pitch the game began in drizzly rain but this didn't deter either side from playing some good football in difficult conditions. Skryne started brightly with the light breeze behind them playing towards the scoreboard end. Craig Nolan, Allan Carty and Kevin O'Reilly scored some lovely points while Sean Cassidy also got in on the act in that first twenty minutes as the sides traded scores. But the crucial moment of that first half came in the 22nd minute when Frank Carty, who was also on the scoresheet, cut through the Castletown defence and his shot was well saved by the goalkeeper with the rebound finished to the net by the Inrushing Keith Donoghue. This left the Blues well on top and they went on to lead at half time by 1-10 to 0-7.
Another Nolan point in the first minute of the second half seemed to strengthen Skryne's hold on the match but a slack goal four minutes in gave the Green and Gold brigade the encouragement they needed to get back into the game. They improved from that point and cut Skryne's lead to 3 points with ten minutes to go. The home side were boosted by two late David McGoldrick scores and held on for a well deserved four point victory.
In a strong Skryne defence Sean Byrne, Barry Clarke and Andrew Moore stood out and David Lynch steadied the ship when he came on in the second half. In midfield and upfront all the Skryne men played their part in this success.

Skryne - Felim O'Rourke. Sean Byrne, Vinny O'Reilly, Barry Clarke. Andrew Moore, Darren Fox (0-1), Keith Donoghue (1-0). David McGoldrick (0-2), Colm Doherty. Paul Bannon, Kevin O'Reilly (0-5), Frank Carty (0-1). Sean Cassidy (0-2), Allan Carty (0-2), Craig Nolan (0-3).
Subs used - David Lynch, Enda Byrne, Tommy Carpenter and Tommy Kelly.
Castletown Report
Skryne 1-16 Castletown 1-12
Castletown travelled to Skryne on Monday evening for a replay of last year's Div 3 B decider but with a different result at the finish.
This game started with driving rain and a gale force wind blowing in the home teams favour which helped them to a 1-10 to 7 points interval lead. Tommy Smith scored four points of his total of seven in the first half for Castletown with Declan Cribbin, Mark Kelly and Ciaran Weldon chipping in with a point a piece.
Skryne opened the second half scoring to lead by double scores 1-11 to 0-7. With the wind abaiting some what in the second half Castletown still managed to narrow the deficit to three points on two occasions but just couldn't get any closer to the eventual winners. Castletowns second half scorers were Jason Ross with a goal, Tommy Smith with three points and a point each for Declan Cribbin And Barry Smith.
Castletown: Paul Smith, Noel Smyth, Francis Bellew, William Bellew, Paul Bellew,  Ross Blaney,  Jamie Mc Mahon, Robbie Hoey, Declan Cribbin (0-2), Paul Cribbin, Barry Smith (0-1), Mark Kelly (0-1), Jason Ross (1-0), Tommy Smith (0-7), Ciaran Weldon (0-1).
Subs; Evan Hoey for R.Blaney, Francis Hoey for J.Ross
Most Read Stories