Success for Meath U14 hurlers
August 12, 2019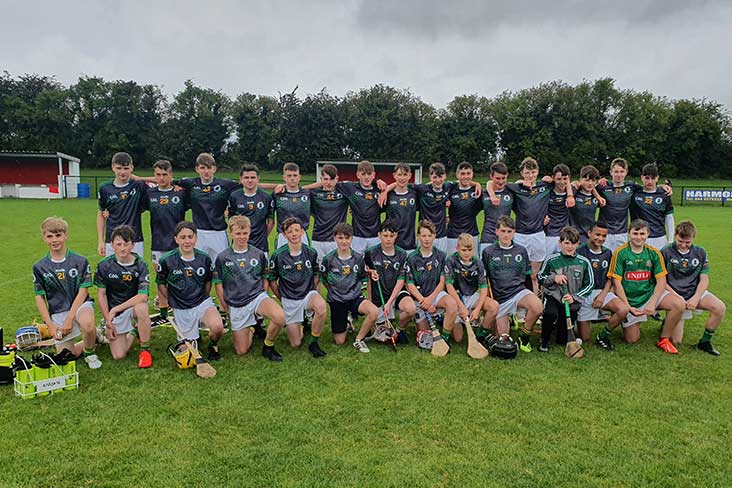 The Meath Under 14 squad
Carlow made the trip to Trim on Saturday afternoon to play Meath in the Sonny Walsh Qualifier Final u14 Hurling in very wet and windy conditions.
Carlow played with a very strong breeze in the first half but it was Meath who struck first blood with two minutes played with Evan Nolan striking a good point from play, Carlow responded with a 65 on 5 min another Nolan free for Meath on 6 mins was also followed by a Carlow point straight away but Meath got a foothold in the game and registered 5 unanswered points 4 from play two from the very sharp Michael O'Sullivan and two from Sean McDermot added to by a Ffee again by Evan Nolan.
Meath's defence were well on top for the best part of the first half until two late points and a great goal by Carlow left the sides level at half time 0-07 to 1-04.
The second half started in terrible conditions with rain lashing towards the Carlow defence and it was here that Meath really took the game away from Carlow. Evan Nolan again from play followed by a point from a free. Meath full forward line caused havoc all afternoon led brilliantly by Tadgh Carty who was a thorn in Carlow's side all afternoon, on 15mins into the half Darragh Heffernan broke through the Carlow defence and was brought down which resulted in a penalty to Meath but with the conditions so bad Nolans penalty was only half hit was saved by the Carlow goalie.
Several Times Carlow went in search of a Goal but the Meath Full back were never going to let them in marshalled well by Captain Cian Douglas, Cormac Doyle and Jamie Duffy only allowing one pointed free from Carlow in the second half.
Meath introduced 3 subs with 10 mins left and they really helped finish the job for Meath with Martin Forde shoring up the defence and Conor Healy scoring a point from play, Meath finished the game with two more points one from play from Michael O'Sullivan and another free from Nolan
Meath had really worked hard for this win with John Fitzharris, Calum Casserly, Ronan Conheady, Eoin Nugent, Malik Assani Ryan all playing superbly well for the green jersey. Final score Meath 0-14 Carlow 1-05.
Meath now progress to Sonny Walsh Cup in Waterford on 31st Aug.
Meath: Freddie Christy, Cian Douglas, Jamie Duffy, Cormac Doyle, Malik Assani Ryan, John Fitzharris, Calum Casserly, Eoin Nugent, Ronan Conheady, Evan Nolan ( 0-07 ), Darragh Heffernan, Eoghan Ryan, Sean McDermot (0-03 ) Tadgh Carty, Michael O'Sullivan(0-03 ).
Subs: Martin Forde for Malik Assani, Conor Healy( 0-01 ) for Darragh Heffernan, Shane McCormack for Sean McDermot.
Not Used: Eoin O'Reilly, Aidan Mackey, Colm O'Toole, Eoin Bright, David Moore.
Mentors: Mark Nolan, Joe Bright, Fergus Conheady, Brian Heffernan, Martin Ryan, Niall O'Sullivan and David Gilkenson.
Most Read Stories