B FL Div 1: Experienced Seneschalstown down Tones
July 11, 2019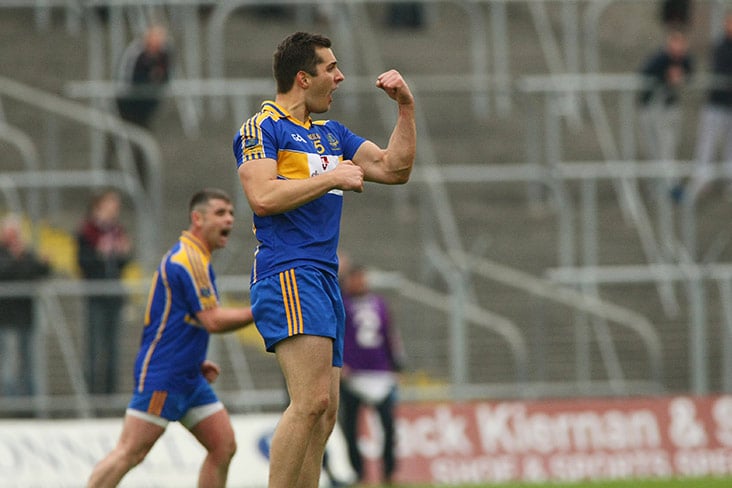 Seneschalstown's Jonathan Gilsenan
Seneschalstown 2-19 Wolfe Tones 1-12
Father Tully Park hosted the meeting of Seneschalstown and Wolfe Tones in the 10th round of the B League Division 1 on Wednesday evening.
It was slippery under foot with the heavy shower just before the game which resulted in the ball moving quickly when it hit the ground.
The team got off to a good start with early points from Sean Commons and Johnathon Gilsenan.
The crucial score of the first half was a goal from Johnathon Gilsenan following good link up play.
Following a run from Sean Commons were the ball came off a defender, Stephen Finnegan expertly dispatched the resulting forty five.
One of the sweetest scores of the match came from a ball won by Edward Meade that was laid off to Brendan Lynch who got passed two Wolfe Tones defenders and slotted over the bar from the right hand side of the pitch.
David Gordon pulled off a great one on one save to prevent a goal which would have brought Wolfe Tones back into the game.
The defence applied pressure on the Wolfe Tones attacks to limit the damage in the first half.
Seneschalstown 1.09 Wolfe Tones 0.05
It was a more even second half as Wolfe Tones scored 1-07 to Seneschalstown's 1-10.
Johnathon Gilsenan continued on his form from the first half with 1-04 from play.
The great fielding in the middle third of the pitch during the game was rewarded with two points from play by Damien Sheridan and two points from play by Stephen Finnegan in the second half.
Second half substitutes Eoin Finnegan and David Bowens both scored points from play.
Seneschastown: 1. David Gordon, 2. Colin Gleeson, 3. David Doyle, 4.Cormac Duffy, 5. Sean Carey, 6. Padraig Finegan, 7. Brendan Lynch(0.01), 8. Robert Ruddy, 9. Damien Sheridan (0.02), 10. Ryan O'Dowd 11. James Meade(0.01), 12. Stephen Finnegan (0.03 1 45), 13. Sean Commons (0.03), 14. Edward Meade, 15 Johnathon Gilsenan (2.07).
Subs: Eoin Finnegan(0.01) for Sean Commons, David Bowens (0.01) for Dylan Doyle and Peter Tierney for Colin Gleeson
Wolfe Tones Report
Bhulf Ton 1-12 Seneschalstown 2-19
Bhí an foireann baile ró láidir do Bhulf Tón agus bhí sé i bhfad níos éasca dóibh na scóranna a fháil ó thús deireadh. Bhíodar 1 03 in aghaidh nád chun tosaigh roimh an deichiú nóiméad agus leanadar mar sin.
Facing a more experienced home side Bhulf Ton were always chasing the game and trailed by 1 09 to 0 05 at half time. Although enjoying their fair share of possession they found it difficult to make scoring opportunities against a well organised defence. Early in the second half the visitors trailed 1 14 to 0 07 before staging a mini revival as the game opened up and managed to score 1 03 in a purple patch but a home goal closed the door and the yellow furze side were comfortable thereafter. Tones had good performances from the Mc Loughlin brothers, Caolán Ward Gary McFadden and Darragh Canny.
Bhulf Ton: Conor Brennan, Seán Moriarty, Alan Lynam, Alan Mc Keever, Mark Mc Fadden, Caolán Ward (0 02, 1'45), Niall Mc Loughlin (0 03), Oisín Corrigan, Aonghus Mc Loughlin, Tom Gavigan, Gary McFadden, Jake McFadden, Thomas Blaney (0 03, 1F), Darragh Canny (0 02), Aaron Tolan (1 01) Subs Iarlaith O Kelly Lynch(0 01) for Tom Gavigan, Ríoghan Mac Ghinneartaí for Seán Moriarty, Seán Lynch for Caolán Ward
Most Read Stories