Colleges: Colaiste De Lacy complete memorable year
May 24, 2019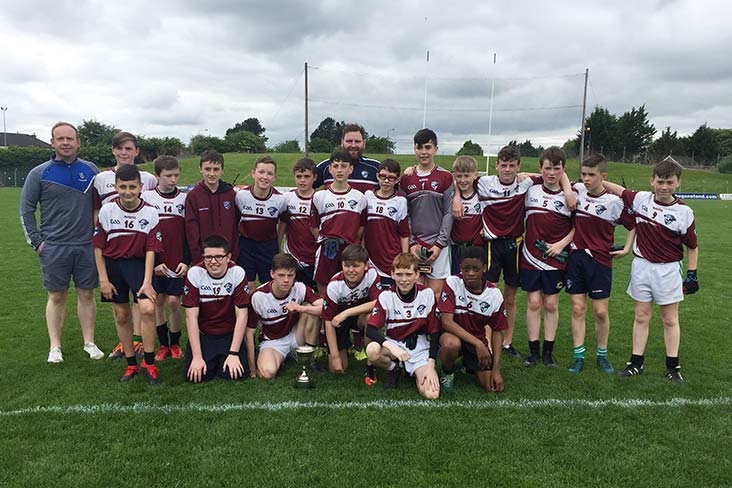 The successful Colaiste De Lacy squad at Pairc Tailteann
Colaiste De Lacy 9-4 Colaiste Na Mí 5-4
Colaiste De Lacy claimed the the Meath Colleges First Year football title with a five goal victory over Colaiste Na Mí today at Pairc Tailteann.
The winners were quick out of the blocks and had goals on the scoreboard from Conor O'Brien, Alex Keegan and Dylan White. Colaiste Na Mí hit back with 1-1 before Colaiste De Lacy registered 2-5 without replay courtesy of Eoin Kelly, White and Alex Bell to go to the dressing rooms with a healthy 5-5 to 1-2 lead.
It was goals galore in the opening 15 minutes of the second half with Colaiste De Lacy finding the net four times while the Navan College raised three green flags. The Ashbourne school went on to record a comfortable win and lifted their 4th trophy to complete a memorable year at the Navan venue.
Colaiste De Lacy: Callum Thomas, Shane Caffrey, Sam Cowley, Conor Mc, Daire Finn, Fuwad Ayuba, Dylan White, Eoin Kelly, Finn O'Shea, Conor O'Brien, Glen Hughes, Alex Bell, Alex Keegan, Daniel Barrett, Ben Whelan, Octavian, Adam Power, Jacob White, Anthony Murphy
Most Read Stories