AFLs - how the divisions stand and changes for 2020
May 24, 2019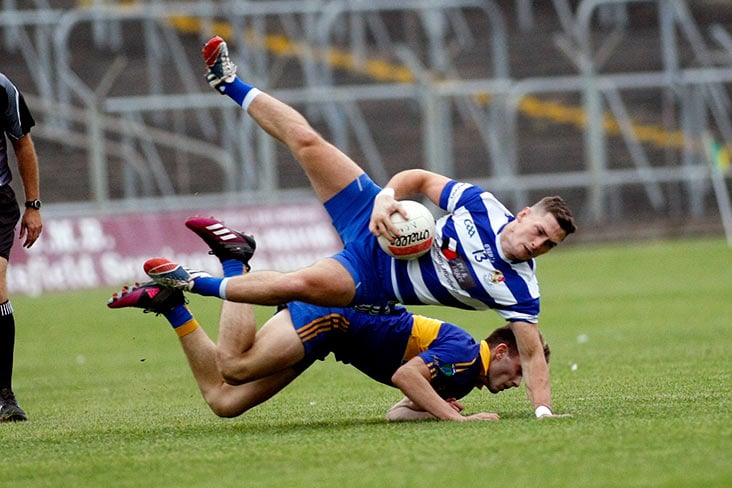 If Summerhill beat Simonstown tonight they could join O'Mahonys at the top.
We take a look at the standings in the All County A Football Leagues ahead of the last few rounds and also examine how the changes passed in January will effect the divisions in 2020.
Division 1
O'Mahonys following their one point loss to Gaeil Colmcille see their top of the table position which they have held from the outset under big threat this evening as a win for town neighbours Simonstown who entertain Summerhill will move them to the summit. Should Summerhill win then they will join the Brews Hill side as joint top. These three look in pole position for the Mooney Cup but any of the chasing pack Gaeil Colmcille, Ratoath, Donaghmore/Ashbourne and County Champions St Peters Dunboyne will all feel they have a chance and so too will Na Fianna should they win their back match against Skryne.
The big Round 11 matches here are Ratoath v Summerhill, Gaeil Colmcille v Dunboyne and Na Fianna v OMahonys which could put some sort of shape on who may end up in Top 3 as 2019 will see the end of a semi-final in Division 1 of the A League.
Moynalvey and Syddan look doomed for relegation as both prop up the table on a single point gained in the side's draw in Round 1. The dreaded third from bottom relegation playoff spot looks to be a straight shoot out in Round 11 as Oldcastle play Skryne with the winner giving themselves a great chance of survival. Dunshaughlin and Wolfe Tones look safe in mid table but would need to garner another point or two to be certain sure of Division 1 football in 2020.
Division 2
Seneschalstown and Ballinabrackey are clear leaders here and above average Junior side Carnaross belie their Championship form sitting proudly in third place two points behind. The chasing pack are a further point back include St Colmcille, Dunderry, St Patricks and Rathkenny - all of whom would harbour hopes of at least getting third place. There are no back games in this Division and Round 11 games between Carnaross v Dunderry and St Colmcilles v Rathkenny having a big say for at least third place. The two leaders look odds on to keep distance between them and the rest as they play Bective and Nobber in Round 11.
North Meath sides St Michaels and Meath Hill look to be somewhat cut adrift and are facing relegation head on while Bective, Nobber, Trim, Duleek/Bellewstown and Curraha are desperate for points to avoid a possible playoff and slip to Division 3 in what is a competitive Division 2 this year.
Division 3
Castletown with nine straight victories lead the way and are promoted and guaranteed a place in the Final as they bounce back after one year in Division 3. The battle is on to see who will also make the Final and guaranteed promotion with Ballinlough in that spot at the moment despite their set back in losing to Walterstown mid-week. Walterstown with a game in hand are also well placed for at least third spot but Drumbaragh, St Ultans and St Vincents are all in with a shout. Only two rounds remain in the 12 team Division 3 as Ballinlough v St Ultans appears the only heavyweight clash in the penultimate round.
Kilmainham, Longwood and Dunsany are under big pressure in the relegation shake up with Blackhall Gaels win mid-week sees them hovering above the bottom three. Kilmainham v Blackhall is a big game in Round 10 where a win for the home side could elevate the Kells parish side out of the bottom three. Moynalty's draw with Ballivor mid-week could be a vital point for both sides quest to remain in the Division.
Incidentally just the bottom 2 here are relegated with no 3rd place playoff in 2019 and two teams relegated to the new Division 4A
Division 4
This division is lightly different this year also with the 2020 changes in mind the Top 4 will play in Division 4A next year along with the relegated pair from Division 3 and the 6 best teams from B League Division 1.
Moylagh and Clann na nGael are in pole position for a Final with Moylagh's win over Kilbride in Round 9 looking like a big two points. Moylagh also have a back match against Slane and also play St Marys. Clann na nGael should also make the Final but have it all to do away to Boardsmill and a tough local derby versus Cortown.
Kilbride and Slane hold the other two promotion spots. Kilbride should clinch one while the meeting of Slane and Kilmainhamwood in Round 11 could settle the other one. Cortown are also in with a shout in what should be a hectic last round.
Changes for 2020

The changes for 2020 sees a different situation in Division 3 and 4 for 2019 as passed at Regulations meeting with Clubs in January.

This year will also be the last year for Division 1 Semi Final.

There will be Division 1/2 play offs and Division 2/3 playoffs in 2019 but none in 2020. So third from bottom Division 1 play third in Division 2 and third bottom Division 2 play third top in Division 3 in 2019 but again that is done away with for 2020.

This year there is no third top v third bottom play off between Divisions 3 and 4. Instead only the bottom two in Division 3 are relegated to a new Division 4A. The top 4 in Division 4 will join them along with the Top teams from B League Division 1 at the end of 2019 to make up 12 teams for 2020. The other teams in the B League Division 1 will play Division 4B in 2020 along with the 7 teams finishing 5th-11th in this year's Division 4 also to make a max of 12 teams.

Most Read Stories