FL Div 2: Bective and Dunderry share the spoils
May 23, 2019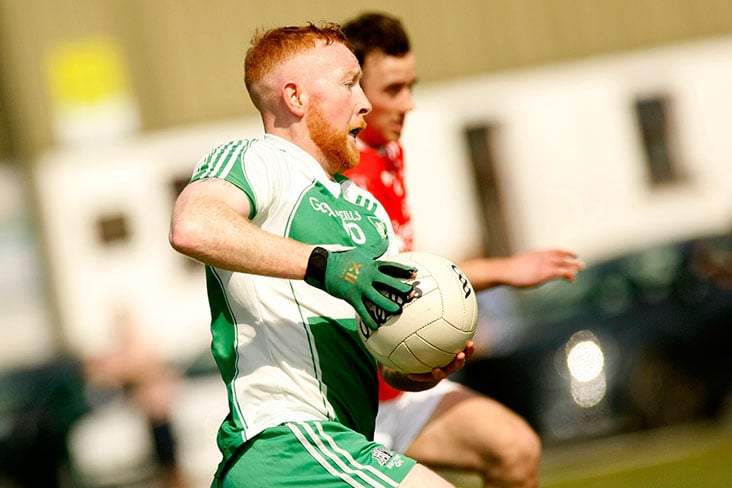 Bective's Paul McCabe
Bective 1-15 Dunderry 2-12
Bective made the short trip to Dunderry in the hunt for another two points to climb higher up the div. 2 league table.
Without six of their regular starters it was going to take an exceptional effort to achieve the win but they had no shortage of spirit and, along with neighbours Dunderry, provided a great game of defensive and attacking play which went down to the wire. A Paul McCabe free opened the scoring after 5 minutes and Dunderry immediately replied with a point. Marty Mulhall fired over a free and again Dunderry replied. Cathal Mc Connell, who was a thorn in the Dunderry defence, raced through for two points in a row and Dunderry replied with a point. Solid defensive play from both sides, and excellent fielding in the middle third, with Ciaran Reilly to the fore, provided the supporters with plenty of entertainment. Applying extreme pressure on the Bective kick-out Dunderry forced a turnover and Stephen Coogan blasted to the back of the net on 15 minutes. Mc Cabe restored calm with another pointed free and again Dunderry pointed, followed by a Mulhall point from play. Another fast attacking move involving many players released Mark Dowdall to hit the net, and, as per script, Dunderry pointed. Mc Connell pointed from play, which Coogan responded to with a pointed free. Jack Clarke, who was having a trojan game at half forward, pointed from play but Dunderry fired again before Mc Connell concluded the first half with a fine point from play. Bective 1 – 9, Dunderry 1 – 7.
Bective came out with renewed vigour with Paul Lyness pointing from distance.This was followed by a Dunderry point again and Mulhall pointed a free kick to put Bective 3 points to the good. An intercepted kick-out released Coogan for his second goal and restored parity on 6 minutes. Again points were traded from free kicks but Coogan fired over two more points from frees. Scoring dried up with defences on top for about 15 minutes with some missed opportunities and time was running out for the Bective men, who were still attacking continually but been held out by a well marshalled Dunderry defence. Mc Cabe sneaked a great point on 32 minutes from a tight angle and it was down to a kick of the ball between these two gallant teams. A Dunderry defender was judged to having handled on the ground and a close in free kick was converted by Mulhall to level the match with 4 minutes of injury time played. The kick out concluded play in this game with both teams contributing to an exciting match of attacking football and played in a sporting manner. Bective 1 – 15, Dunderry 2 – 12.
Bective: Ciaran Breslin, Jar Brennan, Donagh Garvey, Mark Usher, Colm Barry, Craig Roche, Colin O'Rourke, Paul Lyness, Ciaran Reilly, Jack Clarke, Michael Lyness, Cathal Mc Connell, Marc Dowdall, Marty Mulhall and Paul McCabe. Subs in – Kevin Brennan, Brian Cantwell.
Dunderry Report
Dunderry 2-12 Bective 1-15
Understrength Dunderry share the spoils with Bective.
Neighbours Bective made the short trip to Dunderry on Wednesday evening for this A league Division 2 game with promotion still a possibility for Dunderry.
Dunderry missing up to 10 regulars due to suspension, exams, injuries and graduations fielded an experienced team dipping well into the squad with club stalwarts Swiss Clarke and Bob Doherty leading the attack with in form Stephen Coogan and a debut for young Diarmuid O'Curraoin at wing forward.
The game started at ferocious pace and continued throughout which was a credit to both teams. Bective opened the scoring early and Stephen Coogan replied on 6 minutes, the next 10 minutes were nip and tuck and score for score until a Stephen Coogan goal put Dunderry 2 points up. Bective responded with interest and the scores were level again. Fine scores from Conor Daly, Conor Dempsey, Jordy Martin and a fisted point by young O'Curraoin were matched with fine scores from the Bective forwards including a well taken goal. In a close contest there was little between the sides going into the break, a 2 point advantage to Bective who led 1-9 to 1-7.
The second half started just as the first half finished with scores being traded equally and the game being played at a fast pace with big hits a plenty. Bective stretched their lead momentarily to 3 points until on the 6th minute Coogan blasted home his second goal of the game to tie the game up, again. Coogan was coming to the fore and finishing with an impressive tally of 2-7 kept Dunderry in the game. The game was tied up until the 27th minute when another Coogan free edged Dunderry in the lead quickly followed by a Dec Mahon score from play to leave 2 between the sides with time almost up. A Bective score in added time left a point between the sides and when Morgan Callaghan was harshly adjudged to handle the ball on the ground in the 4th minute of injury time it left Bective with a tap over free to draw the match. And that's how it finished, draw game. A very entertaining game and credit to both teams who provided a great spectacle for the large crowd in attendance.
Next up is away trip to Carnaross for Dunderry who realistically must now win all 3 remaining games if promotion is to be achieved. Heres hoping!
Dunderry; D Jennings, A Feeney, A Newman, D McCormack, E Dempsey, M Callaghan, R Brady, C Dempsey (0-1) C O'Shea, J Martin (0-1), C Daly (0-2), D O'Curraoin, D Clarke, S Coogan (2-7), B Doherty.
Subs; C Fitzgerald for Newman (inj), D Mahon (0-1) for B Doherty, S Harte for C Daly.
Most Read Stories