FL Div 1: Missed opportunity for Oldcastle
May 23, 2019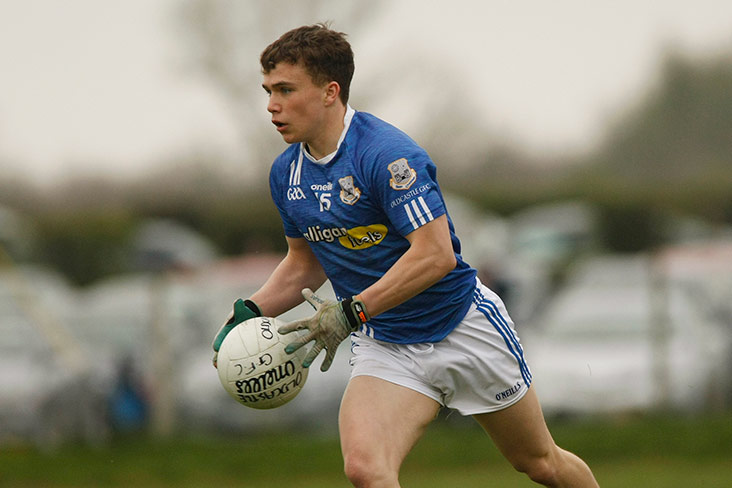 Oldcastle's Colin Hawdon
Donaghmore/Ashbourne 2-14, Oldcastle 1-12
Oldcastle will rue another missed chance this evening, as they took on Donaghmore/Ashbourne in the A League in Millbrook.
Oldcastle took an early lead with points from Jason Scully and Terry Farrelly, followed by a lovely score from C.J. Healy. Don/Ash then pulled ahead by two, before Oldcastle being dealt the devastating blow of keeper Packie Kevin receiving a red card. His reaction – "Ah here!" was pretty much agreed with all round the sidelines. Jack Fox replaced Packie in the goals, leaving a man short outfield. Don/Ash pointed the resultant free, followed immediately by a goal and another pointed free, leaving Oldcastle floundering and suddenly six points down. A Terry Farrelly free was chipped on to Conor Delaney then to Jason Scully, who was floored by his man. That was the end of the Don/Ash No. 13 who justly received a red card, and evened things up somewhat. Robbie Farrelly pointed the free, but the opposition added on another, before also being awarded a point which Hawk Eye, or even anyone who has ever been to Specsavers, would have considered a wide. The final score of first half came from a Terry Farrelly free, moved on by Ger Reidy, to Cian McPartland who made a fantastic run upfield and passed to the lighting fast C.J. Healy who took a lovely point at speed from about 45 yards out. At the end of the first half it was Oldcastle 0-06, Don/Ash 1-10.
Colin Hawdon and Robbie Farrelly took the first two scores of the second half, with Jack Fox making a super save at the other end. A great high catch by Paddy Rahill saw good times go bad when his marker put in a shocking tackle on his way down. Result: yellow card only. Oldcastle then got more into the game with a few nice scores, including one from Paddy Gilsenan, before Jason Scully got a fist to the ball near the goals and tipped it in to the waiting Robbie Farrelly for a goal! Another point soon after reduced the gap to only three points, but despite every effort from the Oldcastle lads, it was the opposition who took the last two points of the game to leave the final score Oldcastle 1-12, Don/Ash 2-14.
Team: Packie Kevin, Lee Healy, Cian McPartland, Louis Colleran, Terry Farrelly (0-01), Ger Reidy, Dylan Garrigan, Jason Scully (0-01), Paddy Rahill, C.J. Healy (0-03), Keith Connell, Robbie Farrelly (1-04), Darren Hawdon, Conor Delaney, Colin Hawdon (0-02). Subs: Jack Fox, Paddy Gilsenan (0-01), Eoin Gilsenan, Peter Monaghan, Kyle Kavanagh, Oran Mulvanny.
Most Read Stories