FL Div 3: Walterstown have an outside chance of qualifying
May 23, 2019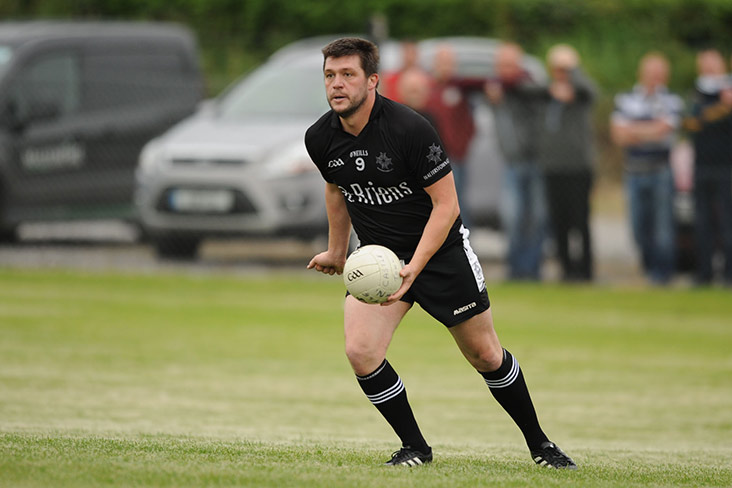 Walterstown's Alban Crosbie
Walterstown 1-14 Ballinlough 2-7
Walterstown played Ballinlough in the 8th Rd of the A League on Wednesday night. Walterstown who had only 3 wins and a draw from the previous 7 matches badly needed a win to give themselves an outside chance of qualifying.
Walterstown registered their first point from an Alban Crosbie free after 1 minute. Barry O Connell added a further Walterstown point to put the home team ahead by 0-2 to 0-1. Ballinlough drew level at 2 points each after 11 minutes. For the remainder of the half Ballinlough slowly pulled clear. They added 2 goals and 2 more points to their tally. Frustratingly for Walterstown's management, their players had plenty of possession, which they were not converting to scores. When referee Pat Clarke blew for half time Ballinlough were 2-4 to 0-5 ahead.
In the second half Walterstown scored the first point but when Ballinlough replied with 2 points of their own the Blacks found themselves 6 points behind. However Walterstown stuck to their task. Alban Crosbie and Conor O Sullivan gained control at mid-field while the defence back boned by Conor Cullen and Davy Reynolds also tightened up their marking. Their wingbacks Aron McLoughlin and Mark McCormack worked tirelessly up and down the field. Conor Farrelly, in his first year playing adult football, seemed to cover every blade of grass on the field. From the 10th minute of the second half Walterstown gained control of the match and played some lovely football.
Points from Crosbie, Brian O Connell and Robbie McDonnell left them only a goal behind. Then Walterstown's midfielder Alban Crosbie scored the score of the match. In the 16th minute he got the ball 20 metres out and coolly drove it past a couple of defenders and the despairing Ballinlough keeper, into the corner of the net. The scores were now level at 1-9 to 2-6. Walterstown continued to pile on the pressure and nicely taken points from Mark McCormack and John Geoghegan put them 2 points clear. Ballinlough did score another point to bring the gap to 1 point in the 24th minute. However, Walterstown were unyielding . Their defenders had to withstand some determined Ballinlough attacks, while further well taken points from Brian O Connell, Aron McLoughlin and the evergreen John Geoghegan put the issue beyond doubt. Manager Joe Treanor was pleased with his team's performance especially as he was missing a couple of players through injury. The final score line read 1-14 to 2-7.
Walterstown:: John Davis, Eoin O Mahony, Conor Cullen ,Colm Reilly , Mark McCormack(0-1) , Davy Reynolds, Aron McLoughlin ( 0-1), Alban Crosbie (1-3,F3), Conor O Sullivan, Robbie McDonnell (0-2), John Geoghegan (0-3), Adam Treanor, Conor Farrelly, Brian O Connell (0-3,F2), Barry O Connell (0-1)
Subs-Paul Donnellan for Robbie McDonnell, Cathal McGuinness for Davy Reynolds, Joey Coogan, Paul Foy
Ballinlough Report
Walterstown 1-14 Ballinlough 2-07
Ballinlough made the midweek trip to Walterstown on a lovely evening for football, with many of our lads coming straight from work to play the game, given the nature of football fixtures on a Wednesday evening.
Early points were traded in the opening 10 minutes with Ballinlough hitting two points from frees, one from Lorcan Maguire and one from Jonnie Reilly, while Walterstown kicked off their scoring with a free in the opening minute followed by a point from play. Ballinlough then put their noses in front in the 14th minute with what can only be described as a perfect team goal. It began with a long high ball in from Walterstown into the Ballinlough rearguard, with Robbie Farrell not only breaking down a ball, a man of his height has no right to be winning, also securing possession and turning defence instantly into attack. He laid off to Lorcan Maguire who played a superb ball to Ronan McGuinness, and he spotted the run of the oncoming Benji Smyth who in turn smashed the ball to the net.
The Men in Red had ample opportunities to push on and really put the hosts under pressure but it was the Men in Black who came out fighting after the concession of the goal, hitting the next three points, two from frees and one from play. But it was the missed chances that Ballinlough would come to rue, hitting a large number of wides as they tried to force scores rather than take more sensible options. Jonnie Reilly finally found the black spot in the 26th minute to get the Lough motoring again, before we struck for our second Major of the first half in the 28th minute coming from the unlikeliest of sources with Full Back Emmet Smyth adding the finishing touch, after some intricate and delightful play between Jonnie Reilly and Mick Geraghty. Mark McCullen hit a point in the 30th minute to see Ballinlough take a 2-04 to 0-05 point lead in at the short whistle.
The second half started similar to the first with Lorcan Maguire again trading an early point with his Walterstown counterpart before Mark McCullen scored a great point after overturning a Walterstown kick out. Unfortunately for the visitors it was all one way traffic from here on in as Walterstown won numerous Ballinlough kick outs firing the ball straight back between the posts scoring three points, two frees and one from play, in the next ten minutes to get themselves right back into this game. They then got a crucial score of their own in the 46th minute when they seemed to waltz through the Ballinlough defence to finish powerfully to the net from a good distance out, and although Rasher Muldoon got his fingertips to the ball it wasn't enough to keep the rocket from almost burning a hole in the net such was the force behind it. Doing exactly what Ballinlough were incapable of doing in the first half, Walterstown tagged on an additional two points from play, one of which came directly from a misplaced Ballinlough kickout.
Lorcan Maguire fired over another point from a placed ball to leave just a solitary point between the sides going into the last five minutes.
Perhaps it was misguided or ill-judged but the Ballinlough attack must have sensed there was another goal to be got from this game and continuously pumped the ball forward with the hope of turning a one point deficit into a two point lead, and in doing so missed some simple opportunities to level up the game had they taken the option of a point. They did carve out one great goal chance in the 55th minute, again displaying some classy link up play but ultimately the last pass was off this time and Walterstown carried the ball down the field. That missed opportunity seemed to knock the wind out of the Ballinlough sails as Walterstown took the next three scores with relative ease, to finish the second half strongly and take two precious points from the game.
It was a disappointing performance from the lads who never really got going, and having missed a large number of chances in the first half, left themselves with too much work to do in the second when the game should have been sewn up after 30 minutes.
But such is football and all Stephen Baxter's men can do is put the defeat to the back of their mind, regroup and prepare again for next weeks game, which is now a must win crunch match v St.Ultans with Ballinlough having home advantage.
We are still in a strong position for promotion but we will need a much bigger and much better performance than tonight if we are going to see ourselves over the line.
Ballinlough scorers: B.Smyth, E.Smyth 1-00 each, L.Maguire 0-03(3f) Jonnie Reilly 0-02(1f), M.McCullen 0-02
Ballinlough: D.Muldoon,D.Caffrey, E.Smyth, R.Farrell, M.Farrell, M.Geraghty, Jonnie Reilly, L.Maguire, T.McCullen, N.McDonnell, R.McGuinness, M.McCullen,B.Smyth,S.Deevey, Junior Reilly
Subs: P.Briody for D.Cafferry 42mins
Most Read Stories