FL Div 1: Second-quarter goals central to Kells win
May 22, 2019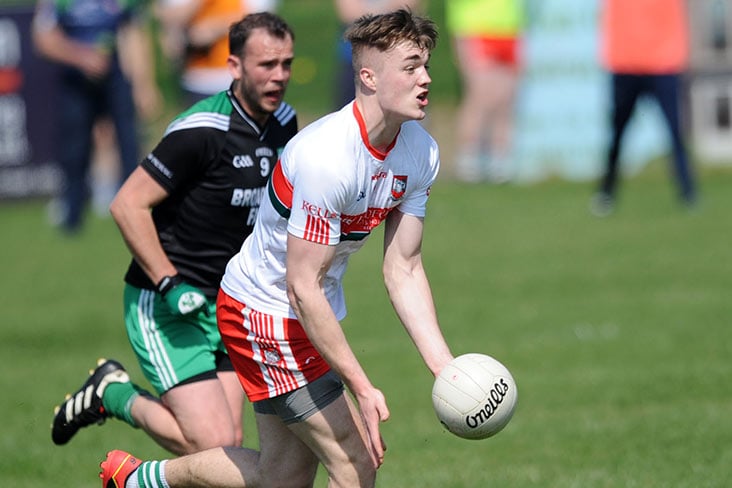 Evan Sheridan Gaeil Cilmcille
Two second-quarter goals in quick succession set Gaeil Colmcille's up for a FL Division 1 win at Paddy O'Brien Park on Wednesday night.

Gaeil Colmcille ..........2-15
Navan O'Mahonys ..... 2-14

Evan Sheridan's 24th minute goal was quickly followed by Brian Hanlon's effort to give Gaeil Colmcille a lead they would take to the finish.

The outcome boosts Gaeil Colmcille's bid for league honours. It was the second defeat of the campaign for leaders O'Mahonys, their first on home turf.

It was a much closer affair than the previous week's Feis Cup encounter between the sides at the same venue where the visitors finished with 16 points to spare.

Hanlon finished the evening with 1-7 (that included two pointed frees and a brace of 45s).

Gaeil Colmcille led by 2-8 to 0-9 at the break. They maintained their momentum in the third quarter when outscoring the hosts by 0-4 to 0-2.

When Hanlon completed his tally in the 57th minute, the board read 2-15 to 0-13.

A late O'Mahonys' surge yielded goals from David Bray and Brian Dillon that sandwiched a point from team captain Daragh Maguire.

The scores were tied four times in the opening 23 minutes before O'Mahonys hit the front for the only time with an Oisin O'Brien free. Then came the two scores that ultimately determined the outcome.

In the next round of fixtures, next Wednesday, Navan O'Mahonys travel to Na Fianna while Gaeil Colmcille host Dunboyne.

Navan O'Mahonys - Aaron Byrne; James O'Reilly, Mike O'Reilly, Evan Power; Patrick Leahy, Daragh Maguire (0-1), Brian Dillon (1-1); Duggie Dillon; Niall McGrane; Aodhan Mallon (0-1), David Bray (1-2, 0-1f), Cathal Smyth (0-1); Alan Forde, Stephen Bray (0-1), Oisin O'Brien (0-7, 4fs). Subs - Darragh Smyth for D Bray (bs 21-30), Daragh Smyth for Power (34), Conor Finnegan for McGrane (40), Henry Finnegan for Forde (50), Paddy Dillon for J O'Reilly (60).

Gaeil Colmcille - Justin Carry-Lynch; Paul Tormay, Barry Smith,Danny Muldoon; Conal Courtney, Barry Tormey, Jordan Muldoon; Cian Doogan, Oisin Reilly (0-1); Evan Sheridan (1-1), Seanie Curran, Seamus Mattimoe (0-2, 1f); Stephen Reddy, Fionn Reilly (0-2), Brian Hanlon (1-7, 2fs, 2 45s).. Subs - Ryan Farnham (0-2) for Doogan (8), Dylan Roche for B Tormey (12), Liam Ferguson for Courtney (bs 16-18), Liam Ferguson for Reddy (46), Danny McGovern for Curran (50), Cormac Mattimoe for O Reilly (58).

Referee - Padraic Coyle (Seneschalstown).
Gaeil Colmcille Report
Gaeil Colmcille 2-15 Navan O'Mahonys 2-14
Gaeil Colmcille made the trip to Paddy O'Brien Park for the second time in six days. After putting O'Mahonys to the sword in the Feis cup, Gaeil Colmcille knew that it would be a different task in the league fixture.
The teams shared four points in the opening six minutes with Brothers Fionn and Oisin Reilly getting on the board for Kells. Three placed ball scores from Brian Hanlon, one from a 45 and the other two from free kicks saw Gaeil Colmcille move three points clear on 14 minutes.
Kells were dealt a blow when they were forced into two chances with Barry Tormay and Cian Doogan both having to come off with injuries along with Conal Courtney having to receive treatment for a blood injury. This sparked the Navan men into life and his three scores without reply in a four minute spell.
The sides were level for the fourth time when Fionn Reilly tapped over his second score after shrugging off the O'Mahonys defender to get the shot off. O'Mahonys did retake the lead before the Gaeils got the opening goal of the game on 24 minutes when wing forward Evan Sheridan picked the ball up at the Navan 45 and headed straight for goal, his initial shot was saved but fell kindly to Sheridan again who pulled on the ball to the top corner.
Straight from the kickout, Kells gather and the ball found it's way into the hands of Hanlon who fired beyond the O'Mahonys to see Kells pull 5 clear. Seamus Mattimoe and Hanlon added a score each before the break along with a couple of points from Navan O'Mahonys saw Kells lead 2-08 to 0-09 at Half-Time.
Substitute Ryan Farnham got the first point of the second half on 32 minutes when his mammoth shot from distance sailed over. Sheridan followed up with a score straight away and the gap was out to seven points. O'Mahonys did get the next score but it was cancelled out by Farnhams second point of the game on 36 minutes.
Hanlon extended the Gaeils lead to 8 points before Navan hit three unanswered points in a row to ensure there was something to play for in the last quarter of the match. But two points from Hanlon, another 45 and one from play, either side of a Mattimoe point pushed the lead out again to 8 points with 58 minutes on the clock and all looked cosy for Kells.
Navan rallied hard and got their first goal of the game as the clock went into the red. A point on 62 minutes closed the gap to four points. Gaeil Colmcille started to sweat when O'Mahonys bagged another goal in the fourth minute of injury time and the Navan folks sensed a comeback, but the referee came to Gaeil Colmcille's rescue and blew the full time whistle to leave Kells in touching distance of the top three sides in the 'A' League Division One.
Gaeil Colmcille: J Carry-Lynch, P Tormay, B Smith, D Muldoon, C Courtney, B Tormay, J Muldoon, C Doogan, O Reilly (0-01), E Sheridan (1-01), S Curran, S Mattimoe (0-02), S Reddy, F Reilly (0-02), B Hanlon (1-07).
Subs: R Farnham (0-02) for Doogan, D Roche for B Tormay, L Ferguson for Reddy, D McGovern for Curran, C Mattimoe for O Reilly.
Most Read Stories