B FL Div 5: Stalemate between Cortown and Dunshaughlin
May 21, 2019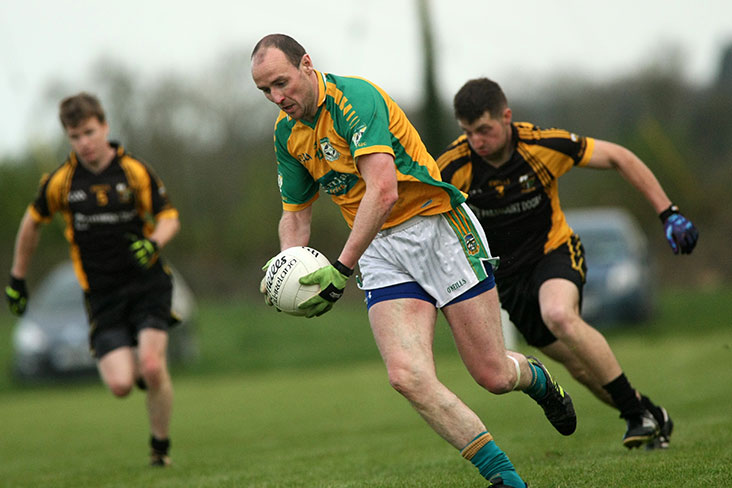 Cortown's Glen Loughran
Cortown 2-13 Dunshaughlin 1-16
Cortown and Dunshaughlin served up an entertaining 60+ minutes of absorbing football in pristine Cortown on Wednesday evening in the Kit Henry derby. It was a rather youthful Dunshaughlin side with 42 year old veteran Trevor Dowd old enough to be the father of most of his team mates.
Cortown, as you'd expect, included some more elder statesmen with Glen Loughran and Butch Casserly's total age amounting to 80+ which was the aggregate age of the whole Dunshaughlin backline. Despite a 'training camp' in Clonbur over the weekend which involved late night sessions and early morning rises, it was the hosts who started the better. Tommy Smith who was a notable absentee from the weekend excursions landed an early score from distance. This was quickly followed by his brother and tag team partner Oísin, a similar affair to the Dudley brothers from the WWE in years gone by.
Dunshaughlin responded through the trusty boot of Dowd who continues to roll back the years, almost two decades on from capturing the Keegan Cup for the first time. Conor Mulroe might not have captured a Keegan Cup but he would certainly have a SHOT at it if given the opportunity. Not one to shy away from having a pop, Mulroe curled over a free after Kevin McGuinness was hauled to the ground. Oísin Smith finished a fine team move with a sweeping score soon after following some enterprising play from Twinkletoes Daragh Smith.
Dunshaughlin would claw the deficit back to one but Richie Flanagan was in inspired form in midfield, limbering round like the Hulk mauling everything coming is way and leaving a path of destruction in his wake, sort of like a tornado. McGuinness who still remains on John Maughan's radar in Offaly would add to Cortown's lead with a fine effort. Captain Mulroe not Morgan added another before Ryan Henry who was making his first public appearance since Leeds United's play-off heartbreak at the hands of Derby County improvised applying an overhead finish.
It looked ominous for the visitors particularly when a speculative Tommy Smith effort fell short but looped in over the head of the Dunshaughlin net minder to stretch the gap to 6. The men in black and amber suddenly sprung into life Shane Clare and Cormac Curtin keeping them interested. It got better for them too when they were awarded an extremely soft and questionable penalty. Dowd stepped up facing Loughran, two legends in club football in Meath but it was the former who calmly rolled the ball into the corner reminiscent of the Italian in the Father Ted Over 70's Priest Challenge match between Craggy and Rugged Island.
Not to be out done by a 42 year old, 41 year old Spring Chicken and King of the Frogs Butch Casserly sailed over a beauty to restore some sort of normality to it from a Cortown perspective ensuring that the home side held a deserved but slender advantage at the break, 1-9 to 1-7.
Cortown would only notch 2 of the next 7 scores as the young prospects showed their freshness adding some stunning scores with Cortown's only responses coming from McGuinness and a free from Smith. Trailing by 3, Anto Monaghan's side desperately needed something and when McGuinness' blushes were saved after his wayward effort was diverted; the referee once again pointed to the penalty spot. Feisty Trim Celtic Star Oísin Smith stepped up and for the second consecutive B League game in a row found the net at a crucial time tying the sides up ensuring it would be a grandstand finish.
The energetic Jack Hetherington would burst forward and slot over before Cortown would summons Loughran from the goals into the forward line. His impact was instant, sailing over a wonderful score. It was end to end and Dunshaughlin looked to have won it when Clare tucked away a fabulous free but there was more drama to come. A quick free from Johnny McGearty found Tommy Smith in oceans of space, he ought to have passed or scored but was brilliantly foiled by Gary O'Connor who proceeded to handle the ball on the ground. Smith would fire over the routine free and despite further chances for the men in green, it wasn't to be as Dunshaughlin clung on for a point and damage Cortown's promotion hopes.
Cortown: Glen Loughran (0-1), Declan Clarke, Man Mountain Mervyn O'Brien, Mickey Costello, Daragh Smith, John McGearty, Decky Clarke, Stevie Clarke (0-1), Richie Flanagan, Conor Mulroe (0-2,1f), Kevin McGuinness (0-2), Oísin Smith (1-2,1pen), Ryan Henry (0-1), Butch Casserly (0-1), Tommy Smith (1-3,2fs).
Sub: John Casserly for Henry.
Most Read Stories