JFC: Two in a row for Clann Na nGael
April 22, 2019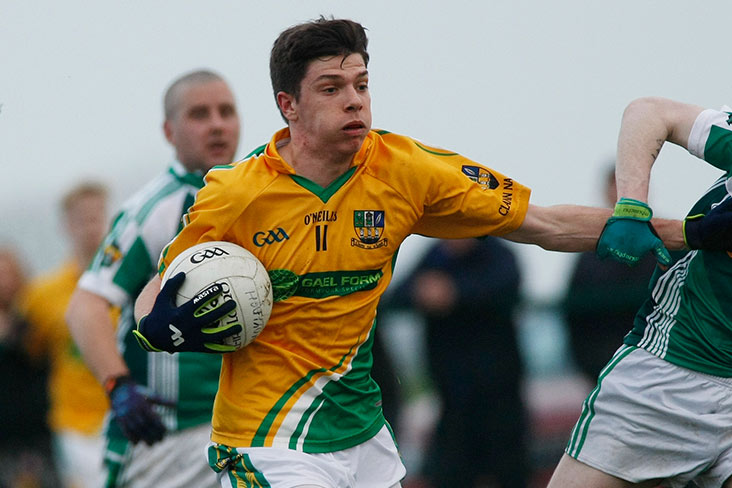 Clann Na nGaels Eamon O Donnchadha
Clann na nGael 3-15 Dún Samhnaí 2-10
Leanadh ar aghaidh le coinníollacha iontacha i mBective, agus d'fhág Clann na Ngael mar a d'fhág siad i mbabhta a haon le bua crua thar Dhún Samhnaí i mbabhta 2 de chraobh na peile Sóisearach A na Mí.
Played in ideal conditions in Bective, Clann na nGael continued where they left off in round one with a hard earned victory over Dunsany in round 2 of the Junior A Meath football championship.
Clann opened the scoring with a sweetly struck point from the reliable left boot of Daragh Griffin. What happened next shocked the parish of Bective/Dunsany like Crystal Palace shocked Arsenal yesterday (to the delight of Palace fan Tómas Doyle), Clann na nGael struck for 2 quick-fire goals the first coming from a palm score with Darragh Swaine finishing the move and then Gerry Sullivan at the second attempt after a good save from the Dunsany keeper rifled the ball to the net to give Clann a 2-01 to 0-00 score lead after 10 minutes. With Darragh Griffin and Aaron Ennis winning their battles in midfield and the Clanns half forward line of the O Donnchadha brothers and Cian Swaine blocking off space for the runners Clann na Ngael continued to exert pressure on the Dunsany keepers kickouts , turned them over on a few occasions and tagged on a few more points, Darragh Swaine (free) and one each for the O Donnchadha brothers. Clann nan Gael lead by 2-04 to 0-01 after 15 minutes with Dunsany forward Pierre Fox scoring the point for Dunsany.
With Dunsany starting to get a grip in midfield the Clann na nGael backs started coming under some pressure but when Paddy Tiernan ( fresh from his scoring exploits from the Junior C last week) turning the ball over in the corner no one could have envisioned what would happen next. Rory Tuite (sporting a new nose for the day) picked up the ball from Tiernan's handpass and with Griffin and Eamonn for company, moved the ball in a 3 man weave formation (similar Liverpool's front 3) up the field at pace and when Eamonn picked up the ball 20 yards from goal he calmly slotted the ball perfectly to the corner of the net. Tommy Hanley was like child at Christmas jumping up and down on the line after seeing such a move right before his eyes. Points were exchanged between both sides with Fox scoring most of Dunsany's scores and Clanns scores coming from the 2 Swaine's Eamon and D Griffin. Things got physical in the last 10 minutes with E O Donnchadha ( black card) and Griffin ( yellow card ) going in the book for Clann and Keena (yellow) performing a WWE wrestling move to Philip Garry who had just claimed a mark following a well-placed kick out from Eoin Griffin . Fox goaled for Dunsany after some good build up from the Dunsany forwards and lifted the men in red before half time.
The halftime score read Clann na nGael 3-9 Dunsany 1-04
The second half was slow to get going with Dunsany trying to regain the momentum they had got from the end of the first half but the men in yellow and green weren't going to roll over. Dunsany struck the first 2 points of the half through Fox who had an excellent game throughout. Clanns responded through D O Donnchadha and Cian Swaine. With things opening up substitute Shane Brennan who was having an influence around the middle goaled for Dunsany after breaking through a few tackles and exchanging some quick hand passes with the forwards to give some life to Dunsany
From the resulting kickout which was worked short and a foul committed Griffin played the ball into space and Garry came won the ball turned evaded 2 tackles (where a premier league player would have rolled around on the floor) popped the ball off to Diarmuid who carried and with Garry looping around popped the ball off for Garry to point. With this score all of the starting forwards had now scored. Gerry O Sullivan was winning everything out in front and working hard but on one occasion he tracked back and was lining up a big hit on the clubhouse side of the pitch only to get his timing all wrong and end up on the floor which gave the Lump Leavy some entertainment on the sideline.
There were strong claims for a penalty when Fox was through on goal only for him to be tackled, shouts for a penalty appealed around the ground not given and the chance was gone. Eoin Griffin who must have taken up judo recently, came out to claim a high ball only for a leg to pop up and a free given against him which Fox pointed. Following the dismissal of Dunsany corner back following a black card which turned to red following a difference of opinion with the referee .John Farrell was playing as a free man and breaking up play as well as kick-outs and the full back line not giving any change for the whole game making it hard for Dunsany to get scores.
Paul Tuite on for Sullivan who was black carded had a chance to score but, his effort came off the post but he was quickest to react and regained the ball and was fouled. Up came Eoiny who slotted over for the 2nd game in a row.
From the resulting kick-out the referee blew for full time and the final score was Clann na nGael 3-15 Dunsany 2-10. Both teams played attacking football and the crowd had the entertainment and the weather also to make it an evening to remember. Disappointed Dunsany had a short trip home while Clann na Ngael went home with 2 points in the bag and sitting top of the table prior to the summer break with Cortown also on 4 points. Up next for Clann is tough match with Drumconrath in the league who beat St, Marys over the weekend.
It would be unfair to single out anyone for praise as the whole team played there part in a strong performance from start to finish.
Clann na nGael: E Griffin (0-1), R Tuite, J Doherty, P Tiernan, C, Kelly, J Farrell, D Kelly, D Griffin (0-2), A Ennis, D O Donnchadha (0-2), C Swaine(0-4), E O Donnchadha (1-2), P Garry (0-1), G O Sullivan (0-1), D Swaine (1-3)
Subs (T Hanley for E O Donnchadha BC, D Brogan for A Ennis, P Tuite for D O Donnchadha and C Kelly for G O Sullivan ( BC)
Referee Brendan O Brien ( St Mary's)
Most Read Stories