JFC: Ballivor trailed by 8 points with 15 minutes left
April 22, 2019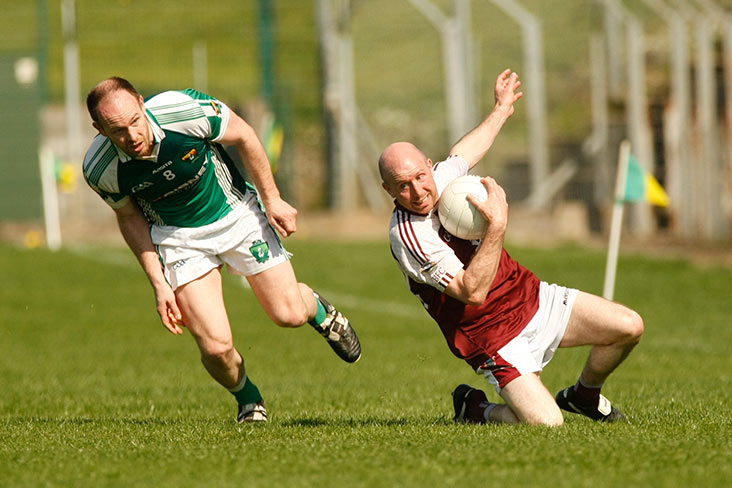 Moylagh's Joe Melia with Padraig Geoghegan Ballivor during the Meath JFC clash at Pairc Tailteann
Moylagh 1-14 Ballivor 5-9
Ballivor took on Moylagh in Navan on Sunday and the outcome could not have been more dramatic. Ballivor were first on the scoreboard through a Kevin McKoen free. A Padraig Geoghegan point made it 0-2 to 0-1 after ten minutes . But for the next ten minutes Moylagh were in control scoring four unanswered points to lead by three. It was important Ballivor responded and they did through a long range Nicky Potterton point. The teams Traded points Ballivors coming from Keith Keoghgan. Just on halftime Ballivor were dealt a hammer blow when a scandalous decision from the referee resulted in him showing Keith Keoghgan a red card. It was Moylagh who finished the scoring in the first half to leave it 0-5 to 0-8.
Ballivor needed to start the second half quickly and they did through a Nicky Potterton point. But on the 36th minute Moylagh struck for the first goal of the game Moylagh then rattled off three quick point. Ballivor now trailed by 8 points with 15 minutes left and it was not looking good. Ballivor responded through a Adam Gannon point before after a great run by Gannon he payed it of to Padraig Geoghegan and after beating a defender he finished to the bottom of the net.
The gap was now four. The sides traded a point each before Ballivor hit the net again. Gannon was once again coming in from the right and he fisted a ball across the goals to the oncoming Nicky Potterton who fisted to the net. Both teams again swapped points before Ballivor hit for their third goal . Chris Dunne received the ball on the 40 and ran straight at the Moylagh defence before squaring the ball for Gannon to finish to the net to give unbelievably Ballivor the lead. Ballivor now smelt blood and kept counter attacking and when a high ball was kicked into the Moylagh fullback line it was let bounce and Martin Healy bravely got to the ball just before the keeper to fist to the net. Moylagh responded with a point before Ballivor finished off the scoring with Padraig Geoghegan fisting a Adam Gannon pass to the net to leave the final score Ballivor 5-09 Moylagh 1-14. It was a fantastic result the lads pulled it out off the fire. They showed great pride and fight.#Baileiomhairabu.
Ballivor: Conor Smith, Jamie Smyth, Gary Sherrock, Jacob Ryan, Mark Healy, Eoin Potterton, David Raleigh, Kevin McKoen 0-2, Shane Farrell, Patrick Conneely, Brian Conneely, Keith Keogan 0-1, David Conneely, Padraig Geoghegan 2-1, Nicky Potterton 1-2. Subs: Martin Healy 1-0 for Brian Conneely, Adam Gannon 1-2 for Shane Farrell, Chris Dunne 0-1 for Patrick Conneely
Moylagh Report
Moylagh 1-14 Ballivor 5-9
Moylagh and Ballivor met in the second round of the junior championship in Pairc Tailteann on Sunday afternoon.
Moylagh opening the scoring through Tommy O'Reilly and further scores from Sean Reilly, Shane Gibney, Tommy Meila and Rory Gibney give the North Meath side a three point lead at halftime.
Ballivor were reduced to fourteen men midway through the opening half when county senior hurler Keith Keogan was red carded for an off the ball offense.
Moylagh lost their influential full forward Tommy Reilly through injury midway through the half.
Ballivor started the second half with two quick points, but Moylagh hit a purple patch scoring a goal and three points without reply, the goal coming from the boot off Rory Gibney and at this stage they looked good too go on and win the game.
Ballivor's introduction of sub Adam Gannon seemed to transform them and they started to get a grip all over the field and hit Moylagh for a goal but still at this stage with five minutes remaining Moylagh looked to have enough work done.
Then disaster struck for Moylagh concealing three goals in injury time to give Ballivor a win that they did not look like winning at any stage of the game and left the crowd scratching their head at what they had just witnessed.
Moylagh: A Fanning, S Payton,S Gibney, j Boyle, k Foley, P Fox, P Traynor, C Fanning, S Reilly, T Meila, J Meila, J McGee, R Gibney, T O Reilly, E Brody:Subs A McCann E Grall, M Corragain
Most Read Stories