IFC: Three out of four for Nobber
April 22, 2019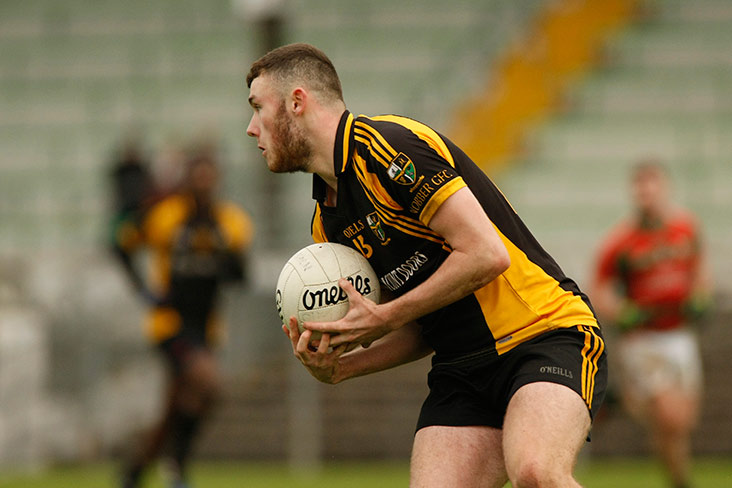 Nobber's Jordan Morris
Nobber 0-9 Meath Hill GFC 0-7
A spirited performance from Nobber saw off a determined Meath Hill in this 2nd round of the Meath IFC at Drumconrath.
The winners were reduced to 14 men when Niall Farrell was dismissed in the second half.
Sean Carolan's charges followed up from their good draw with Oldcsatle in round 1.
Nobber: Dary Hutchinson, Barry Cassidy, Brian Meade, Brendan Heffernan; Paul Meade, Stephen O' Brien, Niall Farrell; Gavin Farrelly, Alan Farrell (0-1); Fiachra McEntee (0-1), Brian Farrell (0-4), Colin Clarke; Marius Meade, Jordan Morris (0-2), Dean Halpin (0-1)
Subs: Andrew O' Brien for Paul Meade (black card), Thomas Murtagh for Colin Clarke, Pauric Weldon for Andrew O' Brien (black card)
Meath Hill Report
Meath Hill 0-7 Nobber 0-9
Meath Hill came up short against Nobber in round 2 of the IFC, played in Drumconrath on Sunday afternoon.
Despite dominating possession at times, missed chances and a more economical Nobber team proved the difference.
Nobber led 0-6 to 0-3 at half time, Tommy Rooney and Jack McMahon with the points for Meath Hill.
Try as they might Meath Hill could not get back on terms with Nobber in the second half, with only points from Pierce McGrath, Tomas Smith, Mark Tully and Paddy Matthews to show for their efforts.
Meath Hill: Chris Yorke, Thomas Carolan, Ryan Owens, Barry Kieran, James Mooney, Kieran Slavin, Martin Tully, Tommy Rooney (0-1), Aodhan Matthews, Pierce McGrath (0-1), Keith Ginnitty, Tomas Smith (0-1), Paddy Matthews (0-1), Shane McCabe, Jack McMahon (0-2)
Subs: Mark Tully (0-1), Ryan Carry, Dean Martin
Most Read Stories