JFC: 'Hill' too steep for Yellow Furze
April 22, 2019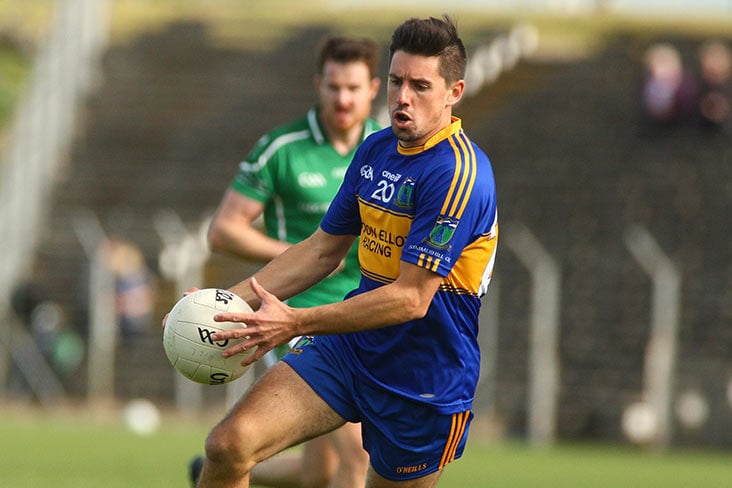 Summerhill's Paul Larkin
Summerhill 2-13 Seneschalstown 1-11
Summerhill second team travelled to Paddy O'Brien Park on Sunday morning to take on Seneschalstown in the Teach Na Teamhrach JFC Group C game.
Both teams having won their opening round games played out an entertaining game in perfect conditions in front of a good crowd.The Hill raced into a 1-2 to no score lead, the goal coming from Cathal Brien.
Loosing Paddy McGrath to a nasty injury let Seneschalstown back in and from there to half time the Furze side led the way, but on the whistle Paul Larkin fisted to the net to leave the score at half time 2-6 to Summerhill 1-8 Seneschalstown.
Three early points in the second half pushed the Hill into a four point lead and with some resolute defending from the men in blue kept the Yellow Furze men at bay for the rest of the game. Summerhill have four points going into the break.
Summerhill: 1. Robbie McDonnell, 2. Jack Payne, 3. Eoghan Crowe, 4. Jack Bannon, 5. Stephen Husband 'Hill' too steep for Yellow (0-1('45), 6. Iarla Hughes (0-1), 7.Jack Davies, 8. Eoghan Jennings (0-1), Paddy McGrath, 10. Eamon McDonnell(0-1), 11.Jack Regan (0-1), 12. Eamon Ryan, 13. Paul Rispin, 14. Cathal Brien (1-2), 15. Paul Larkin (1-5).
Subs: Donal Feeley (0-1) for Paddy McGrath, Mark Donoghue for Jack Davies, Conor Sommerville for Paul Rispin, Jack Davies for Stephen Husband.
Next up for Summerhill is Dunshaughlin
Referee: Tom Lawton
Seneschalstown Report
Seneschalstown 1-11 Summerhill 2-13
Summerhill overcame Seneschalstown on a beautiful Sunday morning in Paddy O'Brien Park Navan to gain there second win of the Junior A Championship.
Summerhill were quick off the mark with 1-03 before Edward Meade found the back of the net for the Yellow Furze side on the 9th minute. Sean Commons slotted over a point from free soon followed by a point from play from Ryan O'Dowd and another free from Commons leaving the Yellow Furze side up by a point. Seneschalstown were on top now and further points from Commons, Meade and Jamie Kirwin left 3 between the sides. Seneschalstown goalie David Gordon produced a fine save on the 25th minute but Summerhill didn't sit back and scored 1-03 from play before the break of half time leaving them up by 1 point. Seneschalstown did have a goal disallowed in the first half after it was deemed that Stephen Finnegan was in the square from a high ball in from Robert Ruddy.
Again, Summerhill started the second period well with 2 points from play and 1 free. Commons kicked a free over the black spot on the 35th minute for Seneschalstown but once more Summerhill cancelled this out with 2 points from play. Commons finished out the scoring for the Yellow Furze side with points from frees on the 45th and 52nd minutes leaving just a goal between the sides. Ruddy who was now in the full forward position had a chance on goal on the 60th minute but drifted wide. Summerhill responded well with 2 more points from play leaving them winners by 5 points.
Seneschalstown: David Gordon, Ruairi Keogh, Simon Rooney, Neill Darby, Gerry Mc Kendry, Cormac Duffy, Sean Carey, Robert Ruddy, Sean Commons (0-07, 5f), Ryan O'Dowd (0-01), Neill Lyons, Stephen Finnegan, Jamie Kirwin (0-01), Edward Meade (1-02), Brendan Lynch.
Substitutes: Damien Sheridan for Ryan O'Dowd, Cormac Noonan for Gerry Mc Kendry, Johnathan Gilsenan for Edward Meade, Padraig Finnegan for Ruairi Keogh
Most Read Stories