IFC: 'Drums' on top in local derby
April 22, 2019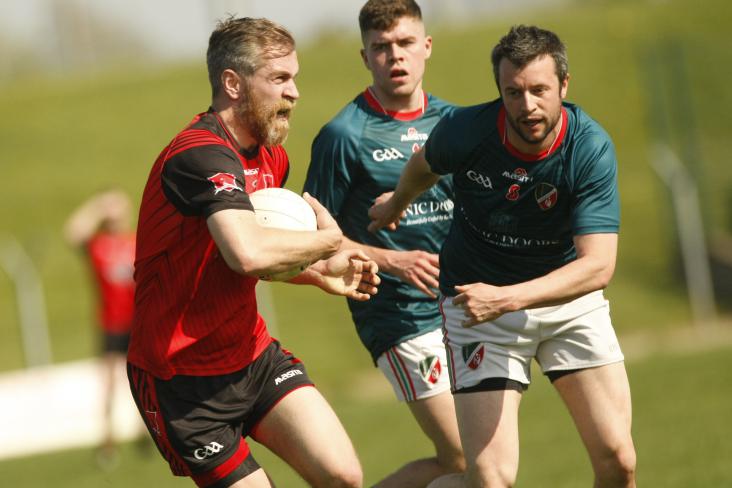 Kilmainham's Joe Mahon with Ciaran Lynch Drumbaragh during the Meath IFC game at Pairc Tailteann
Kilmainham 1-10 Drumbaragh 1-12
These games are always tight and teams need a certain amount of luck to get over the line. Drumbaragh certainly had luck on their side today.
Kilmainham played into the hospital end in the first half and were unlucky to find the Drumbaragh net as Harry Newman's toe stuck in the ground as he was about to let fire. Kilmainham were then awarded a penalty on 3 minutes as corner forward Freddie Newman was brought down by Drumbaragh full back Peter Carry who got a yellow card for his troubles. Rarely these games finish up without a talking point and what was to follow would just add to that. Up stepped Mickey Newman to take the penalty but his shot was well saved by the Drumbaragh goalie. Referee Owen Ganly was quick to blow his whistle as he judged the gaolie to come off his line before the ball was kicked. Newman had a second bite of the cherry and this time he made sure he rattled the top left corner of the net. It was the start that many Kilmainham supporter would have dreamed of. For the next 5 minutes both teams started to find their feet in the heat and also with the individual battles that were to take place as neither team played as selected. Kilmainham worked hard and with good tackling from Conor Kilgallon and Declan Mullen they continued to hold Drumbaragh scoreless. Drumbaragh opened their account on 9 minutes with Thomas Carry given too much space by the Kilmainham backs to slot over. Drumbaragh were back level at the quarter mark. Mickey Newman worked hard to get the ball between 2 defenders to give the quick lay off to Freddie who had to work hard to finally get the ball over the bar and put Kilmainham 1 ahead. It was point for point for the rest of the half with Drumbaragh going in 1 point ahead at half time 1-03 to 0-07.
Drumbaragh got out of the blocks first and had their first point registered within the minute. Mickey Newman added another to the Kilmainham tally after good work from Dean Peppard, who was beginning to grow into the game and see a lot of the ball around the middle. Yet again Terence Daly pulled off some fantastic saves with the first denying John D. Smith as he raced up the end line. Youngster Dylan Morgan should his confidence and ability as he told Mickey Newman where he wanted the ball as he found himself in a bit of space. Newman gave a perfect pass to Morgan who did not disappoint and finished with a great point leaving his team trailing by 1 after 8 minutes 1-05 to 0-09. Kilmainham started to up the anti and were level on 12minutes after Ger Morgan was fouled and Newman slotting over the resulting free. When we moved the ball forward at pace, we seemed to poke holes in the Drumbaragh defence and force the foul on Dylan Morgan and Newman obliged again with the free leaving his team leading by 1-07 to 0-09.
Kilmainham pushed forward looking to further extend their lead and some may wonder what they needed to do be awarded a free or advantage. On 21 minutes Darren O'Sullivan worked extremely hard to get back and force a wide. However, after consultation with his umpire, the referee judged O'Sullivan to have committed a foul and awarded the free which substitute Colm Carry slotted over to bring the sides level once again. Subsitute Kyle Dardis got the all important goal for Drumbaragh on 24 minutes to leave them leading 1-07 to 1-10. Drumbaragh added 2more points to their tally with Kilmainham adding 3 with one coming from substitute Denis Newman on 31 minutes. Deep in injury time the game was still there for taking and many hoped Kilmainham could do the same as Ballinlough had done a few weeks previous and win in injury time. Subsitute Larry Morgan did exceptionally well close to line to win his free and all that was left to be done was to send a high ball in and hope the right hand got to the ball. Morgan sent in the perfect ball and Newman rose highest but just couldn't direct it down enough and fisted it over the bar. That left the final score at 1-10 to 1-12.
It will be a hard defeat for the lads to swallow as losing to your neighbours is never easy as both teams know each other so well. Kilmainham showed great fight and spirit not to lie down and let the game go away from them after Drumbaragh scored the goal and kept fighting to get the all important 2 points in the bag but unfortunately they were just short. We will take heart from good performances from Dean Peppard, Mickey Newman, Declan Mullen and Dylan Morgan. We will dust ourselves off and get ready to take on Walterstown in the league in a quick turnaround on Wednesday evening.
Kilmainham: Terence Daly, Joe Mahon, Stephen Newman, Dean Peppard, Jmaie O'Sullivan, Harry Newman, Darren O'Sullivan, Conot Kilgallon, Mickey Newman (1-07, penalty, 4frees), Dylan Morgan (0-01), Andy Arkins, Declan Mullen, Seánie Mahon, Gerard Morgan, Freddie Newman (0-01). Subs: Larry Morgan for Arkins, Denis Newman (0-01) for Freddie Newman.
Most Read Stories