FL Div 3: 'Drums' maintain fine home form
March 25, 2019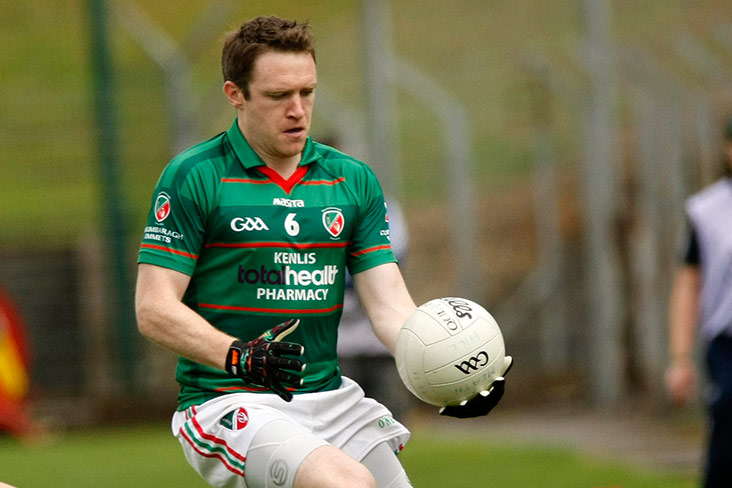 Drumbaragh's William Carry
Drumbaragh 1-13 St. Ultans 0-06
Drumbaragh recorded a comfortable win over near neighbours St. Ultans at a very windy Pairc Emmet in Round 6 of the All County Football League on Sunday morning.
The Ultans started the brighter and led 0-02 to 0-01 after ten minutes. With conditions making scores hard to come by. Momentum turned however soon after, when DJ Carry slotted home his second consecutive penalty of the campaign. Carry's goal acted as a catalyst for The Drums - who now seemed to have adapted best to the blustery conditions. Ciaran Lynch and William Carry were now getting the better of the midfield battle, which allowed the forwards to push on. Three points in a blistering four minute spell from Conor Lynch, Luke Fagan and Liam Ward gave the home side some breathing room.
The visitors will rue a host of missed chances in the first half, only to be punished down the opposite end by their more clinical hosts. Drumbaragh went in at half time 8 points to the good (1-07 to 0-02).
Just like the wind, Drumbaragh didn't let up and assumed the front foot in the second half. Luke Fagan, Conor Lynch and DJ Carry were a constant threat up front, coupled with an excellent defensive display by the entire back six marshalled by Peter Carry. The strong running St.Ultans attack were limited to three points from play over the 60 minutes.
Second half points from DJ (one) Conor Lynch (one), James Connolly (two) and the impressive William Carry (two) meant the Drums secured another vital league win.
A win that see Drumbaragh maintain their fine home form - with a championship showdown with neighbours Ballinlough less than two weeks away.
Best for Drumbaragh were William Carry, Ciaran Lynch, Peter Carry, Luke Fagan and Joe Carry.
Drumbaragh scorers - DJ Carry (1-01), William Carry (0-03), Liam Ward (0-03), Conor Lynch (0-03), James Connolly (0-02), and Luke Fagan(0-01)
Thanks to all who helped out on the day and for the great numbers who came out and supported the team.
Most Read Stories