FL Div 3: 'Blacks' lose in Ardcath
March 25, 2019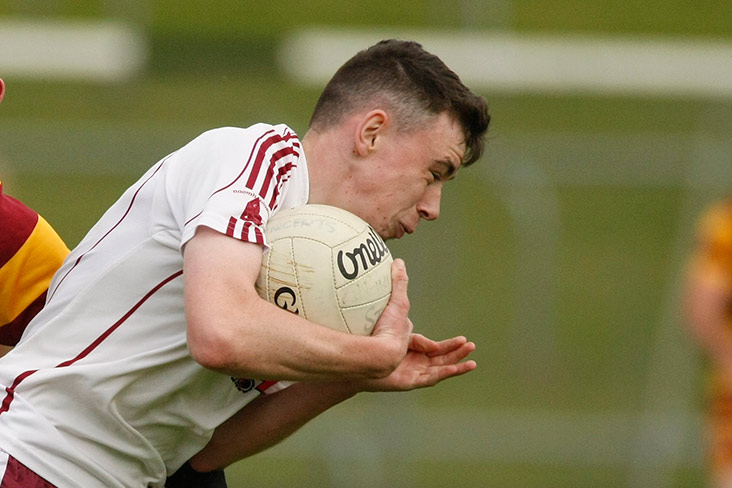 St. Vincents Nigel Hand
St. Vincents 3-08 Walterstown 2-06
Walterstown folk probably had to resort to their Sat Nav on Sunday morning when they headed east to Ardcath for the first meeting between these sides for years. Playing against a strong breeze the visitors opened their account with a fine point in the first minute of the game. That was the only time the men in black led for the entire game. Three points from Tommy Field and one each from Eric Callaghan, Bob Tallon and Patrick McGill saw the home side take a six points to four lead at the interval.
Probably the move of the game was made by the St. Vincents selectors at half time when they made three substitutions, bringing on Jack Byrne, Conor Harford and Nigel Hand. These three along with Leo Corry who came on half way through the first half had played in the All Ireland schools semi-final in Waterford the previous day with Ashbourne Community School. What an impact these young guys made. Jack Byrne impressed at mid field from the start Leo Corry pointed after 34 minutes, Conor Harford goaled after 35 minutes and Nigel Hand hit the net on 44 minutes. Declan O Sullivan had opened the second half scoring on 32 mintues and when Martin Fox found the Walterstown net on the 48th minute the home side lead by 10 points. The men in Black had opened their second half account with a goal on 39 minutes and when they were awarded a penalty on the 51st minutes the deficit was down to seven. The visitors scored two more points before the final whistle, but were guilty of some wasteful shooting which could have left a lot less between the sides.
St. Vincents:- E Connor, C Brangan, D Tallon, M Crawley, D O Sullivan 0:01, N Tallon, B O Sullivan, R Tallon 0:01, D Murphy, R Lynch, T Field 0:03 M Fox 1:00, P McGill 0:01, E Callaghan 0:01, S O Neill. Subs used L Corry 0:01 for P McGill 17 mins J Byrne for C Brangan 30 mins, C Harford 1:00 for B O Sullivan 30 mins, N Hand 1:00 for S O Neill 30 mins, R Hand for D O Sullivan 45 mins, J Corry for M Crawley 55 mins.
St Vincent's 3:08 Walterstown 2:06
On a fine crisp spring morning Waterston travelled to Ardcath to face St Vincent's in round six of the league.
Both teams were at near the summit of the table so this was going to be a close game and the presence of a strong wind would also be a factor.
Vincent's had the wind at their backs in the opening half, but it was the blacks to register the first score with Joey Coogan raising the white flag in the opening minute. But Vincent's struck back registering four points consecutively, three of which were frees in the opening ten minutes, before Mark McCormack scored Walterstowns second point from play. The half petered out with Vincents going in at the break with a two-point lead.
Half Time St Vincent's 0:06 Walterstown 0:04
Even though Walterstown had the wind in their favour, it was Vincent's who made the better start and before fives minutes had elapsed in the second half, they had extended their lead to seven points after scoring two points and a goal. Brian O Connell reduced this lead with the second goal of the game eight minutes in. Vincent's stretched their lead again with two goals and the game appeared to be slipping away from the blacks. Barry O Connell was hauled to the ground when bearing down on goal, and David Donnellan converted the resulting penalty. Despite all the pressure coming from Walterstown in the closing stages, they were unable to reduce the gap and were five points adrift when Joe Synnott called a halt to proceedings.
Final Score St Vincent's 3:08 Walterstown 2:06

Walterstown: Ciaran Murphy, Eoin O Mahony, Conor Cullen, Colm Reilly, Mark McCormack (0:02), David Reynolds, Colin McGrane, Barry O Connell, Conor O Sullivan, Aron McLoughlin John Geoghegan, Adam Treanor, Conor Farrelly, Brian O Connell (1:2), Joey Coogan (0:01).
Subs; Sam McCabe (0:01) for John Geoghegan, David Donnellan (1:0) for Aron McLoughlin, Cathal McGuinness for Eoin O Mahony, Conor Lenehan for Mark McCormack, Robbie McDonnell for Joey Coogan, Christopher Farrell, Conor McGuire, Adam Barrett.
Referee Joe Synnott
Most Read Stories