FL Div 4: Moylagh remain unbeaten
March 25, 2019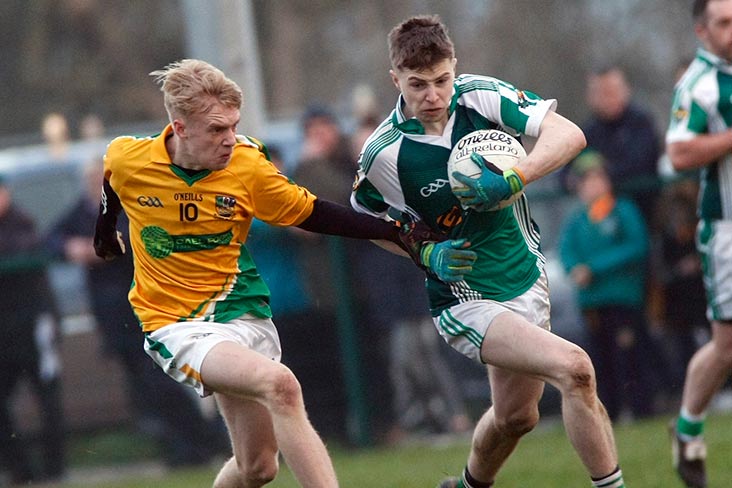 Darren Gibney heads for the Clann Na nGael goal
Moylagh 2-12 Clann Na Gael 2-09
Moylagh remain unbeaten after a hard earned victory over Clann na Gael played in Moylagh on Sunday morning,
Padraig Traynor got Moylagh up and running with a point after five minutes and a Shane Gibney goal midway through the half had Moylagh leading by 1-4 to 0-2 points. Clanna Na Gael got in for a goal before Moylagh finish the half the stronger with an excellent point from Darren Gibney and another from Rory Gibney to go in at the break 1-6 too 1-3 in front.
Both teams traded points early in the second half Alan Mccann and Tommy O Reilly both hitting the target. Clann Na Gael hit a purple patch and scored 1-2 without reply too take a two point lead entering the last ten minutes, but Moylagh to their credit never panicked and points from McCann, O Reilly and a goal and a point from Jamie McGee left Moylagh with the victory.
Moylagh had good performances from Darren Gibney, Jimmy Boyle, Emmet Grall, O'Reilly, McCann, and McGee,
Moylagh: A Fanning, S Payton, D Gibney (0-1), J Boyle, E Grall, P Fox , S Gibney (1-0).J Meila, T O'Reilly (0-5)T , Meila,A Mccann (0-3), P Traynor (0-1). , R Gibney (0-1), C Fanning,J McGee (1-1): subs C Gibney & G Murphy
Clann Na nGael 2-9 Moylagh: 2-12
Despite their best efforts Clann Na nGael were unable to secure a victory in Moylagh in a well contested match on Sunday morning. Playing with a strong breeze in the first half, Moylagh got off to a good start scoring a goal and three points early in the game. Clann responded with a point and a goal of their own by Gerry Sullivan and were unlucky not to score a second when Darragh Griffin broke through, but his shot came back off the post. The remainder of the half was well contested and Moylagh went in at the break three points in front.
Clann started the second half well scoring a point which was followed up with a goal by Darragh Brogan to take a one point lead. However two frees in quick succession restored the lead for Moylagh. The game remained close throughout and Clann got into a winning position as they lead by two points with a few minutes left. However Moylagh were not to be denied their 100% record and kicked two points to level the match before scoring the winning goal in added time.
Diarmuid O' Donnachada, Darren Kelly and Rory Tuite performed well for Clann Na nGael.
Clann Na Gael: E. Griffin, R.Tuite, J.Doherty, P,Tiernan, C.Kelly, J Farrell, D.Kelly, D. Griffin, A. Ennis, D. O'Donnachada, C. Swaine, P.Garry, D. Brogan, G.Sullivan, E.O'Donnachada. Subs: D.Swaine for A.Ennis, P. Tuite for P. Garry, T.Hanley for D. Brogan.
Most Read Stories