FL Div 2: Seneschalstown move to the top
March 25, 2019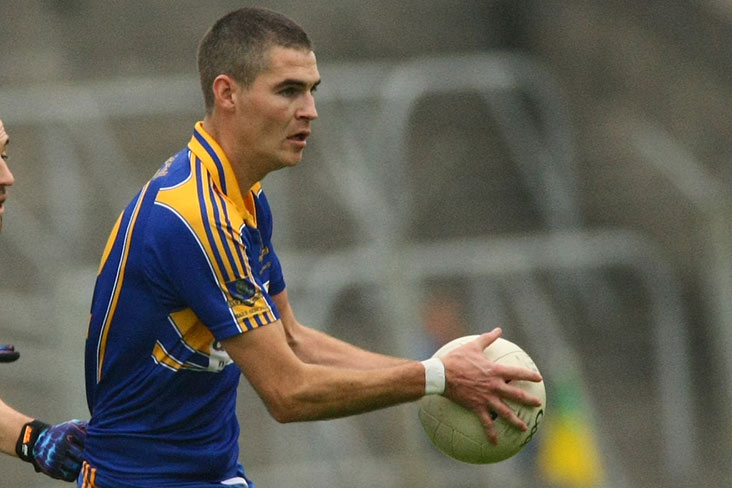 Seneschalstown's Stephen Finnegan
Seneschalstown GFC 3-08 Meath Hill 1-10
It was an early start for all concerned as the team made the journey to North Meath and the picturesque Meath Hill.
Meathhill got the scoring underway with a point from their centre forward.
Dylan Keating and James Meade knocked over two pointed frees to put the team in front.
Dylan Keating scored another pointed free to put two between the sides.
Meath Hill's goalie scored a pointed free and their corner forward scored a point from play in the closing stages of the first half.
Joseph Moore got on the end of move to finish to the net to leave three between the teams at the break.
The shooting boots were not on in the first half as there was numerous wide's and balls into the goalie hands which prevented the team getting momentum.
There was a fine block from Darren Laird to prevent a goal for Meath Hill.
At half time the score was Seneschalstown 1-03 to Meath Hill 0-03
The team had the perfect start with a goal from first half substitute Stephen Finnegan.
Following a break from defence up the right hand side of the pitch by John Smith, he passed on to Ronan Conneely who in turn passed on to Alan Mulvany, with Alan giving the final pass to Dylan Keating for a goal.
Joseph Sheridan followed up the goal by scoring a great point from play to extend the lead out to eight points.
James Meade scored a pointed free in nineteenth minute to leave nine between the teams.
For the last ten minutes of the half Meathhill scored 1-05 with two pointed frees and the rest coming from play to get within two points. In the Meathhill period of dominance Joseph Moore scored a point from play.
Alan Mulvany scored from play and second half substitute Eoin Finnegan scored a pointed free at the end of the second half to seal the win.
Seneschalstown: Darren Laird , John Smith, Andrew Collins, Cathal Hickey, Ronan Conneely, Brian Maguire, Mark Fox, Joseph Sheridan 0-1, Sean Noonan, Alan Mulvany 0-1, Bryan Clarke, Joseph Moore 1-1, Dylan Keating 1-2, James Meade 0-2, Niall Hickey. Subs: Stephen Finnegan 1-0 for Bryan Clarke, Robert Ruddy for Sean Noonan, Niall McCabe for Mark Fox, Eoin Finnegan 0-1 for Dylan Keating, Neil Darby for Ronan Conneely, Sean Carey for James Meade
Meath Hill Report
Meath Hill 1-10 Seneschalstown 3-8
Meath Hill went down to a four point defeat to Seneschalstown on Sunday morning in round 6 of the Division 2 A League.
S'Town dominated the possession in the first half, but despite this, numerous misses and some good keeping by Dominic Yorke, meant they only led 1-3 to 0-3 at half time, with their goal coming with one the last attacks of the half.
Two counter-attack goals in the early stages of the second half meant S'Town had a 9 point advantage with 15 minutes to go, 3-5 to 0-5. Meath Hill then had their best spell of the match, a goal from Ian Malone and points from Jack McMahon and Dean Martin had the gap down to two points approaching injury time, 3-6 to 1-10. S'Town managed to finish with the last two points to close out the win.
Meath Hill: Dominic Yorke (0-1), Thomas Carolan, Graham Boylan, Cathal Marry, James Mooney, Ryan Owens, Darren Byrne, Tommy Rooney, Aodhan Matthews, Kieran Slavin, Pierce McGrath (0-2), Paddy Matthews, Shane McCabe, Jack McMahon (0-6). Subs: Ryan Carry, Keith Ginnitty, Ian Malone (1-0), Dean Martin (0-1), Conor Marry.
Most Read Stories