Ladies U12 FL: Michaels power home
March 25, 2019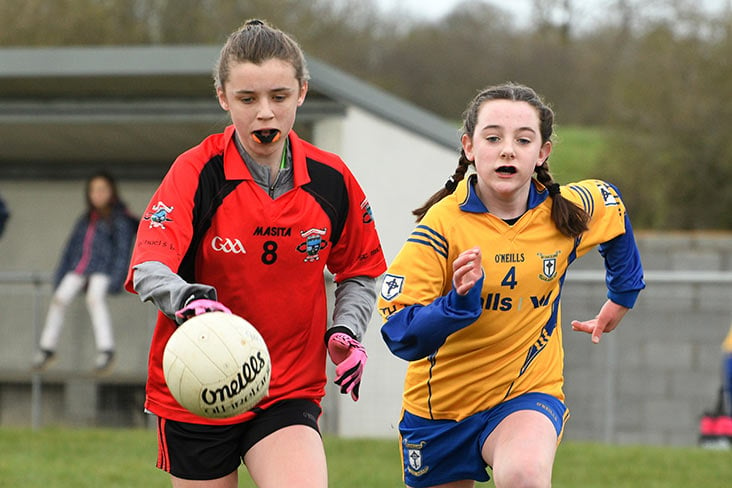 St. Michaels Mia Griffin with Alecia Wall Ratoath at Carlanstown
St. Michaels 2-6, Ratoath 1-4
A powerful display from the home side held a gallant Ratoath side scoreless for three quarters of this match played in windy conditions in Carlanstown on Saturday afternoon last.
St. Michaels got off the mark with three early points from Edel Reilly which was soon followed by 1-1 from midfielder Mia Griffin for a comfortable half time lead.
Caitlin McGillick opened the second half with a pointed free to extend that lead. Chloe Callaghan followed up with her sides second major before Mia Jackson and Edel Reilly completed the scoring with a point apiece for the home side.
Ratoath enjoyed the majority of the possession in the final quarter when the posted 1-4 without reply but time ran out on their brave late effort.
St. Michaels (11 a side): Lauren Reilly; Ellie Jackson, Jane Mulligan; Caitlin McGillick (0-1), Rachael Kiernan; Mia Griffin (1-1), Hollie Keoghan; Sadhbh Keogan, Mollie Kavanagh; Edel Reilly (0-4), Mia Jackson.
Subs: Olivia Sheridan, Chloe Callaghan (1-0).
Referee: Seamus O'Connor.
Report and photo Pascal Reilly PRO.
Most Read Stories