B FL Div 1: Ratoath full value for win
March 25, 2019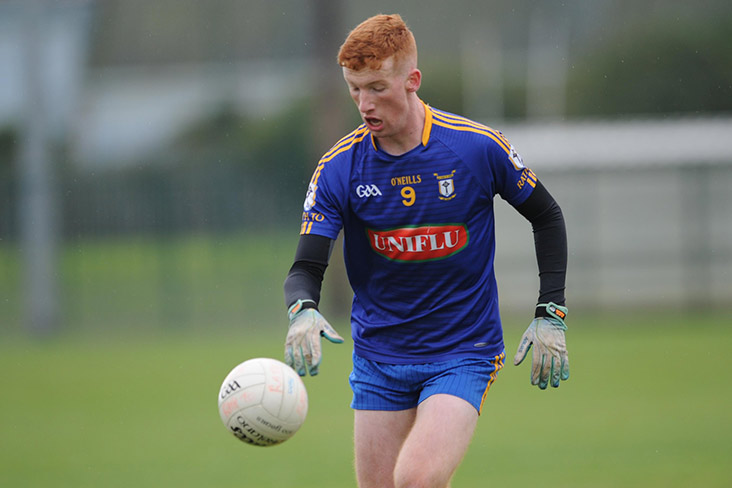 Ratoath's Tom Fadden
Ráth Tó 2-12 Bhulf Tón 0-9
Chuir Ratoath feidhmíocht den scoth i bhfeidhm nuair a bhuaigh sé an cluiche B League seo a reáchtáladh i gCill Bhearaigh tráthnóna Dé Sathairn i gcoinne Bhulf Tón.
Ratoath were full value for this 9 point win as they got the better of Wolfe tones on a cool dry Saturday evening in Kilberry
The game began with the home side getting the first score ,a free, but the visitors soon got in to their running as they scored the game's opening goal in the 3rd minute. Thereafter they were never headed as they gradually built on this early lead for the duration of the game. That said Wolfe Tones continued to keep within one score for most of the first half. Ratoath didn't help themselves with a succession of wides after scoring 1-4 in the first 10 minutes but got their act together with a second goal following a well worked team move 3 minutes before the half time whistle . Both teams then exchanged points but a 6 point cushion at half time for the men from South East Meath looked ominous for the home side at the interval.
Leath ama: Ráth Tó 2-6 Bhulf Tón 0-6
The second half was more of a low scoring affair with both sides struggling to trouble the scoreboard for most of the half. Ratoath despite being reduced to 14 men in the 45th minute were largely in control and made sure of victory with 4 well taken points from play in the last 10 minutes of the game. Overall Ratoath can be well satisfied with this triumph that was achieved playing a stylish brand of football matched by displaying plenty of battling qualities
Foireann Ráth Tó : Sam Coughlan, Michael John Lavin, Darragh McGill, Eoin Clayton, Ryan Kelly, Ruairi Crawford, Colm Nugent , John Walsh, Tom Fadden, Padraig Byrne, John Kirwan, Paul Flaherty, Tiarnan Ahearne, Eoghan MacMahon, Jack Flynn Fir Ionad Pierce Butler for Flynn, Adam Whelan for Flaherty \
Wolfe Tones Report
Bhulf Tón 0-09 Ratoath 2-12
Rinne Bhulf Tón a ndícheall sa chluiche seo ach cé go raibh go leor den liathróid acu níorbh fheidir leo na scóranna a fháil chun teach tar ais i ndiaidh dha chúil a ligint isteach sa chéad leath.
After conceding a goal in the second minute following a free flowing Ratoath move, the Tones played catch up for the rest of the game. They were well in it as the interval approached thanks to scores from Conor Sheppard and Thomas Blaney who notched three points, two of which were frees while the other was a good goal chance which just went over the crossbar following a surging run through the middle. That left the Tones trailing by 0 04 to 1 05 as the first half drew to a close. However the concession of a second goal left them with a mountain to climb. Blaney added two further points to Ratoath's one to leave the half time score Bhulf Tón 0 06 Ratoath 2 06.
The teams exchanged points on the resumption Thomas Blaney converting a free for the Tones. Tones could have had a goal but with just the keeper to beat the last pass went astray and Ratoath cleared their lines. The scores dried up for both teams in what had been a very open encounter and although Tones had plenty of possession they could not unlock the visitors defence. The teams exchanged points in the 50th minute, Gary Mc Fadden converting a Tones free. Ratoath had a player dismissed but as so often happens they appeared to be the team with the extra man and added three quick points to end the game as a contest. Seán Moriarty rounded off the Tones scores with a late point.
Alan Lynam and Brughach o Fionnagain and Mark Mc Fadden stood out in the Tones defence which as a unit played quite well. Thomas Blaney had a fine first half while Padraic Diamond won loads of possession when playing in mid field for much of the second half.
Bhulf Tón: Conor Brennan, Robert Mc Aleese, Robert White, Alan Mc Keever, Alan Lynam, Brughach O Fionnagáin, Conor Sheppard(0 01), Killian O Brien, Aonghus Mc Loughlin, Laochra O Fionnagáin, Gary Mc Fadden(0 01, 1F), Thomas Blaney (0 06, 5F), Darragh Canny, Padraic Diamond, Peter Carroll. Subs Mark Mc Fadden for Robert Mc Aleese, Seán Kendall for Alan Mc Keever,Jake Mc Fadden for Peter Carroll, Sean Moriarty (0 01) for Laochra O Fionnagain, Iarlaith O Kelly Lynch for Thomas Blaney.
Most Read Stories