U15 Div 5 FL: Bidinski on fire as Michaels/Nobber go goal crazy
November 05, 2018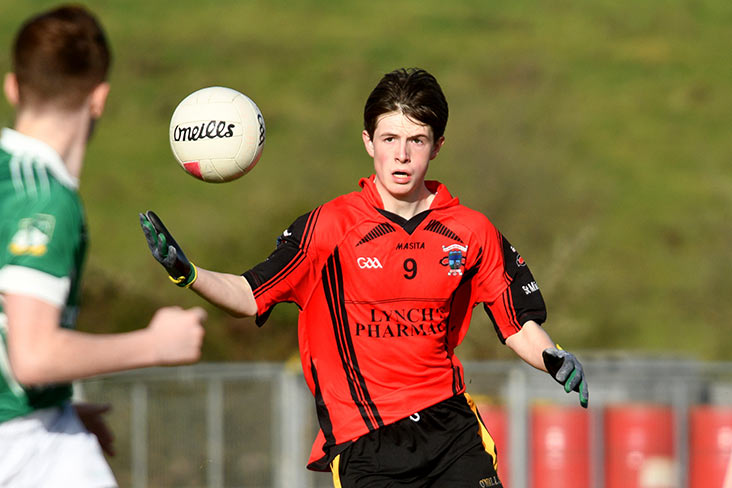 Lorcan McEntee gains possession for St. Michaels/Nobber
St. Michaels/Nobber 10-7, Round Towers 3-11
Jakub Bidinski capped a fine individual display with 3-2 from play as the St. Michaels Nobber combination advanced to the semi-final following this convincing victory over Round Towers in Carlanstown on Sunday morning.
The home side led by 6-2 to 2-5 at the break following goals from Jo Jo Ogungbe and Bidinski (2-0 each) and 1-0 each from Declan Reilly and Aaron Gaffney. Round Towers opened with a goal in the first minute and got their second major after 24 minutes play.
Bidinski got his hat-trick in the opening minute of the second half and the goals kept coming for the home side with Lorcan McEntee capping a fine performance at midfield with two and another from Gaffney. Round Towers added their third at the end of the third quarter.
Along with the scorers the combination side got fine performances from Brian O'Reilly, Colin Condra, Eoghan Finnegan, Jack Moriarty and Jamie Murray,
St. Michaels / Nobber team & scorers: Ben Forte: Jack Moriarty; Brian O'Reilly, Jamie Murray, Colin Condra; Patrick Fitzsimons, Conor Owens; Jakub Bidinski (3-2), Lorcan McEntee (2-1); Eoghan Finnegan, Jo Jo Ogungbe (2-2), Scott Farrell (0-1); Declan Reilly (1-0), Aaron Gaffney (2-1). Subs: Dylan Mooney & Michael Hanna.
Referee: Patrick Clarke.
Report and photo Pascal Reilly PRO
Most Read Stories