Ladies FL Div 1: Michaels defeat the Moores again
November 05, 2018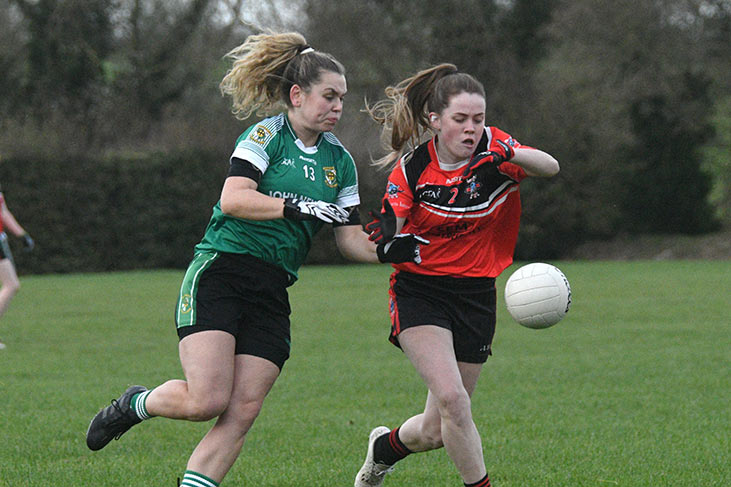 Aine Sheridan battles for possession against Donaghmore Ashbourne
St. Michaels 4-14, Donaghmore Ashbourne 2-09
An excellent opening half performance by St. Michaels ultimately proved decisive in this round 7 match when this years intermediate finalists renewed acquaintances in ideal conditions in Carlanstown on Sunday evening.
All six of the St. Michaels forwards together with midfielder Megan O'Brien put scores on the board for the winners with the first goal coming after only 25 seconds from Yvonne Farrelly after she caught a high cross-field ball, she bore down on goal before placing a low shot to the back of the net. Erin Lynch and Megan O'Brien also bagged goals in the opening half. Donaghmore Ashbourne were also quick off the mark registering their opening goal after five minutes which indicated we might be in for a cracking game, however that never materialised as the visitors could only manage a further three first half points. With Marion Farrelly, Seona Lynch, Sinéad McCormack, Claire Halpin and Megan O'Brien expressing tireless energy all over the pitch the St. Michaels ladies built up a 12 point half time advantage, 3-9 to 1-3.
Having played their last league match on the previous Wednesday night and five of their players having lined out on the victorious minor team on Friday night, it was no surprise that St. Michaels took their foot of the pedal in the second half but they did enough to keep the scoreboard ticking with scores coming from Marion Farrelly (0-3), Megan O'Brien (1-0), Seona Lynch (0-1) and Alicia Curtis (0-1).
At the other end of the pitch the tenacious Áine Sheridan and her willing helpers all around her got through a mountain of work to cut out the many attacks set up by the Donaghmore ladies who managed to get through for their second major on 40 minutes and they added a further six points to their first half tally.

St. Michaels team & scorers: Sarah Bradley; Áine Sheridan, Laura Halpin, Ellen Cassidy; Emma McDonnell, Hayley Doyle, Rebecca Farrelly; Claire Halpin, Megan O'Brien (2-0); Alicia Curtis (0-1), Erin Lynch (1-0), Seona Lynch (0-4); Marion Farrelly (0-7), Yvonne Farrelly (1-0), Sinéad McCormack (0-2).
Subs: Sheena O'Donnell for Erin Lynch,Deirbhile Curran for Emma McDonnell, Shauna Harten for Megan O'Brien.
Referee: Colm McManus.
Report and photo by Pascal Reilly PRO.
Most Read Stories