Ladies Div 1 FL: All square at foggy Millbrook
November 02, 2018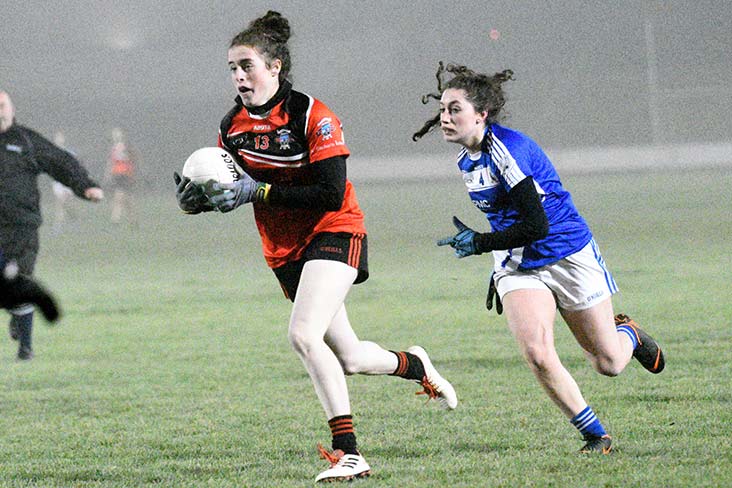 Marion Farrelly heads for the Oldcastle goal during the Ladies Division 1 FL game in Millbrook
St. Michaels 1-09, Oldcastle 1-09
Oldcastle fired home a dramatic last minute goal for a share of the spoils in a frosty and very foggy Millbrook on Wednesday night last.
The dense freezing fog which reduced visibility on the pitch to the half-way line made for poor playing conditions throughout for both sets of players and the late throw-in ( 8-30pm ) meant that we were setting off for home at 10pm on Halloween night.
Both teams took their time in getting motivated into playing and as a result scores were in short supply in the opening half with St. Michaels going in at the interval with a one point advantage, 0-4 to 0-3.
Marion Farrelly opened the scoring with a point after eight minutes, Seona Lynch posted two from frees while Megan O'Brien added one from play. Oldcastle added all their opening points in the second quarter.
St. Michaels got the second period off to a great start as Marion Farrelly floated over a point in the opening minute and a minute later her side were 1-5 to 0-3 to the good after Shauna Harten found the back of the net. Handling errors were ten a penny all night and it was no surprise that both sides could only manage a point apiece in the following 15 minutes of play. St. Michaels then stretched their lead to 1-7 to 0-5 on 48 minutes, that lead was reduced to three points on 58 minutes however the visitors regained their five point advantage through points from Seona Lynch and Alicia Curtis but there was at least 5 minutes of added time yet to be played due to an on pitch injury treatment and Oldcastle made full use of it battling back to win two frees in front of goals which they converted and an opportunist goal floated over an advancing keeper secured a share of the spoils for the home side with virtually the last kick of the game.
St. Michaels did have earlier opportunities to put this game to bed but their efforts fell short of the target. They must now prepare for a minor final v St. Colmcilles in Dunganny this Friday night and their next league match v Donaghmore Ashbourne on Sunday afternoon in Carlanstown.
St. Michaels team & scorers: Clodagh Corcoran; Áine Sheridan, Mary Carpenter, Deirbhile Curran; Rebecca Farrelly, Emma McDonnell, Lorraine Curtis; Claire Halpin, Megan O'Brien (0-1); Alicia Curtis (0-1), Erin Lynch, Seona Lynch (0-4); Marion Farrelly (0-3), Shauna Harten,(1-0), Sinéad McCormack.
Referee: Colm McManus.
Report and photo by Pascal Reilly PRO.
Most Read Stories