Minor Preview: Who will take home the Delaney Cup?
October 12, 2018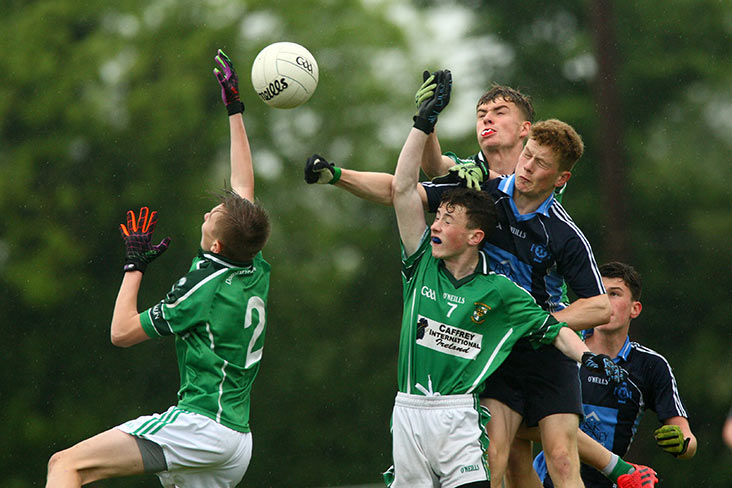 Donaghmore Ashbourne and St. Colmcilles will contest the MFC Division 1 final
There have been many twists and turns in the plot to get to this stage but on Sunday we will be entering the final stanza of what has been the most open and intriguing LMFM Minor Football Championship for many a year. When the first ball was thrown in back on August 15th any of the eight teams involved could harbour realistic ambitions of playing in Páirc Tailteann on Sunday October 14th but two months on only two remain as Donaghmore/Ashbourne and St. Colmcilles prepare to do battle for the Delaney Cup.
To get this far both have shown very impressive form in what has been an elongated Championship compared to previous years as a Champions League type format with two groups of four replaced the old Christy Ring style format. And what a success this has been as all sides were guaranteed a minimum of three games in the group stage as well as one in the knockout whether that was in the Shield or the Cup.
With the Championship throwing in four days after the Meath Minors had concluded their campaign, there was little opportunity for panellists to lick their wounds as they immediately had to turn their focus to the club. It would take four games to qualify for the final and to get there no club could look any further than their three group games.
Sunday's protagonists both faced tricky opening matches with Donaghmore/Ashbourne entertaining Ratoath in a mouth watering local derby and St. Colmcilles on their travels as they journeyed to play the newly formed Minor side of St. Ultan's/Cortown Gaels/Round Towers. A couple of ding dong matches ensued before Donaghmore/Ashbourne won out by 3-07 to 0-14 and the combination side downed the 'Cilles by the minimum, 0-12 to 0-11.
This set the tone for what was to be a thrilling section B of Division 1 as there was never any more than a couple of points between the sides in the six games played. Ultimately Donaghmore/Ashbourne qualified for the semi-finals when accounting for the side from the parishes of Bohermeen and Kells and St. Colmcilles joined them but only by the skin of their teeth when with time up in Piltown in their Round 3 encounter with Ratoath they stood to watch the Ratoath centre forward line up a long range free into the teeth of a strong wind. If he managed to direct it between the uprights, his side would progress to the Cup semi-finals, if he missed then St. Colmcilles would top the group. Ultimately the width of the right hand post was just about enough from a 'Cilles point of view and the ball ricocheted away to safety.
This set up a pair of semi-finals to be played over Sunday September 30th and Monday October 1st with Donaghmore/Ashbourne travelling to take on pre-Championship favourites Seneschalstown and St. Colmcilles hosting Navan O'Mahonys. Few could have predicted the blitzkrieg which the 'Moors would launch in Seneschalstown and by the time the opening thirty minutes had elapsed they found themselves 1-12 to 0-01 up before running out 2-15 to 2-09 winners. A real marker had been laid down as the county began to take notice that something was stirring with the Mark Power managed side.
The following night in Piltown, St. Colmcilles were in efficient form as they dispatched of O'Mahonys, running out twelve point winners, 3-10 to 1-04 to set up what could be a thrilling final.
Both of these sides are littered with players who have the potential to have big futires ahead of them for club and county. Looking at the St. Colmcilles panel the likes of Endi Ehichoya who starred for the Meath U-16's in the Gerry Reilly Tournament, David Bell, Ross Molloy, Ruairí Hanlon and the imposing Hugo Collins are all players of rich potential. Then on the opposite side Donaghmore/Ashbourne have in Killian Hogan a giant around the middle of the field, David Carr a rock at centre back, Ethan Tormey in goals is rock solid, Dawson Devoy a corner forward of rich potential while in Darragh O'Sullivan they've a free taker who will punish any indiscipline in the opposition defence.
Like in any match the midfield battle is likely to be crucial with Luke Brady and Daniel Doyle set to be up against Hogan and his Meath Minor teammate Cillian Hegarty although St. Colmcilles could place the versatile Hanlon or Ehichoya there at any point of the game too. Observers at the Donaghmore/Ashbourne games to date have noted that they've been able to gain the upperhand around the middle third in most games and if they can do this on Sunday it will have the dual effect of guaranteeing a plentiful supply of ball into their forward line and potentially helping to starve the very dangerous David Bell of possession at the other end of the field.
In 2017 St. Colmcilles did the U-16 League Double, winning both the Spring and Summer Leagues before losing out to Seneschalstown in the Minor League decider earlier this year. In most peoples minds this would be enough to see them come into Sunday's final as the hottest of favourites. That though would be to discount Donahmore/Ashbourne who it must be remembered ran them to a point in Round 2 of the MFC when they met in Piltown almost six weeks ago before that wonderful showing in Seneschalstown in the semi-final.
It's not often the starter on a menu outshines the main course but this has got to be a distinct possibility on Sunday as these two sides have the potential to serve up a Minor Final for the ages. Both brim-full of attacking talent, with excellent midfields and tight defences, there's much to look forward to.
Supporters who get in early for the 13:30 throw in look sure to be witness to a game which showcases much of what is great about underage football in Meath. The question that remains is will it be David Carr of Donaghmore/Ashbourne or Aaron Lynch of St. Colmcilles who will be lifting the Delaney Cup come approximately 14:45 on Sunday?
St. Colmcilles get the vote, hesitantly.
The Match Officials for the MHC Final are:
Referee – Liam O'Brien (Duleek/Bellewstown)
Standby Referee – Andrew Smith (Dunshaughlin)
Linesman – Patrick Clarke (Kilmainhamwood)
Sideline Official – Owen Ganly (Trim)
Most Read Stories