Feis Cup: Gaeil Colmcille advance to last four
October 10, 2018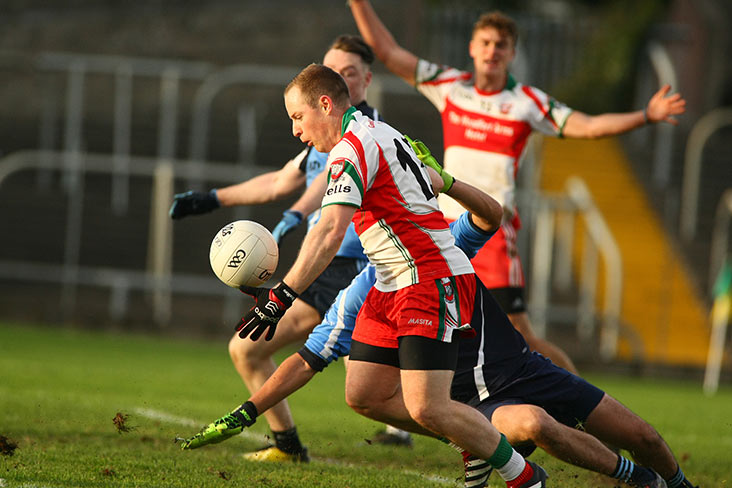 Brian Hanlon shoots against Simonstown
Gaeil Colmcille 2-17 Simonstown 1-13
Gaeil Colmcille and Simonstown met in the Quarter-Final of the Feis Cup in Carlanstown on Tuesday evening.
In a thoroughly entertaining, end to end game, it would be the Kells men who would prevail with corner forward Brian Hanlon top scoring for the Gaeils with pacy forward accounting for 1-07 on the night.
Kells with the aid of a slight breeze took a two point lead with points from Hanlon and wing back Conal Courtney. Simonstown responded with their opening score before Kells got three unanswered points in a row, two monster scores from Evan Sheridan and Seamus Mattimoe and a second point from Hanlon pushed Kells 0-05 to 0-01 clear after 12 minutes.
With 20 minutes on the clock, Simonstown reduced the deficit to 0-07 to 0-06. Hanlon added another score before Sheridan tagged on his second point of the match. Simonstown would get the last score of the first half leaving Kells 0-09 to 0-07 to the good.
Simonstown started the second half at a blistering pace and when they hit the opening two scores within the 30 seconds of each other, the sides were level for the first time. With Hanlon restoring Kells lead, it was Courtneys energy that was significant and he was proving a constant threat for the Kells men and bagged his second point of the match when he fisted over on 37 minutes. Simonstown responded well and found the back of the net when Podge McKeever broke the Kells defence and slotted the ball to the bottom corner of the net. Simonstown added a further two points to see them push 3 points clear with 15 minutes remaining.
With the game on the line, Kells regained control of the game, after a pointed free from Hanlon, Kells won the Simonstown kickout and Courtney rushed towards goal and lay the ball off to Hanlon who palmed into an empty net. The final 10 minutes of the game was all about the Ferguson brothers Fionn and Liam. Two points in a row from Fionn followed by a superb score from Liam from near the sideline saw Kells push 4 points clear. Gaeil Colmcille put the result beyond doubt in the 58th minute when Hanlon broke free and laid the ball off to the unmarked Fionn Ferguson, his low shot left no hope for the Simonstown keeper. Simonstown added a couple of late scores before Liam Ferguson finished off the scoring for Kells to see them emerge 7 point winners and book their place in the semi final.
Gaeil Colmcille: J Carry-Lynch, A Muldoon, B Smith, J Reilly, C Courtney (0-02), C Keegan, J Quigley, C Doogan, E Sheridan (0-02), S Mattimoe (0-01), O Reilly, L Ferguson (0-02), S Curran (0-01), F Ferguson (1-02), B Hanlon (1-07). Subs: P Tormay for Sheridan, D Muldoon for A Muldoon, D Roche foe Curran, S King for Doogan
Simonstown Report
Simonstown Gaels 1-13 (16)
Gaeil Colmcille 2-17 (23)
Simonstown senior team played their final game of the 2018 campaign last night in the quarter final of the Feis Cup in Carlanstown. Simonstown rotated their starting team from the Semi final of the championship and they fielded a different looking side. The Kells men began the game stronger and opened the proceedings with 2 scores without reply. Joe Lyons responded with a point but Kells quickly extended their lead to 05-01 after 15 minutes. The Navan men struggled but the remaining 15 minutes of the half were better for a Simonstown perspective. Nathan O'Brien scored a marvelous point where he displayed his trickery evading numerous Kells defenders. Sean Tobin scored a spectacular point form distance with the outside of his boot. Score at the end of the half was Simonstown 0-7 Gaeil Colmcille 0-9.
Simonstown started the second half with 2 quick points which leveled the game. Kells answered back with 2 points of their own and they restored their 2 point advantage. Podge McKeever then contributed with a fine individual effort. McKeever glided past oncoming Kells players and finished smartly past keeper Justin Carry Lynch. Simonstown were three points to the good with 15 minutes remaining. Kells responded with a goal from Brian O'Hanlon. After this pivitol moment in the game, the Gaels only registered a further 2 points. Scores from Fionn Fergurson, Liam Fergurson and Brian O'Hanlon meant that Kells ran out easy winners. Last game of the year is Friday night - B League Final in Skryne at 8pm vs Ashbourne
Simonstown: Gary Lynch, Colin Wickham, Roz O'Connor, Mark Devlin. Brian McGrath, Brían Conlon, Dean Curran, Sean Conlon, Sean Tobin (0-2), Joe Lyons (0-1), Podge McKeever (1-3), Micky Brennan (0-1), Ben Hoey (0-2), James Heaney (0-2), Nathan O'Brien (0-2)
Subs - Shane Barry for Micky Brennan, Seamus Kenny for James Heaney, Sean T. Gallagher for Dean Curran.
Most Read Stories