Kiltale have the 'Angle Edge'
October 09, 2018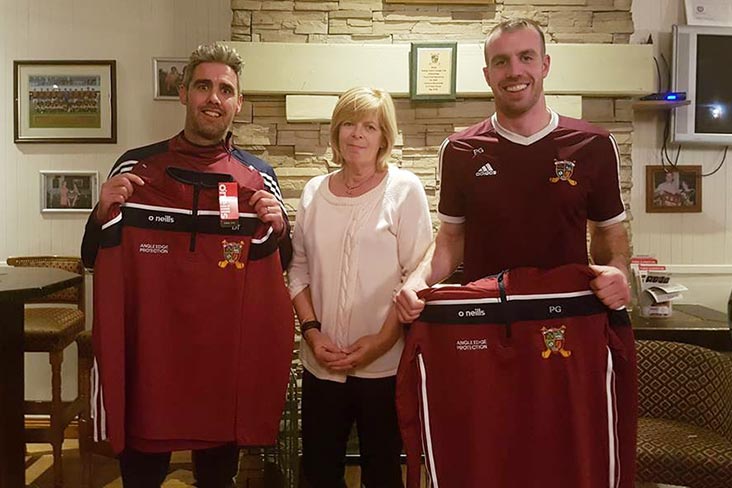 Phyll Rehill presents new tops to Kiltale manager David Troy and captain Philip Garvey
Kiltale would like to acknowledge their loyal sponsor Angle Edge Protection for the sponsorship of their adult teams since 2005.
The company owned by the late Matt Rehill and his wife Phyll are based in Trim and have formed part of a very lucky partnership with the Kiltale club, that included county final success in 2007, 2012, 2014, 2015, 2016, 2017 and 2018.
The club and parish were very saddened by the passing of Matt Rehill and his wife Phyll and daughters Sarah and Rebecca decided to keep the link by sponsoring the club.
Phyll Rehill is part of the famous Leddy family from Cavan and her brother Ollie represented Cavan with distinction.
The club at this time would like to also acknowledge our underage sponsor "Ger Lyons Racing" along with Stephen Mc Cormack and all at McCormack farms for sponsoring shorts for the Kiltale Hurling panel last Sunday.
Steven McCormack (McCormack Farms) presents shorts to captain Philip Garvey
Most Read Stories