Ladies IFC final: St Michaels are champions
October 08, 2018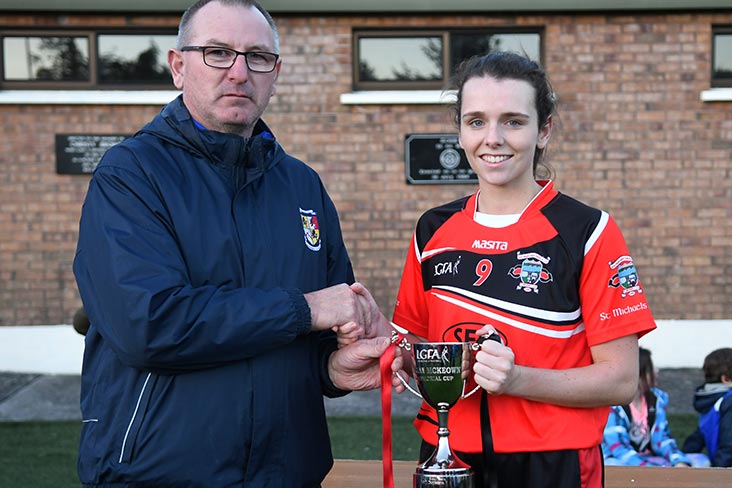 Brian McKeown presents the McKeown Cup to St. Michaels captain Megan O'Brien at Skryne
St. Michaels 2-07, Donaghmore Ashbourne 0-08
St. Michaels incredible array of firepower proved to be too much for Donaghmore Ashbourne to contain as they took the Masita Meath ladies Intermediate championship title in a cracker of a final at a packed and sun drenched Skryne GAA pitch on Saturday evening last.
The north Meath side didn't just rely on their inter-county starlet Marion Farrelly who was well marshalled throughout by her opponent Aoisle Lawlor but they had a myriad of other stars in Megan O'Brien, Seona Lynch, Erin Lynch, Alicia Curtis, Claire Halpin and Sinéad McCormack to name but a few. Throw into the mix the incredible work rate and the unwillingness to be breached of the two defensive lines of Laura Halpin, Ellen Cassidy, Áine Sheridan, Emma McDonnell, Mary Carpenter and Lorraine Curtis and you have a whole team in tip top form.
Goals were always going to be crucial given the tightness of the exchanges and Seona Lynch's pile-driver at the end of a short solo-run on 28 minutes was just the tonic St. Michaels needed coming up to the break as the sides were on level terms in the lead up to her goal. Their second major on 49 minutes came after some great work by Sinéad McCormack who found Marion Farrelly in space and she drove low and hard from an acute angle past the outstretched Judy Bobbett in the Donaghmore goals to increase their lead to 5 points with ten minutes remaining.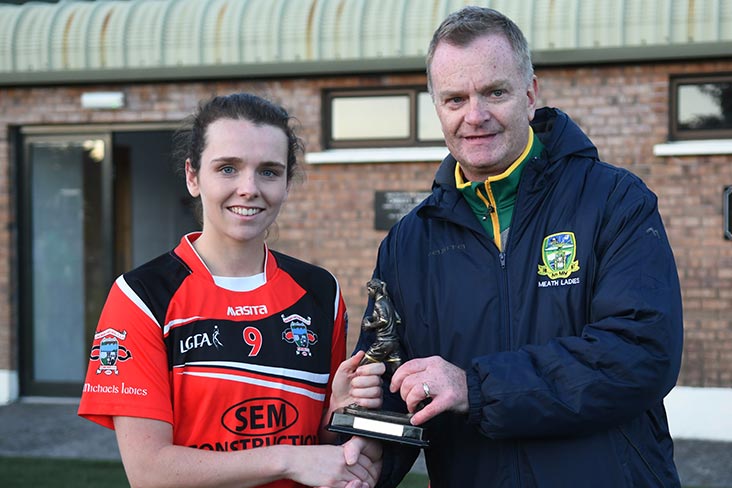 St. Michaels needed to settle early and they made a fast start with a great point from the hard working Erin Lynch but Donaghmore quickly levelled the contest two minutes later. Seona Lynch floated over from a free to regain the lead but the match was level again after eleven minutes. Marion Farrelly was denied a goal after Judy Bobbett pulled off a brilliant save from the in-rushing corner forward. Seona Lynch added a further point from a free before her excellent goal on 28 minutes. A converted free from Donaghmore Ashbourne and a point on the run from Marion Farrelly left St. Michaels leading by 1-4 to 0-3 at the interval.
St. Michaels as in the first half started the second period with more urgency and a Marion Farrelly point within 30 seconds of the restart stretched their lead to 5 points then three minutes later they were reduced to 14 players when their influential Mary Carpenter was sin-binned, this spurned Donaghmore Ashbourne on and they added two points from play to leave just a goal between the sides. A ten minute barren spell passed with neither side managing a score until Donaghmore sent one over from play on 47 minutes for a two point game. St. Michaels now with their full contingent of players, got their second crucial goal on 49 minutes from Marion Farrelly for a five point lead. Donaghmore Ashbourne could well have capitalised with a goal scoring chance but their effort was brilliantly blocked by Sarah Bradley in the St. Michaels goals. Donaghmore never gave up the fight and with five minutes left on the clock they had whittled the lead back to just three points again but credit to the character of the St. Michaels ladies they set up another move deep in their own half by player of the match Megan O'Brien who had a hand in nearly everything her team did, the ball was moved quickly to Alicia Curtis and to substitute Patricia Owens who found Erin Lynch who posted it over the black spot on 56 minutes for the insurance point. Although Donaghmore Ashbourne kept the pressure on they failed to score again and it was Sinéad McCormack who posted the winners final score to become worthy champions.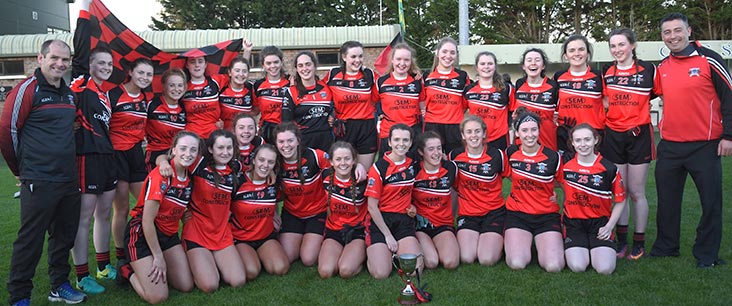 The St. Michaels club commiserate with the Donaghmore Ashbourne girls who were gallant losers on the day and who have now lost in two finals in a row, we respectfully hope that 2019 will be their year.
St. Michaels now play Suncroft from Kildare in the Leinster IFC quarter final on Sunday next (14th) in Carlanstown. .

St. Michaels team & scorers: Sarah Bradley; Laura Halpin, Ellen Cassidy, Áine Sheridan; Emma McDonnell, Mary Carpenter, Lorraine Curtis; Claire Halpin, Megan O'Brien; Alicia Curtis, Erin Lynch (0-2 ), Seona Lynch (1-2); Marion Farrelly (1-2), Yvonne Farrelly, Sinéad McCormack (0-1). Subs: Patricia Owens for Yvonne Farrelly 50 minutes, Hayley Doyle for Erin Lynch 57 minutes. Subs not used: Clodagh Corcoran, Abigail Carry, Deirbhile Curran, Anna Farnan, Rebecca Farrelly, Shauna Harten, Sheena O'Donnell, Nicola Walsh.
Referee: Paul Brogan.
Report and photos Pascal Reilly, PRO.
Most Read Stories