IFC: Goals seal win for Syddan
July 31, 2018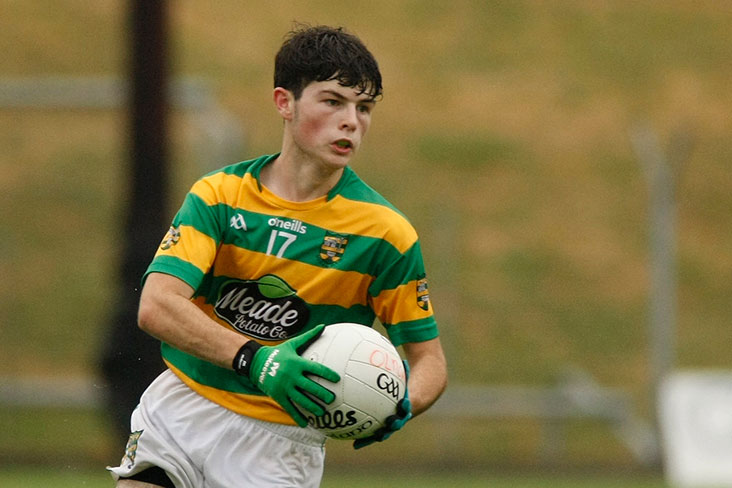 Syddan's Padraic Dillon
Syddan 4-9  Longwood 2-12

A couple of fortuitous goals boosted Syddan to victory over previously unbeaten Longwood in the IFC at Trim on Sunday evening.

The north Meath side made the worst possible start in their efforts to get their hopes of a knockout spot back on track after conceding a goal and a point within two minutes.

Anthony Healy opened the scoring from a free and when Eoin Lynch fisted an effort towards goal it got a touch from a Syddan defender on the way to the net.

However Syddan were quickly back in the game and by the end of the opening quarter led 2-2 to 1-2.

Cormac Rowe had them off the mark with a point before another point effort from Paddy Farrelly deceived the Longwood keeper and ended up
in the back of the net.

Farrelly struck for a second goal after taking a pass from Daire Rowe following a length of the pitch move on 14 minutes.

There was more good fortune for Syddan when a Cormac Rowe effort dropped short and Padraic Dillon pounced on the rebound off the crossbar to poke to the net on 19 minutes.

With Anthony Healy, Ryan Moore and Evan Coyle accounted for points Longwood were still very much in contention at half-time, trailing by just three points, 1-7 to 3-4.

Longwood upped the tempo in the second half and were on level terms after they netted on 48 minutes. A pointed free from Ryan Moore had them back in front but that lead didn't last as a long range effort from substitute Brian Dillon again caught the Longwood keeper out for Syddan's fourth goal.

Longwood twice reduced the deficit to the minimum but with Daire Rowe on target with three points in the final five minutes Syddan held on for a crucial win.

Syddan: Ben Bashford; Kevin Garland, Ryan Summersby, Mark Fedigan; Stuart Fedigan, Andrew Garland, Michael Fedigan; Sean Clare, Cathal Dardis; Padraic Dillon 1-0, Daire Rowe 0-6 (3f, 1 '65), Graham Garland; Cormac Rowe 0-2, Gary Farrelly, Paddy Farrelly 2-1. Subs: Brian Dillon 1-0 for G Farrelly, Stephen Tallon for P Farrelly.
Most Read Stories