IFC: Convincing win for Dunderry
July 31, 2018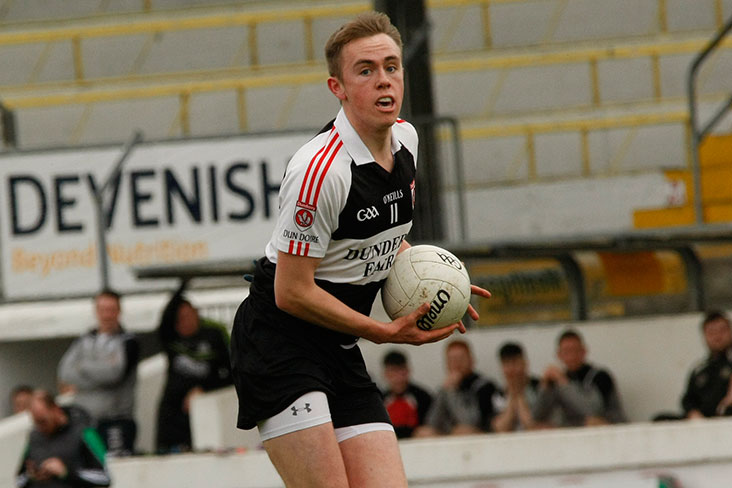 Dunderry's Dermot Kelly
Dunderry 1-16  Kilmainham 0-6
Dunderry overcame this tricky IFC Round 3 match against Kilmainham in Trim.
Dunderry opened the scoring in the 7th and 9thmins with points from free's by Dermot Kelly followed by point in the 17th min from the industrious Jordan Martin. In the 24th min Morgan Callaghan won a high ball and drove at the Kilmainham defence on the 21 yrd line he found Damien Clarke who got past 2 tackles and just as he was shooting for goal he was hauled down the resulting penalty was coolly dispatched by sub Stephen Coogan. 
Kilmainham scored their first point in the 21st min but their forwards were kept too long range shots or intricate  moves than were broken down by  solid defending from  Aaron Newman, Conor Dempsey and Alan Watters. Dempsey marked Micky Newman very tightly keeping him too long range efforts. Dunderry continued with points from Oisin Martyn, Paddy Kennelly and Clarke leaving the half time score 1-6 to 0-3 to Dunderry.
The 2nd half saw Cian Egenton make his championship debut replacing the injured Clarke. The winners kept the scoreboard moving with a well taken point in the 37th min from Callaghan after good work from Conor Farrell, Davy McCormack and Luke Martyn. Kelly (4), Dempsey, McCormack and Martyn added further scores as Dunderry ran out convincing winners.
Next up is Syddan in Round 4.
Dunderry: D.Jennings; A.Newman, C.Dempsey (0-1), A.Watters; M.Callaghan (0-1), D.McCormack, O.Martyn (0-1); P.Kennelly (0-1), C.Farrell; J.Martyn (0-1), L.Dempsey (0-1) , D.Kelly (0-7, frees); D.Clarke (0-1), L.Martyn (0-1), C.Daly. Subs: S.Coogan for C.Farrell B/S, S.Coogan (1-0) for J.Martin B/C, C.Egenton (0-1) for D.Clarke, G.Dooley for S.Coogan, S.Coogan for C.Daly.
Most Read Stories