IFC: Outstanding second half display from Meath Hill
July 30, 2018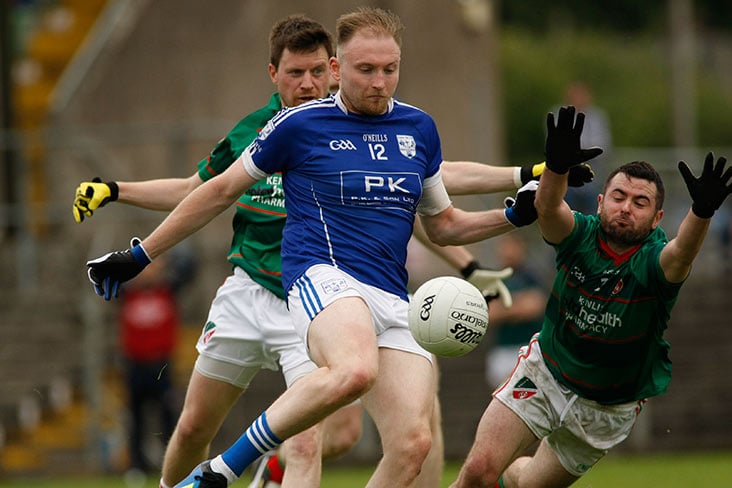 Pierce McGrath shoots for Meath Hill as Peter Carry and John D Smith Drumbaragh close in during the Meath IFC game at Pairc Tailteann
Meath Hill 1-16  Drumbaragh 2-9
Meath Hill remain unbeaten in the IFC following an excellent second half performance against Drumbaragh on Sunday afternoon in Pairc Tailteann.
Meath Hill started without four key players and it looked early on that this would be costly as Drumbaragh led 2-0 to 0-1 after ten minutes and it could have been worse had  Drumbaragh not hit the cross bar with another effort. The 'Hill eventually got some scores on board mid way through the half from Paddy Matthews, Ian Malone and Pierce McGrath, but Drumbaragh, finding scores easier to come by, kept the gap to five points at half time, 2-4 to 0-5.
The second half was a different story and Meath Hill upped the intensity significantly and  outscored Drumbaragh 1-11 to 0-5.  The key score was a solo goal from Paddy Matthews with 10 minutes left.  Malone, Jack McMahon and McGrath again scored great points during this spell.
In what was an outstanding second half team performance, the experienced duo of Keith Ginnitty and Barry Kieran shone, along with youngsters Matthews, McMahon and Thomas Carolan.
Meath Hill: Chris Yorke (0-1); Simon Martin, Martin Tully, Conor Marry; Thomas Carolan (0-1), Kieran Slavin, Ryan Carry; Paddy Matthews (1-1), Keith Ginnitty; Sean Rooney, Barry Kieran, Ian Malone (0-5); Tomas Smith (0-1), Pierce McGrath (0-3), Jack McMahon (0-3). Subs: Tommy Rooney (0-1), Aodhan Matthews.
Drumbaragh Report
Meath Hill 1-16  Drumbaragh 2-9
Drumbaragh got a dream start with two goals from the impressive Conor Lynch. James Connolly was giving the Meah Hill defence a tough time and his brace along with another point from Lynch gave the Emmets a 2-4 to 0-5 interval lead.
Meath Hill came out all guns blazing and scored 4 points in 6 minutes and proceeded to take control of the game and run out convincing winners in the end.
Best for Drumbaragh were Conor Lynch, James Connolly, JD Smith and William Carry. 
Drumbaragh would like to wish Martin Kavanagh the best of luck from the club as he heads off to Australia.
Drumbaragh: W.Arkins; JD Smith, M Kavanagh, P Carry (0-1); J Morrissey, W Carry, M McNamee; S Meegan (0-1), P Murray; Joe Carry, L Fagan, N Corcoran; Conor Lynch (2-3), J Connolly (0-3), DJ Carry. Subs: T Carry for N Corcoran, J Rennicks for M McNamee, E McGee for M Kavanagh.
Most Read Stories