IFC: Big win for Duleek Bellewstown
July 30, 2018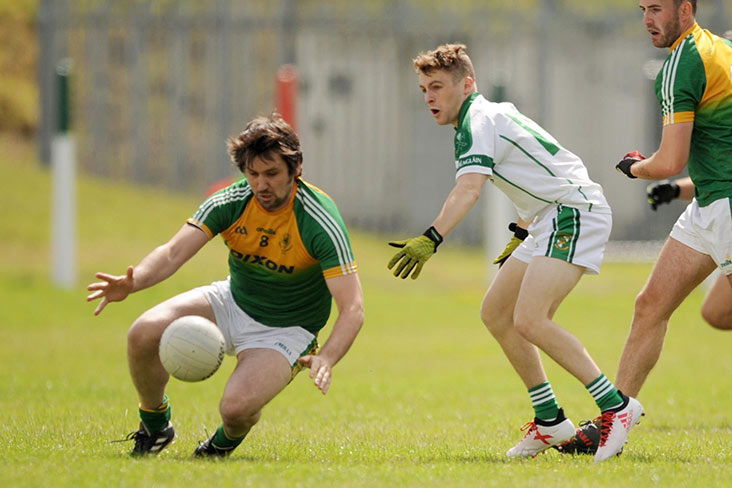 Michael Dowling is about to gain possession for Duleek Bellewstown during the Meath IFC clash against Donaghmore Ashbourne at Donore
Duleek Bellewstown 1-21  Donaghmore Ashbourne 0-10

After their previous round  loss to Oldcastle Duleek Bellewstown came to Donore knowing that they had to secure a victory to get their  championship hopes  back on track and in what is a very open group now sit top of the group table on score difference  where 4 teams have 4 points each.

This game was won in the first half when the guys in green and yellow, playing against a slight breeze  opened up a n 11 point margin at the break, going in 1-12 to 0-4 to the good.  Ashbourne opened with first attack which was dropped short to the hands of Anthony  Dowling and the ball was worked up the field for a foul to be conceded and John Flood pointed to get the show on the road. Two further pointed Flood frees had the scores at three nil after 5 minutes. 3 points from Stephen Nolan, Jamie Crosby and Shane Townley had the lead doubled to 6 by the tenth minute. Donaghmore Ashbourne responded with a point but further points from play from Flood , John McDonnell, and another Nolan free had the lead out to 8 before a Ashbourne responded with a pointed Faoilain Smith point on 17 minutes.

After a John McDonnell point the score that effectively killed the game came from a turnover by Kevin Mc Cann deep in defense and the ball was worked up the right hand side by Shane Crosby and after offloading the ball he continued his angular run and broke through the defense to drive the ball high to the net. Two points from Jamie Crosby and Flood again were balanced by two scores in a minute from the Ashbourne wing forward to leave an 11 point gap at the interval.

The second half started with a series of Ashbourne attack which yielded nothing and quick fire points from Flood , Jamie Crosby and a 45 from Anthony Dowling extended the lead further. In fairness to Ashbourne they kept battling  and two pointed Smith frees had reduced the deficit before Michael Dowling with a long range effort and a johnny McDonnell point cancelled them out. Ashbourne kept their scoreboard ticking over with two further points and as the efforts of the first three quarters began to tell the Duleek Bellewstown bench was emptied.  A brace each from Flood and Mc Donnell in the final quarter finished the scoring and Asbourne's account was completed by two further smith points.

Next up is Ballinlough in two weeks time is what will be another crunch fixture with Ballinlough continuing the annual summer push after today's win over Division 2 League champions Oldcastle.

Duleek Bellewstown: A Dowling; D Teeling, D Moore, K McCann; S Crosby, B Moore, J Flaherty; M Dowling, R Clarke; J Flood, S Townley, J Crosby; J McDonnell, S Nolan, P McGroggan.  Subs: D Heeney for P McGroggan, J Murphy for D Teeling,  J Roche for S Townley, C Flynn for J McDonnell, G Reilly for J Flood, G Reddy for R Clarke.
Most Read Stories