SFC: Spirited Na Fianna succumb to Skryne second half blitz
July 30, 2018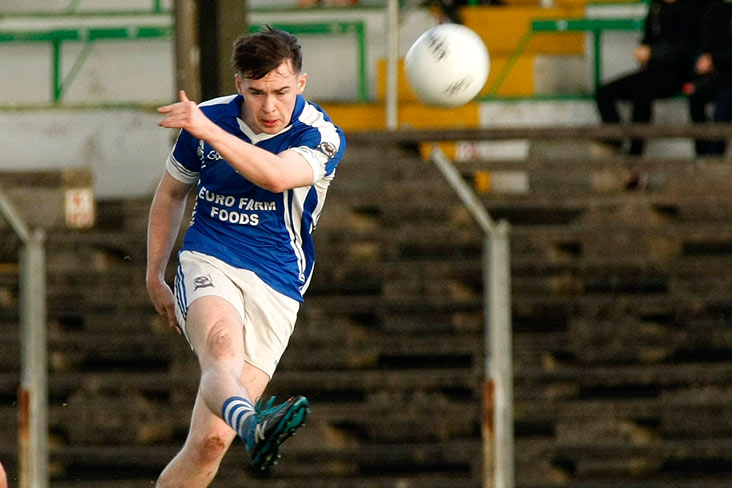 Skryne's Darragh Campion
Skryne 1-21  Na Fianna 1-11
After a frustrating first half where Skryne struggled to click into gear, the half time break presented an opportunity to regroup and refocus. The half time oranges clearly contained a magic formula as Skryne who had stuttered through the opening half finally found their groove and produced a mesmerising second half performance which ensured a comfortable victory over a spirited Na Fianna team.
The Skryne supporters who were part of a large crowd in attendance at Sean Newman Park would have been forgiven to think it was going to be one of those days as almost straight from the first whistle, Skryne set about squandering chance after chance in the opening half, while Na Fianna were far more clinical. Indeed Skryne had hit the posts and registered three wides inside the first five minutes. Na Fianna had two chances (one a free) in the same period, both of which were converted for the games opening points.
Conor O'Brien who had another excellent performance today, slotted over Skryne's opener. This was followed by a Paddy O'Rourke point from a 45 to level matters. Na Fianna added two more to their tally as Skryne struggled to find their shooting boots despite lording the possession. Paddy O'Rourke kept Skryne in touch with his second point of the day. A Shane Walsh point kept the scoreboard ticking over for Na Fianna. This was quickly followed by another as Na Fianna led by double scores at the midway point of the half on a score of 0-06 to 0-03. Paddy O'Rourke almost grabbed a goal for Skryne when he collected a ball in front of the Na Fianna goal, but he was denied by the Na Fianna keeper.
Skryne hit three points in the space of a minute on 21 minutes when Paddy O'Rourke, Darragh Campion and Mark Battersby all hit the target to level proceedings. Things seemed to be looking up. However, Skryne coughed up possession during the next attack and the ball was picked up by a Na Fianna defender who sent an inch perfect ball into the arms of full-forward Shane Walsh, who turned and shot low past Ian Gillett for the game's first goal. Skryne were thwarted yet again by the Na Fianna goalkeeper who batted away an Ian Davis effort to keep his goal intact. Na Fianna grabbed another single before Skryne hit three points in a row as the half drew to a close, two from the brilliant Mark Battersby(one with his left foot and one with his right) and one from Darragh Campion, leaving the minimum between the sides at half time. Half-time score: Skryne 0-09, Na Fianna 1-07.
Skryne were a different animal in the second half. Harry Rooney and Ciarán Lenehan were immense winning every ball that came near them to give Skryne a platform to build on. A Paddy O'Rourke point in the first minute of the half squared things on the scoreboard. Darragh Campion scored a brilliant goal for Skryne as he weaved his way through the Na Fianna rearguard before dispatching a piledriver to the Na Fianna net. Skryne won the kickout and Mark Battersby chalked up another as Skryne continued the forward momentum. Na Fianna replied with a point from Dan Queeney.
Patrick Fox entered the fray for Skryne on 45 minutes and made an immediate impact with a point from his first touch after been set free by Harry Rooney. Shane Walsh hit the target again for Na Fianna to reduce the gap to three, but Skryne hit five points without a reply with Paddy O'Rourke, Ciarán Lenehan, Ian Davis, Harry Rooney and Patrick Fox all scoring excellent points as Skryne turned the screw. Shane Walsh, who was exceptional for Na Fianna, tapped over a free. Darragh Campion, Paddy O'Rourke and the impressive Patrick Fox finished off the scoring for Skryne with Shane Walsh converting another free for the Enfield/Baconstown combination. Final score: Skryne 1-21, Na Fianna 1-11.
Skryne: Ian Gillett; Robbie Clarke, Eoghan Greene, Stephen O'Brien; Ciarán Lenehan (0-1), Donal Ryan, Ronan McCabe; David McGoldrick, Harry Rooney (0-1); Conor O'Brien (0-1), Darragh Campion (1-3), Eoin Smyth; Ian Davis (0-1), Paddy O'Rourke (0-7, 3fs), Mark Battersby (0-4). Subs: Des McAvinney, Patrick Fox (0-03).
Na Fianna Report
Na Fianna 1-11  Skryne 1-21
Na Fianna suffered their second SFC loss after a long break in the championship over the summer.
The Enfield/Baconstown side had the edge in the first half as they quickly asserted themselves. A goal from the impressive Shane Walsh propelled them to a 1-8 to 0-10 half time lead.
Skryne dominated the second half, scoring a point from the throw-in and within five minutes they were four points ahead and they pushed on from there.
A disappointing second half display from Na Fianna, they will need to improve drastically ahead of their round 4 clash with Curraha in two weeks.
Na Fianna had encouraging performances from Shane Geraghty, Evan Mullally and Shane Walsh.
Na Fianna: Shane Geraghty; Daniel Devine, Evan Mullally, John Baldwin; Oran Smullen, Anthony Neary, Andy Glynn; Ethan Devine, Owen McDonnell; Michael Collins, Daniel Queeney (0-3, 1f), Conor Downey; Barry Slevin, Shane Walsh (1-06, 2f)), Barry Clancy (0-2). Subs: Sean Martin for Clancy, Peter Slevin for Glynn. 
Most Read Stories