SFC: Tones back on track
July 28, 2018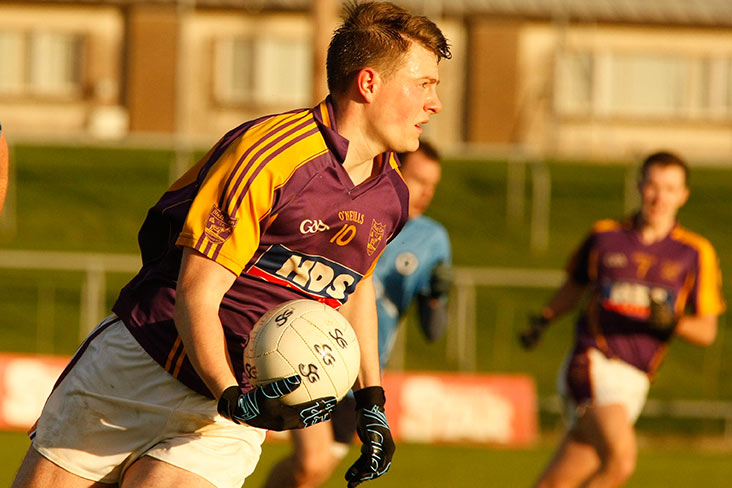 Niall O'Reilly Wolfe Tones
Wolfe Tones 1-10  St Pats 0-5
Ag leath am bhí foireann Bhulf Tón seacht gcúilíní chun tosaigh agus déirigh leo sa deireadh gan morán stró cé go rinne foireann Naomh Pádraig an-iarracht sa dara leath agus bhí mí-adh orthu nach bhfuair siad an cúl a bhí ag teastáil uathu chun athbheochan a lasadh.
Wolfe Tones got their senior championship campaign back on track with a convincing win in this third round game played in good conditions. After a good start they led by 1-3 to 0-0 at the end of the opening quarter. Cian Ward (2) and Saran O Fionnagáin were the point scorers while Niall O Reilly added to the tally with a well finished goal with Sarán O Fionnagáin providing the assist. St Pats opened their account in the 16th minute but could only add another point before half time thanks to some good Tones defending and some wayward shooting from the Stamullen men. Cian Ward added a free and Éanna O Kelly Lynch got forward for two well taken points to leave Tones ahead 1-6 to 0-2 at half time.
The second half had plenty of "huff and puff" but both sides rarely troubled the scoreboard and by the end of normal time had only added three points each, the Tones scores coming from the marauding Éanna O Kelly Lynch and two Fiachra ward frees. St Pats needed scores to get back in the game but the Tones defending was resolute backboned by the indomitable Shane Glynn, The Stamullen men did create two very good goal chances. The first effort "shaved" the post while David Nolan saved his defenders blushes with an excellent save as they contrived to cough up possession close to goal. Niall O Reilly completed the Tones scoring with a long-distance point in the fifth minute of injury time.
Tones were short Meath panellists Thomas O Reilly and Daniel O Neill and the injured Eoghan Harrington so they will be pleased to have garnered the points from this game.
Bhulf Tón: David Nolan; Stephen Sheppard, Shane Glynn, Conor Sheppard; Niall Mc Loughlin, Éanna O Kelly Lynch (0-3), Éanna Harrington; Stephen Corrigan, Alan Callaghan; Gary McFadden, Cian Ward (0-3, 1f), Padraig Diamond; Sarán Ó Fionnagáin (0-1), Fiachra Ward (0-2, frees), Niall O Reilly (1-1). Subs: Brughach Ó Fionnagáin for Niall Mc Loughlin (43).
Most Read Stories